Getting Started with ABCI – The Marketing Flight Plan
To get started with any new client, our first step is a Marketing Flight Plan.  This is a series of consultations and an extensive report that includes a complete analysis of your current situation and competition. From this, ABCI will provide recommendations and actionable advice that you can use whether or not we begin a collaborative, long-term relationship with you.
The first thing that you should know is that we are a full-service marketing firm, but we're intentionally very small. This ensures that we have absolute control over the quality of every project. Unfortunately, it also means that we have to be very selective about how we spend our time.
The process below ensures that we make the best use of our time, and more importantly, the best use of YOUR time. Years of trial and error have taught us this is the fastest and most efficient method ensure that we get off on the right foot and get  moving quickly in the right direction.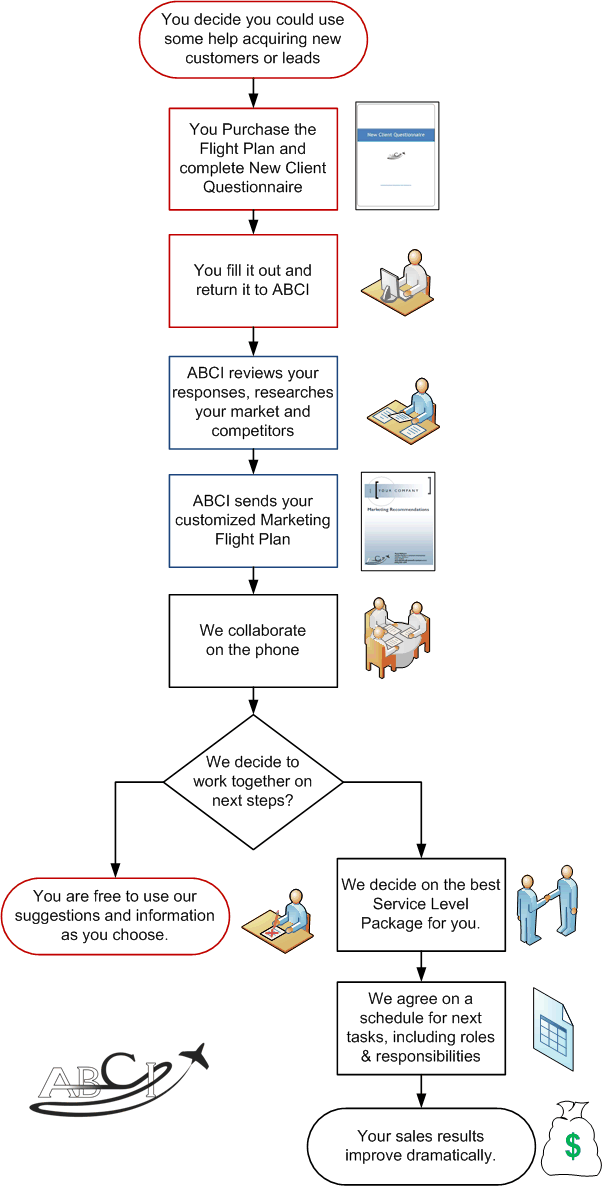 The New Client Questionnaire is not easy or trivial to fill out, but clients have told us it was a great exercise in itself to focus their marketing efforts and help determine the organization's priorities and objectives. After listening and reviewing your situation, we research your market and your competitors, and create a custom Marketing Flight Plan Report for you.
The Marketing Flight Plan Report  is a 1-inch binder sent to you in the mail, that includes:
A custom Marketing Blueprint (a high-level plan for a complete marketing system, taking your target market and objectives into account)
A search engine optimization analysis of you and up to 15 of your competitors, showing where you stand
A 31-point Usability Checklist comparing your website to objective industry standards
A social media analysis of your company and your competition
Ideas to improve your current website and online presence
Ideas to improve your brochures, print ads, flyers and other documents (up to 3 items per Flight Plan)
A range of marketing options with pricing appropriate to your circumstances.
This set of recommendations will be very valuable to your company, whether you pursue the ideas on your own, or whether we choose to work together on some of them.
After you've had a few days to review your recommendations, we schedule another hour on the phone with your team to discuss the recommendations with you and answer any questions you may have.
From that point, you can use our recommendations to work with someone else, or choose from our three levels of service
Light Aircraft
TurboProp
 Business Jet
The difference between the service levels and the pricing for each is determined by what work needs to be done to achieve your objectives, and how much of that work will be done by our staff or yours.
Whether you choose to work with us or not, the Marketing Flight Plan is the best investment you can make in improving your marketing and sales this year.
Limited Time Offer
We're offering three months of the Silver Level Marketing Master Class (A $579 value) free when you order a Marketing Flight Plan.
The Marketing Master Class includes
An invitation to our next three live Webinars.
DVD recordings of the Webinars
Printed workbooks
Online access to all materials
Personalized feedback on your projects
Other bonuses for completed homework assignments
Ready to get started?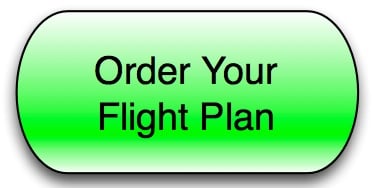 Click the green button or this link to order your flight plan. *
We'll send you our New Client Questionnaire and begin the process!
*Trouble with the link?   Try pasting this into your browser:  https://abci.infusionsoft.com/app/manageCart/addProduct?productId=14
Or call us direct at 702-987-1679 to order by phone or ask a question.