ABCI Admin
As you know, ABCI has been market testing a Facebook Group for 60 days as a way to help Aviation Marketing Master Class members interact with one another more easily.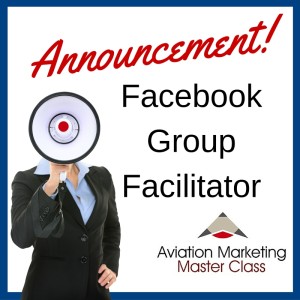 While not everyone in the Master Class is active in the group (or even on Facebook!) we think we have something that works since many of you have shared with me that you think the group has value.
So,
1) The Master Class Private Facebook Group is a permanent thing, and
2) As such, it needs care and feeding.
I am pleased to announce that we have engaged someone with an extensive aviation and leadership background as the facilitator of the Aviation Marketing Master Class Private Facebook group.
His name is Bert Botta.
In last year's survey, as well as in many conversations, we've discussed the value of interaction among class members for networking, ideas, referrals, and anything else that enriches our business and personal lives.
The purpose of the Facebook group is to make that easier and more fun.
Bert's role will be to help members get to know one another better as well as to assure that group guidelines are formulated and followed.
I think that Bert's experience as a certified leader, mentor and community builder is exactly what we need for a great, supportive, interactive group. Interaction is interaction, after all – whether it's online or off.
Bert's "term" will run from December 1, 2015 to March 1, 2016. I'm sure he (and I!) would love to hear any suggestions from those of you that belong to other networking and mastermind groups – particularly online groups – about what worked well and what didn't.
One of his roles will be to highlight a member a week. Naturally, we're starting with a profile of the man himself!
This format will look familiar to those of you who are familiar with ABCI's "referral sheets" from the dark days before social media became popular! So, look for Bert's profile later today.
We adapted the questions for the member highlights from John Jansch's book "The Referral Engine" – and find it's a great way to crystalize our thoughts as well as learn about each other.
Bert will be reaching out to the group members to see if you'd like to be the next person interviewed.
Our intention is to make this the most vibrant, smart, fun, helpful and supportive group of aviation professionals anywhere on the planet, in actual or virtual reality. We need all of us participating to make this work.
Be assured this process will add depth to your personal and professional life.
Please comment below or contact Bert at 415-320-9811 if you'd like to volunteer to be the next one interviewed for a Member Profile.
Not yet a member? Join today!