admin
Advertisement Test Flight
Thank you, Bert for being part of the March Test Flight! This month we will focus on Bert Botta's opening page for his website www.botta-copywriting.com. When we first came up with the Test Flight idea, I didn't even think about websites, and while doing this Test Flight, we realized there's a great reason for that! ABCI has additional tools, metrics, and strategies focused on websites, and just like working on an airplane, you need to use the right tools if you want to get a job done to perfection. So, for the purposes of the March Test Flight example, we are going to look at this page as we would look at an ad, and critique it as such. I think it still provides us with some excellent ideas on what to do, as well as what NOT to do!
Overall Rating – Auto Gyro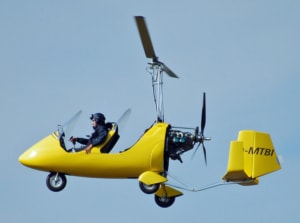 This ad is an auto gyro. It's not a plane, it's not a helicopter, and it's not being used as you might expect, but let's be honest, every time you see one fly you can't help but thinking, "that looks pretty neat!" Since we are viewing this webpage through the filter of our Ad Test Flight, we look forward to adapting, and gaining some useful tips in a slightly unconventional way.
Here are the details:
Please take a second to check out Bert's webpage first so you can see it in it's true form. If you can't or won't (I love a healthly disrespect for authority!), then the text of his webpage is below for your viewing pleasure:
"You Don't Have to Wing it Alone!"
Do you feel like you're trying to handle everything in your business?
Are you passing up business because you're too busy to "connect" with your customers?
Is your marketing message old and not attracting new business?
These are only a few of the reasons you need help with your marketing message.
Hi, I'm Bert Botta. Welcome to my Aviation Copywriting Website.
Here's what you get when you hire me as your Aviation Copywriter:
35 years of real world experience as a captain for TWA and Netjets that commands the attention of worldwide airline and corporate aviation executives
"Instant credibility" as the author of a best selling book, Fast Lane to Faith
Counseling skills that help me discover your client's emotional needs, wants, and desires
Here are some things to consider when you hire an Aviation Copywriter.
 Make sure they:
Know aviation from the 'inside out' and speak the language
Have in-depth knowledge of the players and their psychological make-up
Grab your clients' attention and excite their desire to buy
Provide solutions to your client's problems
Understand what keeps your clients up at night
Write copy that evokes powerful emotions
Engage your clients with powerful copy that makes them want more
Has proven results and personal "raving fans"
Is masterful at facilitating personal "connection" between your company and your customer
If you want to create a thriving community of followers and not just "build a business" then give me a call at: 415-320-9811, Toll-Free at: 888-962-3954 or email at: bert@bertbotta.com. Website: www.bottacopywriting.com
"After all, when I flew for Netjets, the most powerful people in the world trusted me with their lives; it only makes sense that you can trust me with your business!"
Goods:
Your webpage looks great. You're selling to aviation companies, and the first thing you have is a huge picture of a jet which looks amazing. Who doesn't love that!?! It's what I call plane porn, and it's awesome.
Of my 8 key focus areas that I recommend for Ads, your webpage has 4 of them, and that's great! I don't think there is any 1 page ad that is going to have all 8, so I like to target 4-6, and you're already there.
What are those 4 areas?
Glad you asked! Your webpage has:
An attention grabber – though I think we can make it better!
A great headline – sounds basic, but it is supremely important
Bullets that sell – a must have
A clear/concise call to action – it's amazing how many ads are missing this
Alright, now that your ego is through the roof, let's talk about some things that can be improved.
Bads:
The page has 4 of our "key focus areas", and that's a wonderful start, but we need to improve some of them.
Your picture looks great, but the text is in greyscale, and isn't very visually appealing… easy fix detailed below. Also, despite the visual appeal of the picture, it doesn't help your prospective customers figure out what you do or why you're better than everybody else. You might think about making it a little smaller and having your attention grabber (and maybe even your headline / sub-head) above the picture so that the focus of your page is 100% obvious.
Your bullet points are, for lack of a better term, fluffy. You're selling to people in the aviation industry who like numbers, facts, and concrete evidence, but your focus is on things like psychology, desire, common sense, and emotion. We need to add in some hard and fast concrete bullets to really drive your points home.
You imply that you have "raving fan" testimonies. But then you don't show us any! That's a mean tease that might make your reader think, "does he really have raving fans, or is he just saying that?"
Suggestions:
First, your current attention grabber is "You don't have to Wing it Alone!" That's a good catch phrase, but I think we can come up with a better grabber which gets people's attention and lets them know that you have information and ability which they NEED. Here are a couple ideas to get your creative juices flowing:
Attention aviation business owners looking to publish articles which increase your credibility and earn you more customers!
Or
Save time and money while increasing your profit when you hire a marketing professional to write for you!
After you settle on your favorite "grabber" then make sure your subsequent headline and sub-heads stay on the same theme by focusing on your target customer's biggest need or problem, and how you are uniquely (USP!!!) able to solve that problem.
You don't have to wing it alone!
We're looking for those Michael Masterson"4 U's" – Unfortunately, the current headline isn't Urgent, Ultra-specific, Useful, or Unique – it could really apply to any business from a charter company to a personal assistant.

The headline will be more effective as if it is more specific and customer-focused so that people know off the bat what service you're offering. (You'd be surprised how many aviation professionals have no idea what a copywriter is!)
"Aviation Advertising – You Don't Have to Wing It Alone!"
and help it with a sub-head:
"Ad copy that crosses the distance between your company and your customer."
"Let me help you tell the story of your company, product or service."
Your current page has 4 possible problems that you are able to fix. My gut feeling is that you are giving too many problem examples by trying to appeal to everybody. Focus on 1 or 2 bleeding necks (sound familiar from our January book?) which all of your target customers have, and I think that will increase engagement. Not sure which problem that is? Try something out for a month or 2, then try something else and see which one does better. If you are able to drive high volume, then you might be able to do a split test which would really help you understand your customers. Remember, the reader doesn't care about you… they care about how you can help them!
Next, add some variation to your text. You have a nice big color photo at the top, and then all of your text is grey. Boring. Make the text darker (it's a little hard to read), and add in color in strategic spots (like here). Highlight certain areas, make key sentences bold, and use italics where it makes sense. This will have the double effect of making your page more visually appealing while letting lazy scanners (guilty as charged, your honor!) pick up on your main points even if they don't read every single word.
Call to action. It's great that you have one. Despite all evidence to the contrary (especially in my home!) people respond when you ask them to do something. Your call to action is currently buried in the bottom of your page. Try making it stand out a little more, and include another one in or near the top left corner of your page.
Lastly, you have some good "bullets that sell". They are just a bit too mushy for me. Don't get me wrong… keep some of your mushy bullets in there. They still appeal to your customers. But add in some more direct points to appeal to the numbers and fact-based people out there (like me… I instinctually fell asleep when I read the words "clients emotions"). Here's where I want to try something a little different to increase Master's Class interaction… Can anybody help out Bert and give some ideas for some amazing "bullets that sell"? Your prize for the best idea will be… a sincere "like" or maybe even a new Facebook "heart" from me, and probably from Bert, too. Don't worry, Bert! I won't leave you hanging. If you want some ideas, I'm planning to include some in the comments after we post this.
Now for the point I'd like to make after claiming my previous point was my last one… You talk about having a "raving fan" base. So show us!!! I believe you, because you're a nice guy, but your prospective customer might not. Telling people something is great, but showing them something is 10 times better (I completely made up that exponential statistic, but you get my point). Add in quotes and testimonials from previous clients who you've impressed. That will show that you can really put your money where your mouth is.
That's all I got! Do you have an idea that could improve Bert's webpage? Let us know! Also if there's anything in this Test Flight which you feel strongly about (either good or bad), please don't hesitate to speak up and let us know what you're thinking. The more ideas we all share, the better we can all become.
Do you have an ad that needs a Test Flight?
If you're a member of our Master Class then we can do it for free for our March Test Flight!  Just submit your ad to me through our Facebook group, and you'll get feedback and ideas from some of the best in the business.
-Jeff Stodola
Angels 6 Aviation
Trivia:
The WATS conference jogged a vague memory about the etymology of the word "symposium".  So I looked it up.  It's a combination of two Greek words from the 16th century meaning "to drink together".  Yet another reason the WATS conference in Orlando sounds enviable as we are enduring a cold winter!  So stay warm out there, and just remember to be a little bit skeptical when somebody tells you how much they "worked" at the latest symposium.
Do have an ad that needs a Test Flight?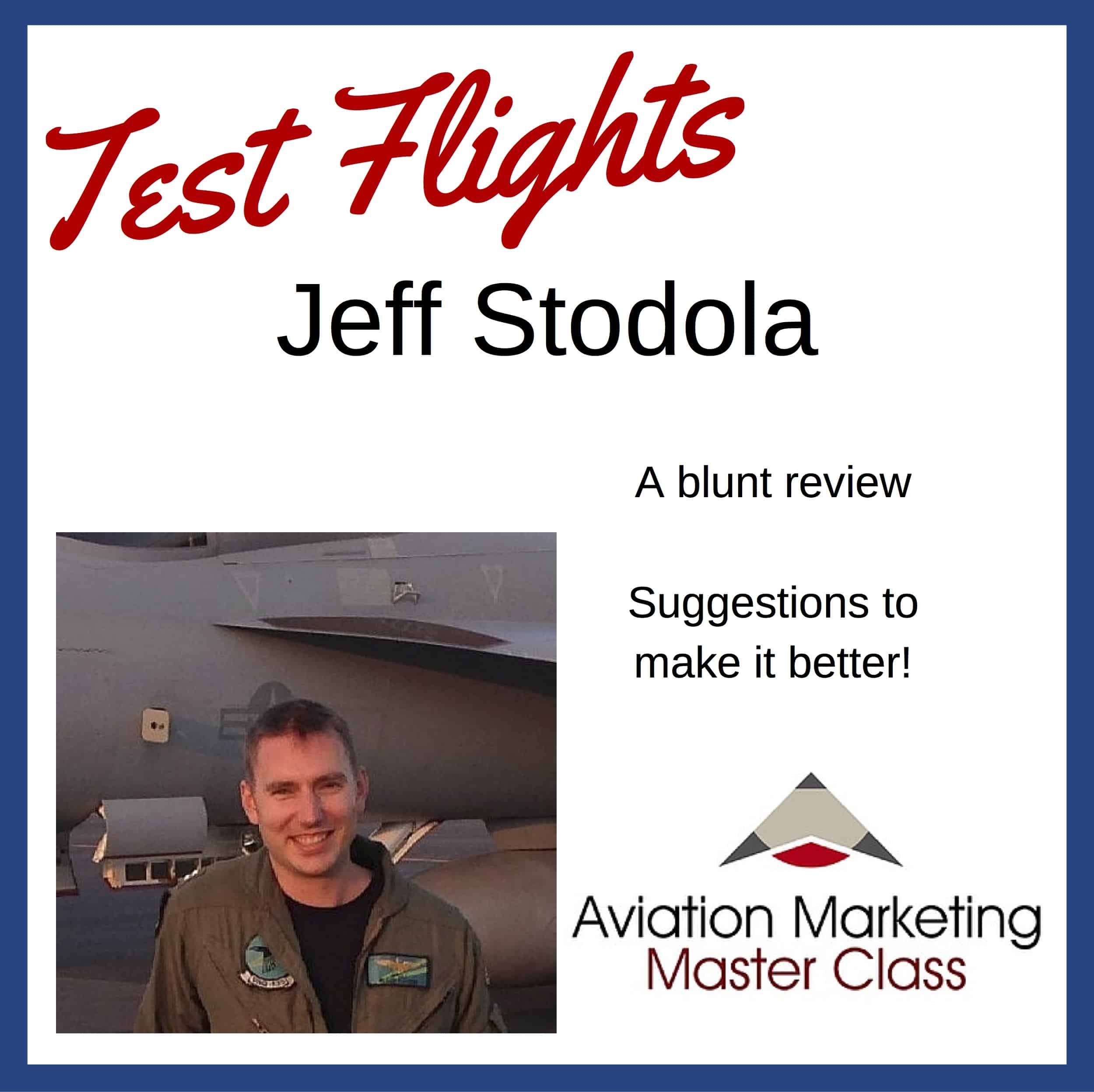 If you're a member of our Master Class then we can do it for free for our April Test Flight!  Just submit your ad to me through our Facebook group, and you'll get feedback and ideas from some of the best in the business. Not in our Master Class? You should be!
-Jeff Stodola
Angels 6 Aviation
Trivia:
Did you know the picture in our last Test Flight was a model airplane? Pretty realistic looking wasn't it? We meant no slight to Bryan for posting a model airplane, as his ad was definitely worthy of the real thing, but being an r/c pilot myself, I thought it was pretty impressive that the model looked so much like an actual Piper Cub!
The first auto gyro was designed and flown by Spanish engineer Juan de la Cierva in Madrid, Spain in January 1923. His development of the auto gyro was integral in the follow-on design of helicopters.
Second fact, it was as crazy looking nearly 100 years ago is it is today!
Download a Free Tip Sheet
Start improving your ads right away!
Want some advice on your ads?  Download our free tip sheet- 7 Things to Consider Before you Publish an Ad!