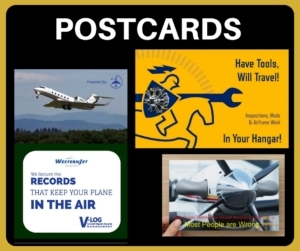 Aviation marketing prospecting postcards are a fantastic tool to find new customers! Aviation decision-makers can be old-school. Things they see on the Internet seem to naturally have less credibility than things they get in the "real" mail. And postcards make a great first impression when you're prospecting for new business!
The 2015 DMA Response Rate Report shows that direct mail has a response rate of 3.7% with a house list and 1% with a prospect list. On average, email response rates sit at just 0.1% for both house and prospect lists. Not only is the response rate higher than email, it's faster too. The CMO Council reports that 79% of people act on direct mail immediately versus just 45% with email.
Postcards are incredibly effective direct mail because-
They don't need to be opened to capture attention.
They can be visually appealing – some get hung on bulletin boards
They are simple for busy people to respond to.
They are the least expensive direct mail method, without sacrificing all the credibility advantages.
But, it can be a lot of work to come up with a great list, offer and presentation. And it's a hassle to get them printed and sent. So why not have it done for you by experts?
A consultation about the List, Offer, and Presentation required to get the results you want.

A visually arresting design, using stock photography (or your own photography) and professional graphic design.

Compelling sales copy written by aviation-industry copywriters.

List rental based on your ideal customer profile (FAA certifications or ratings; aircraft make, model or age; demographic factors, geography, income, etc.

Full-Color front and back side.

115 lb Premium Glossy cover stock.

First Class Postage

Press-checked, addressed, hand-stamped and sent from our office.

1000 Postcards. (Need more? Let us write you a quote!)

Custom photography and other services available for an additional fee.