Sales and Storytelling Workshop at Sundance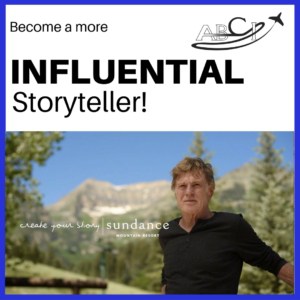 What better place to perfect your sales skills (which are 75% storytelling skills!) Than Sundance Resort? Founded by Robert Redford and the spiritual home of the Sundance Film Festival, this mountain resort is a perfect venue for a highly custom workshop designed to make you a more confident, powerful storyteller. Here's what we have planned so far:
Limited to 6-8 Insiders
August 23-25 2017 (Wednesday-Friday) – Lodging included Wednesday and Thursday night
Food, Lodging, Materials, Coaching, Guest Speakers and Horseback Riding provided.
Before/After Video of your sales presentation with professional feedback.
A publish-ready short video telling YOUR story (or the story of your product or company!)
$4900 Inclusive! (See web page below for details
This is the place where it all began—where Robert Redford created an internationally renowned film institute, film festival, and television channel devoted to independent film.
We've chosen it because we think aviation sales and marketing professionals have great stories to tell, and can become more influential with prospects, partners, and others by becoming better storytellers!
Three Reasons to Book Early
Because we're offering private workshops and final retakes on a first-come, first served basis on Friday afternoon to work on polishing your presentations.
Because you know that magical things happen when you make a commitment to do something, especially when it comes to investing in yourself!
Reserve your space before December 31, 2016 and get a FREE LODGING UPGRADE (and take it off your 2016 taxes!)
Become a Better Storyteller!  Join Us!
var d=document;var s=d.createElement('script');