Pilots don't leave the ground without preflighting the aircraft.
They preflight every aircraft, before every flight
They use a checklist developed by experts
They know the conditions and mission parameters they're expecting
When they need to, they don't hesitate to seek a second opinion from a professional they trust
You spend a lot of money every time you place an ad in a periodical, every time you mail a sales letter or direct mail piece, and every time you launch an online campaign or online ad.
A mistake costs your company money, but worse than that – it could damage your brand or reputation.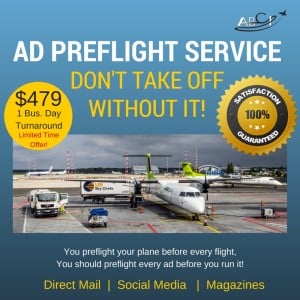 Now you can get a quick, inexpensive, ruthless written review of your ad BEFORE your prospective customers see it.
Here's how:
Buy an Ad Preflight Coupon (They are good for a full year.)
Fax or email the coupon and your ad and the provided cover letter to ABCI.
Within two business days, you'll have your ad thoroughly reviewed by a marketing professional, using our exclusive Ad Preflight checklist.
We don't pull punches, and we won't tell you it's "fine" when it's not.  We grade each element of your one-page ad, including concept, delivery method, visual design, headline, copy, offer and presentation.
If anything needs to be changed, we'll tell you. And we'll give you some ideas for improving it.
Please allow 2 business days for your completed review.
Buy as many coupons as you like while they're half price! They are good for a year. Use them whenever you like.
Order your Ad Preflight today!
d.getElementsByTagName('head')