Aviation Marketing Strategy & Planning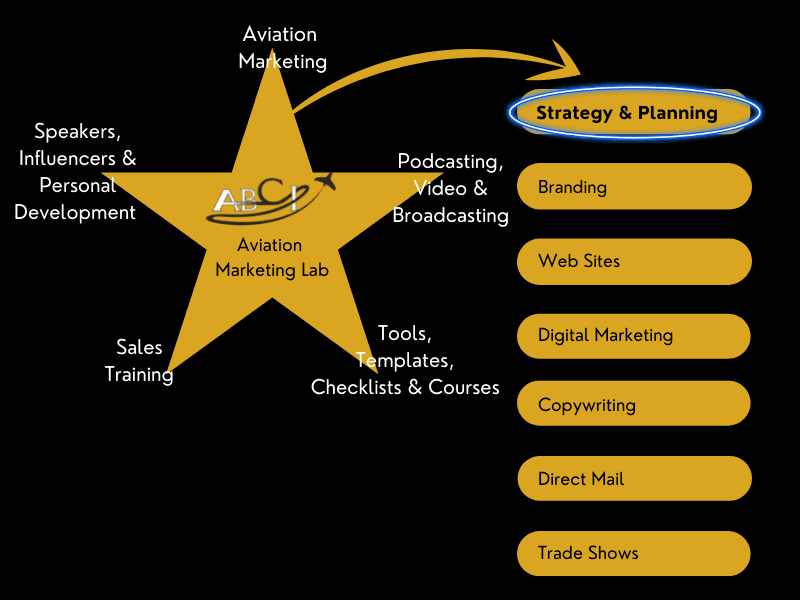 Let's Talk About:
Marketing plans for pitching investors
Market entry of a new product or service
Annual marketing campaigns that will far exceed your previous performance
Defining your ideal market or finding new markets
Product development recommendations
Countering the strategy of a clever competitor
Marketing Should NOT be an Afterthought!
To sum up ABCI's marketing philosophy, which comes from our years of experience working with small businesses, Fortune 50 businesses, and aviation companies of all stripes:
No "Random Acts of Marketing."
Everything must be part of a system, with an input and an output.
Every campaign must have a list, an offer (or CTA), and presentation.
Every qualified prospect must have money, authority & need (MAN) to make a purchase.
Habits matter more than massive effort.
Marketing doesn't have to be pretty or perfect, but it DOES have to be effective.
Diversity = Stability.
Marketing awards don't sell products.
Never invent what you can adapt.
Simplify your message!
In this industry, we have specific products with limited audiences. We can't afford to make a bad first impression or waste resources on a bad strategy.
So, time and energy spent planning is always well-spent.
Our ideal scenario is to visit your location (or plan an off-site) strategy session with all of they key stakeholders and visit any key customers you can drum up.
Life is not always ideal, so we do what we must using what resources we can access in order to create the best plans and strategies for the situation.
We're looking forward to "thinking with" you!