"Is it better to use paid ads, like Google Adwords for aviation, or to try to get a better rank using some other method, like SEO software or writing content?"
Like most marketing questions, the answer depends on your situation and objectives, but this is a question we hear a lot – there is a lot of interest in aviation marketing on Google!
To provide a useful answer, we have to ask a few questions of our own.
Are you advertising an event or a limited-time opportunity?
Have you done research to know if you're using the terms your prospective customers type into Google and other search engines most often?
Do you have a mechanism on your site to capture visitor information?
If the answer to all of the questions above is "Yes," then paid ads are a great opportunity to get traffic to your site quickly.
If the answer to any of the above questions is "No," then we advise against paying Google Adwords or anybody else for "paid placement," "sponsored ads," or "pay per click,"  "PPC" or any of the other names used by SEO "experts" who sell such services.
Here's the rundown on the advantages and disadvantages of paid search engine placement.
The Pay Per Click Opportunity – Best for Events and Limited-Time Offers
Most of the search engines offer some form of paid placement.  The most famous of these methods is Google AdWords. Since Google is the dominant search engine (More than 70% of online searches originate on Google) it's a great example to use for illustration, and most search engines model their paid listings in a similar way.
Using Google Adwords for aviation marketing is a good idea, because it includes a number of tools that allow an advertiser to create an ad and publish it within minutes, making it an ideal advertising medium if you have an event or training session next week and have extra seats to fill, as an example.  It is probably the very fastest way we know of to get the word out about your event or offer.
The ad will appear when the person searching types in the words the ad is listed under.  Just as it's important to ensure that your ad appears in the correct section of the phone book, it's important to have your listing (paid or not!) appear using words you selected.
One very common mistake is to have visitors who click on your paid ad routed to your web site's home page.  Since paid ads are best for a specific event or offer, visitors should be directed immediately to information about that event or offer.  You've paid for the clicks, now it's your job to ensure that visitors aren't lost to confusion about where to go or what to do. It's best to assume that people are too busy and impatient to solve puzzles – you've purchased their attention for a few seconds, now you need to make the most of it with your event or offer.
Drawbacks to Pay-Per-Click Advertising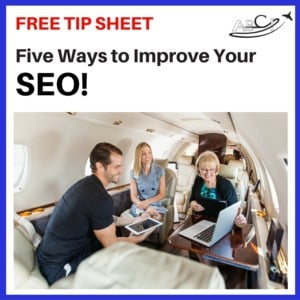 Paid listings have the following drawbacks:
They can be prohibitively expensive
They stop working the instant you stop paying for them.
They are subject to "click fraud."  Despite the search engines efforts at security, it is difficult to determine whether a click is from a legitimate customer or from a hacker or competitor attempting to drain your budget. (When funds allocated in your Google PPC account run out, the ad will "disappear" until the next billing period.)
The Advantages of Great Content
For most purposes, we recommend that our clients use "natural search," "organic search," or "content marketing" techniques, or a combination of the two that leans heavily toward content marketing, because great content is a better long-term investment in your company's complete marketing system. To find out more about how to improve your search engine visibility, or (SEO – Search Engine Optimization) Download our free tip sheet- Five Ways to Improve Your Aviation SEO here.
Investing in great content for your website is a smart long-term business decision because a well-written article that includes the key concepts for your business has the following benefits:
Great content will be ranked well in the search engines.  Google engineers work hard to ensure their search engines direct web visitors to the best quality content available on a particular topic. Their algorithms change over time, but the intention is always the same.
Great content lasts forever. Well, forever may be a bit of an exaggeration, but one article we published in 2004 still receives between 300 and 400 visits per month. By contrast, paid advertising stops drawing traffic to your site the instant you stop paying for clicks.
Great content is compelling. The content on your site should be part of your sales process. It should inform and educate the visitor about your product or service, and why it is the best choice.  Great content can also provide information about your company or industry that positions you as the subject matter expert. No amount of paid advertising can be as effective if it doesn't include well-written information.
Have questions about using search engines, Pay Per Click or Google Advertising  in your marketing?
We're here to help!  Find 30 minutes on my calendar, Call 702-987-1679 or write to [email protected] for more details.