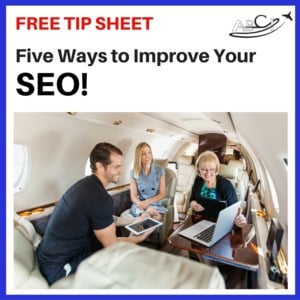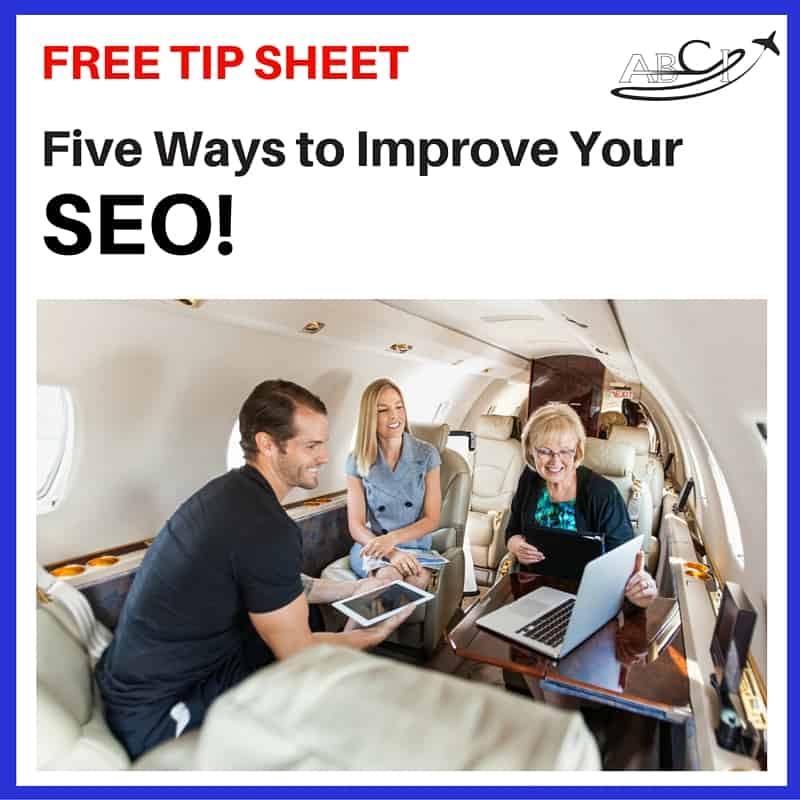 Why do you spend so much time on Search Engine Optimization (SEO)?
In every nearly every Office Hour with clients, we spend several minutes going over SEO results and changes. And we provide printed reports each month to our clients because we feel that SEO is SO important. 
There are many marketing tasks that our clients would rather spend their time (and money!) on than SEO – they'd rather talk about paid ads, social media, and other, faster forms of marketing. SEO is a long game, and it takes a lot of patience. 
Search engine marketing is harder to talk about and harder to quantify for two reasons:
1) It can get technical, and
2) There is often a delay between performance of SEO tasks and a visible or measurable result.
We insist on good optimization, sometimes over the protests of our clients, for one main reason.
For most businesses today, SEO is the highest ROI marketing effort. The benefits it provides exceed the value of other marketing approaches – direct mailing, broadcast advertising, online ads, etc.

Jayson DeMers – How Much Should You Pay for SEO Services?  Search Engine Watch
We disagree with Jayson – printed newsletters and a few direct mail campaigns have had equal or better return on investment for us than  SEO; although it's hard to isolate costs since in the aviation industry people may find us through Google, receive a postcard, and finally respond to us when they see an email, as an example.  It's difficult for us (and probably even for them) to say exactly which message prompted them to take action when they did.
In any case, being found on Google, Yahoo, Bing and other search engines when prospective customers are looking for your particular product or service today is what having a great ad in a printed industry or local directory was ten years ago.
Most aviation decisions would be considered B2B (Business to Business)
78% of B2B buyers start their research on search engines
50% of B2B buyers turn to social media/peer reviews
78% of B2B buyers go directly to vendors' websites
The Data Behind How B2B Buyers Make Purchase Decisions
We will talk about what we do to optimize a site in a moment, but most importantly to most of our customers is the results they can expect.
Aviation SEO Results
One way that people judge an SEO company is by how well their own site performs against its competitors.  After all, if they tell you that search engine optimization is important and want to perform it for  aviation websites, you should see that they "practice what they preach!"
This table shows ABCI compared with our known competitors in aviation marketing. We also included a couple of our client sites for comparison, as well.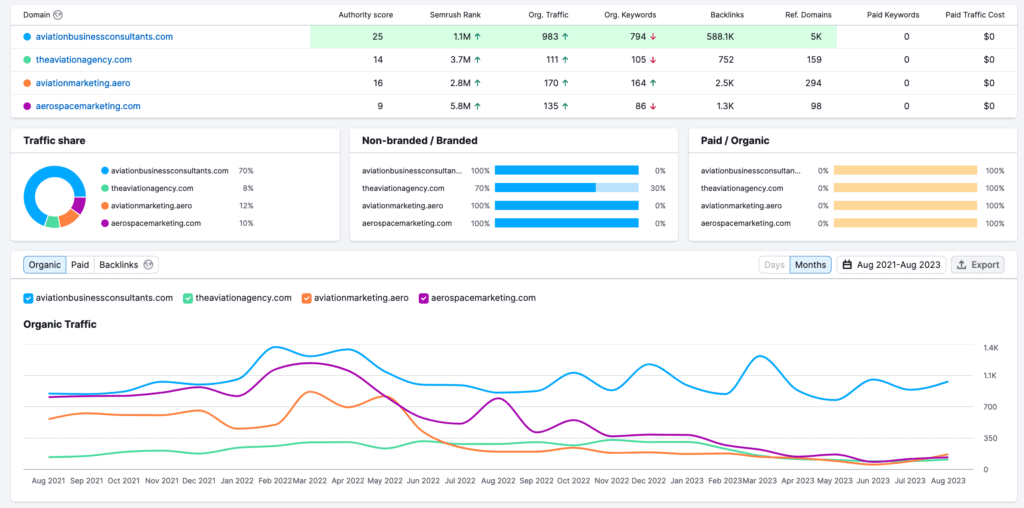 You can see that we have a higher authority score and  SEMRush rank (these are both aggregate measurements by Google and SEMRush. 
We have a higher amount of "organic" traffic, which means people who find us using the internet without clicking on paid or sponsored ads.
Our site is optimized for 794 keywords, which gives us a nice diversity of business.
We also have a high number of backlinks and referring domains.  This is important because the search engines look at the number of other sites with links to ours as a measure of the quality of our content. 
So, how do we achieve these results?
We start by selecting appropriate keywords (sometimes more accurately called keyphrases.)
How do we know which keywords to use?  We base our keyword selection on three criteria.
Relevance
Popularity
Competition.
Relevance can only be decided by humans, not by software. This is why we work with clients to prioritize our lists of keywords based on their experience of what words customers are likely to use. Years of experience working with customers can't be replaced by any mechanical function, so our clients are left with the task of poring over spreadsheets once or twice a year.
Popularity and competition are only slightly less vital. It does very little good to optimize for keywords that are extremely relevant but that nobody uses.   As an example, "aviation copywriting" is an accurate (and very relevant) description one of the most important services we offer, but because few people in this industry are familiar with the term "copywriting" we generalize to "aviation marketing." Sometimes a small difference in a keyword can make a big difference in results.
Here are the details of SEO tasks ABCI performs, based on your selected service level.
| | |
| --- | --- |
| Number of keywords optimized | "Landing gear" is one keyphrase, and "landing gear for King Air 350s" is another keyphrase. |
| Web Server Analysis | Common errors include having Javascript files embedded incorrectly and poor navigational structure. We look at how your server is set-up and make changes as necessary. |
| Keyphrase Research | Great keyphrase research is the solid foundation of any SEO campaign. We analyze keywords to determine what phrases will convert, which phrases will drive traffic, and which will do both. |
| Keyword Analysis | We analyze your keywords an industry leading keyword research tool. |
| Meta Tags (Title & Description) | Meta tags tell the search engines what your site is about. It also shows up to viewers when they do a search in Google. This must be written well from both a search engine and a user perspective. It is important these tags incorporate keywords but also compel users to click. |
| Creation of robots.txt | The robots.txt file allows the search engine "robots" to know those folders that should not be included in their index (i.e. pages that are not for users to see). |
| Creation & registrations of sitemap.xml | Shows the search engines every page on your site, the importance of these pages, and how often they're updated. |
| Initial content asset links | We research, write and distribute themed content assets to build trust and authority with the major search engines. |
| Content asset links | Ongoing content asset links to keep your website ahead of your competitors' and allows you to rank, over time, for highly competitive keywords. |
| Link building/link procurement | With a variety of sources used – from social profiles to bookmarks and directories – your site will have valuable "votes" in the initial 2 month period. |
| Social signals | In addition to links, search engines now look for social signals around a website′s use and popularity. |
| Google+ business profile setup/optimization | The Google+ social network influences Google's search results. Thus, we set up and/or enhance your Google+ business profile. |
| DMOZ submission | DMOZ is the most trustworthy directory listing out there. We submit your site and create a profile. |
| Information architecture audit | We make sure your navigational structure is SEO friendly and that your internal linking maximizes your SEO capabilities. |
| Google Analytics setup & analysis | If you don't have Google Analytics installed already, we'll do this for you. We go over your results with you monthly, interpret and change our strategy based on results. |
| Local search optimization | We create, claim and optimize your Google Places page so your local listing returns higher in the map results. |
| Setup of website sitemap | A sitemap is visible to readers and is helpful with navigation. Google recommends each page on your site be within 2 clicks of the home page, a sitemap enables this possibility. This varies from the sitemap.xml file, which is for search engines to read. |
| Alternate text added to images | Search engines can't read images, they can only read text. We'll add text to the image properties so Google gets a clear snapshot of what your site is about. |
| Link redirect audit | We fix any links coming into your site on unknown pages and set up appropriate 301 (permanent) redirects. |
| Custom 404 error page setup | A custom 404 error page will tell search engines and users where to go if they type in the wrong page. |
| Schema HTML tags | Schema refers to an HTML tag that marks up the content on your pages in a mark up language recognized by major search providers, making it easier for search engines to understand the relevancy of your site to a specific search query. |
| SEO copywriting | ABCI's aviation copywriters craft your content to professionally market your business while incorporating keywords at the correct keyword density for the most successful search engine ranking results. |
| Shareable/linkable content | Great content that people will naturally link to is one thing, actually getting the word out about that content is another. We promote your content so the links start coming in naturally. |
| Social media monitoring | What are people saying about your brand? Log in and see at any time what visitors are saying in the social media world. |
| Competitor analysis report | We'll research those in your industry to gain link sources, produce unique content and strategize on how to gain the maximum visibility in your industry. |
.Need more help?  Download our free  Aviation SEO Tip Sheet, or get a free consultation about our SEO Services for Aviation Websites.
More Aviation SEO Resources