John and I mixed business with pleasure and enjoyed food, adventure, business, more food, and more adventure on a road trip from Salt Lake City to Orlando for the NBAA BACE, visiting clients and friends along the way.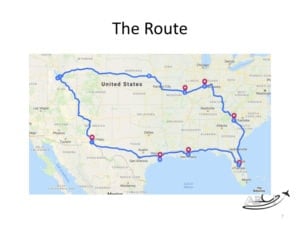 Since the Lear Jet is in the shop 🙂 and flying commercial just isn't as much fun anymore . . .
We haven't been on a road trip in awhile, and we wanted to drive to NBAA. Looking at a map, we started thinking about which of our clients are along the route of travel. And it turns out, there were a few!
As busy as we are, there are lots of reasons to spend some time on the road. One of my favorites is a quote by Mark Twain:
"Travel is fatal to prejudice, bigotry, and narrow-mindedness, and many of our people need it sorely on these accounts. Broad, wholesome, charitable views of men and things cannot be acquired by vegetating in one little corner of the earth all one's lifetime."

-Mark Twain
We also know how important it is to do business in person. We love our clients, and working with them by phone, email and even teleconferencing is incredibly satisfying. But we enjoy communicating in person even more.
Omaha
It's interesting to see how things are done in different parts of the country. Even though we typically stay at Marriott properties (a national chain) there are regional differences in little things like the handwritten notes left by the housekeeping staff and the way they fold dishtowels into bears!
Who knew?
St. Louis
St. Louis is beautiful, the Spirit of St. Louis Airport is a thriving area and Jeremy Cox and Debbie Murphy of JetBrokers are perfect hosts.
(Jeremy later received NBAA Outstanding Service Award in his role on the Greater St. Louis Area Business Aviation Association.)
We had lunch at Vito's in the Valley, a lovely Italian restaurant near the airport, and Jeremy introduced us around the airport. Debbie had somehow escaped before we got a photo.
Terre Haute
I'd never been to Terre Haute, and I enjoyed it immensely. Beautiful, charming town, with a lot of character and diversity. (And Square Donuts!)
We met with Peggy Mills and Jane Santucci, who work with us on marketing for Turbines Inc. And we got a tour of the facility.
Greenville
I'd also never been to Greenville. Gorgeous community, with huge trees and green everywhere. And lots of rain the day we arrived, thanks to Hurricane (by then Tropical Storm) Michael.
We've been working with Special Services Corporation (SSC) for about nine years, and had somehow never met in person! We got to tour their new facilities (they'd recently moved to the other side of the same airport.) We met with Doug Goldstrom and new dispatcher, Doug Rumminger.
SSC and other sponsors at GMU Airport has invested time, energy and resources into a beautiful park designed to introduce young people to airplanes, airports and all other things aviation. Paths, playground equipment, and activities help young people get and stay curious about aviation.
Charleston
Charleston is gorgeous, historic, and full of Southern charm. We met with Brian Chase of Chase Aviation, a long-time client and friend, who talked us into trying the Hominy Grill's legendary "Nasty Biscuit."
Strangely, it was fantastic!
We found a wonderful car wash in Charleston – the owner obviously had set up the business to attract and help its workers achieve their goals – people stayed with the car wash through college, or for EVER, as they moved up through the ranks. We'd love to be an employer attractive enough that people stay with us for 56 years!
Orlando
And of course, Orlando. We spent the first day at Disney World, and waited in line for the Banshee Ride (if you've seen the movie Avatar then you know exactly what I'm talking about.) More about Disney and marketing in a future podcast.
The highlight of the trip – our Networking Breakfast! Left to right – John Williams, Paula Williams, Debbie Murphy (JetBrokers), Lori Knoper (LD Aviation), Laura Sandusky (BIZJETCPA), Robin Frey (Aerostar), and Jeremy Cox (JetBrokers.)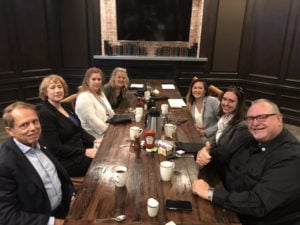 The NBAA show was wonderfully overwhelming, as always. One thing we noticed was a lot of video – at kiosks, in booths, even in shuttle buses running from the Convention Center to the Static Display. Video is a trend we'll be embracing more in 2019, offering more options.
The NBAA Innovation Zone featured Robert DeLaurentis, the Zen Pilot. Robert will be flying a modified Turbo Commander from San Diego to the South Pole to the North Pole and back again, stopping at several countries for educational programs and lectures.
The DeLaurentis Foundation is supporting the trip in part with holiday gifts for pilots, adventurers and thinkers, including flight bags, sunglasses, support socks, books, challenge coins and coloring and activity books for children.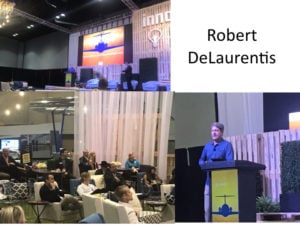 New Orleans
Of course, we had dinner in New Orleans. At the suggestion of our concierge, we ate at Dickie Brennan's Steak House. Easily the best dinner of the trip! (And we had a LOT of good food!)
Galveston
Visited friends in Galveston. Wonderful place for naval history!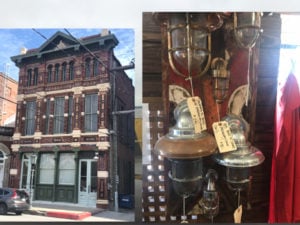 El Paso
And of course I had to buy a pair of cowboy boots in El Paso.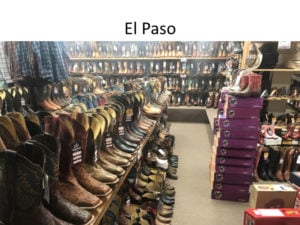 We enjoyed the trip and are planning to do more of these in the future! It's a great opportunity to connect with clients in person on a regular basis.
See the video Aviation Marketing – Road Trip to NBAA BACE and subscribe to our channel on YouTube!
Subscribe on iTunes, Stitcher or Google Play.