In our previous article, How Private Aviation Can Stop Wasting Millions On Advertising, we talked about four things that don't work.
So, what DOES work?
A well-designed campaign.
Most marketing campaigns are ill-conceived and either don't work, work very badly, or can't be evaluated at all because they weren't designed to be quantifiable.
We see a campaign as successful if it is accurately measured, repeatable, cost-effective, and profitable.    The example used in this article is all of those things, and since it was an in-house campaign for ABCI we're free to share the numbers and "show our work," as they say in math class.
The two largest factors that made it a success – great content, and good metrics.
Great Content
"I just read your article and I was wondering if you have a few minutes to talk about my problem."  This is the way a conversation often starts with someone we're meeting for the first time.
When we started offering aviation marketing services a year and a half ago, it was difficult to get the attention of decision-makers.  Now our biggest challenge is to spend time efficiently to maintain high quality service for our clients and future clients.
The marketing solution is simple:

Notice that I said "simple," not necessarily "easy."
Producing great content has huge advantages.
It respects the intelligence of your prospective buyers.
It changes the nature of the conversation from "sales" to "solving problems."
It changes the relationship when prospective buyers call you instead of you calling them.
The "down side," if there is one, is that you must continue to produce great content and publish it to the right people at the right time, cost-effectively.
There is a myth that social media is "free." That's not strictly true.
While it's free to create an account, publish content, and interact with people on Facebook, LinkedIn, Twitter and other social media channels, it is certainly NOT free, or accidental, to produce great content.  Great content requires excellent research, excellent writing, sometimes good photographs and video.
Using social media without having substantial, useful, interesting content can do your company more harm than good.
Issuing a steady stream of messages on the social media the communicate nothing more interesting or useful than  "buy my product" is not only wasting your time, but establishing an  appearance that your company is shallow, boring, unintelligent, insipid, or uncaring.  (Whether it's justified or not – people judge your company based on what they see or read.)
Content should be on a topic that's important to your prospective buyers;  it must be useful and somewhat objective information, rather than simply a sales pitch.  And it should be focused in a way that provides reasons for the prospective buyer make the decision to take the next step in the sales process if it's a good fit.
Content should support your "sales funnel"
Your content should support potential buyers during their entire stay in your "sales funnel."  That is, from the time they first become aware of your company until they make the purchase decision.
There should be several steps in this funnel, and your prospective buyer should be allowed to proceed at his own pace – requesting (and receiving) more information in ways that are convenient and useful.
In this example, our sales funnel consists of several small steps.
The prospective buyer downloads an ebook ("opting in" to our sales process, and giving us permission to send him more information.)
We begin sending the prospective buyer a weekly tip by email and a monthly newsletter about our company.
The prospective buyer requests a New Client Questionnaire.
We send them the New Client Questionnaire, along with supporting information.
The prospective buyer completes the New Client Questionnaire, providing more information about their needs.
We provide a recommendations packet and collaborate on an appropriate course of action.
A purchase decision is (or is not) made, and the prospective buyer remains on our "mailing list."
Of course, at any time, the prospective buyer can "opt out" of our sales process and we will immediately remove him from our email and postal mail lists.
A System of Metrics
A good system of metrics will tell you many things:
How did people found you?
How many of them participated in each step of the marketing process?
"How Did You Find Us?"
Asking people how they found you may be the "oldest trick in the book" in marketing.   This is a question customers are often asked on the phone or in person, and you certainly should be asking it online as well.
A system with metrics provides several advantages.  You can see what's working and what's not, you can pinpoint areas that need attention, and make changes to the process.
In our example campaign, the metrics aren't perfect but they are enlightening.   This chart, from Google Analytics, tells us how people found the website from which the ebook was downloaded: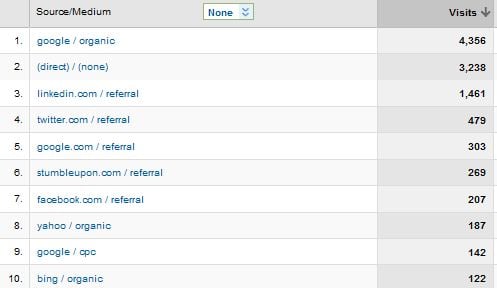 On the form where we invite readers to sign up for our ebook, we ask them where they found us.  This was (by design) a simple text box, not a drop down box or list of possible selections. Most people who requested the book left the space blank, but of the ones that indicated how they found us,  the majority were from LinkedIn.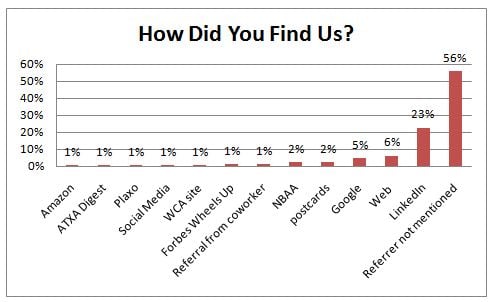 We can make other assumptions and conjectures based on the data. However, it is quite clear that we should continue investing time in LinkedIn, and improving our results from Google and other search engines, since a significant number of prospective buyers are finding us "on the web."
Back to the Funnel
Metrics also show us where our sales funnel is the most efficient.  The following graphic outlines  the actions taken by prospective buyers. In this example,  of the people who requested our ebook, 16% of them went on to request the New Client Questionnaire. Of those that requested the questionnaire, 71% completed and returned it.  Of those that completed the questionnaire, 50% became new clients.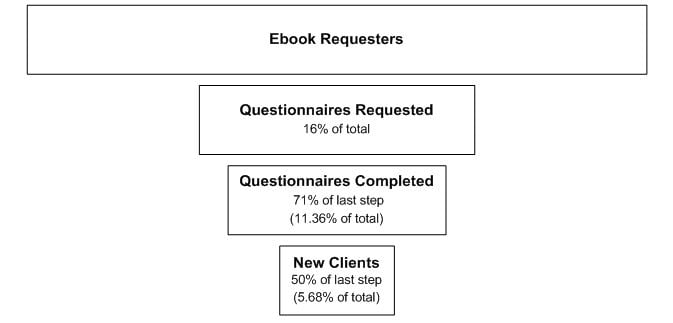 To summarize the graphic, 5.68% of the people who requested the ebook became new clients during our example snapshot of time.  This could be expressed as our Total Conversion Rate.
We're pretty happy with this – historically, a properly-designed direct mail campaign would be expected to provide a 1% total conversion rate;  2 to 3% would be considered phenomenal.
Making Improvements
So, given all this data, how would we improve this campaign?
We could (and will!) enlarge the total size of the funnel, by advertising the free ebook.  We would then monitor how many new requests the ebook advertisement produces, and how the conversion rate changes.
We can reinforce the "weakest point" of the funnel, which is between the ebook request and the new client questionnaire request. (Only 16%)  So we would brainstorm possible objections (or use a customer survey or conversations to discover them) to find out why more ebook readers aren't requesting the New Client Questionnaire.  We could write an article or produce a video addressing those objections, or provide more guarantees to reduce the perceived risk or effort required.
We would calculate the cost of each step of this campaign, determining our "cost per lead" and "cost per sale," which we would then improve by accomplishing that step more cost-effectively.  Many times this happens through enlarging the scale and reach of the campaign – once an article or video is published,   the cost is the same whether 1000 or 1,000,000 people see it, depending on what we need to do to attract the additional  viewers or readers.
A Marketing Success Story?
Although we're never entirely satisfied with a campaign (there are always things we learn that we can improve) we know that this one is accurately measured, proven, repeatable, cost-effective and profitable.

d.getElementsByTagName('head')