Free Workshop – Aviation Trade Show Success
Resales, recaptures, and referral campaigns are the most profitable campaigns you can run in  the aviation industry.
Trade shows are an important activity for us, and for many of our clients.
Where else can you be in the SAME ROOM with SO MANY prospective clients, investors, and partners?
The problem is, so are  ALL of your competitors!
It's easy to get lost and exhausted in the  cacophony of a trade show without making a single meaningful connection.   We'll talk about how to do these three things to maximize your (increasingly expensive!)  investment.
Prepare
Present
Postshow Follow Up
Do these three things right, and you'll do better than 90% of your competitors (who are spending the same amount of money to be there!
0:00 – Intro
1:33 – Hardest thing about Marketing at Trade Shows
3:01 – Reason behind doing Trade Shows
5:57 – Companies building Marketing Year around Trade Shows
7:00 – Outcome & Outline of the Trade Show Workshop
9:18 – Information Gathering
15:08 – Things to do 90 Days before the Trade Show
18:58 – Things to do 60 Days before the Trade Show
24:22 – Things to do 30 Days before the Trade Show
28:33 – Things to do During the Trade Show
32:17 – First Business Day after the Show
34:16 – Executing your Follow Up Plan
38:44 – Business Cards and  eCards
40:44 – Explosion in Under 45 Crowd in Aviation
42:46 – After Action Report 90 to 180 Days after the Trade Show
45:52 – People from group going to Oshkosh
48:46 – Things to Discuss with the Team after Trade Show
50:57 – Final Checklist, Consultation & Questionnaire
51:30 – Getting it Done
56:37 – Office Hours & Project Hours
58: 08 – Outro
Download the workbook & checklists!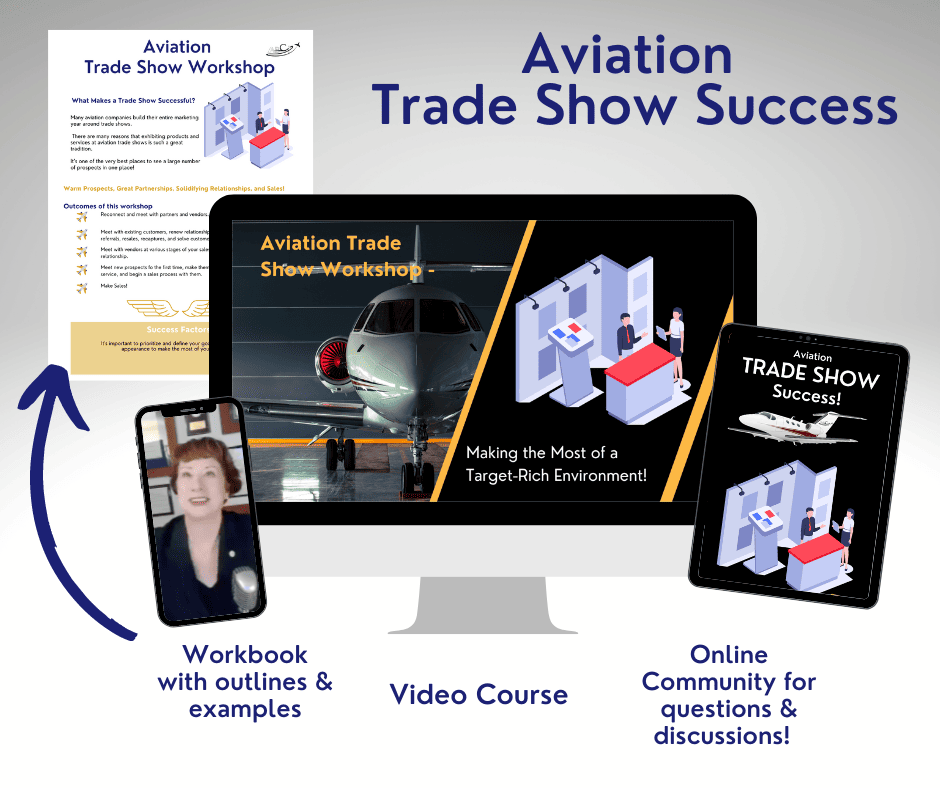 Podcast: Play in new window | Download
Subscribe: Google Podcasts | Spotify | Amazon Music | RSS