Aviation Digital Marketing
How Can Digital Marketing Help an Aviation Company Sell More Products and Services?
Seventy-eight percent of buyers look up a salesperson online before they will agree to meet.
Seventy six percent will check out the company as well.
Make sure what they find works FOR you, rather than against you!
aviation digital marketing has lots of appeal these days, and for good reason!
Digital marketing is quick, it's inexpensive, and it's very easy to measure results.
It offers the "instant gratification" of running a campaign and getting results in less than a week.
If you think of your marketing campaign as a campfire, prospecting via digital marketing is like kindling – it gets things started quickly so that you can move on to the more substantial parts of your sales process!
The methods of digital marketing we use include:
Social media targeting
Retargeting your current web site traffic (Perfect Audience)
Web site visitor tracking & approach strategy (LeadFeeder)
Competitive analysis and tracking (SEMRush)
Facebook presence, updates & targeted advertising
Twitter presence, updates and audience growth strategy
LinkedIn company page, updates and audience growth strategy
One LinkedIn or Facebook group setup & moderation
Google Adwords account management (your ad budget is not included in our fee.)
Monthly analytics review & strategy meetings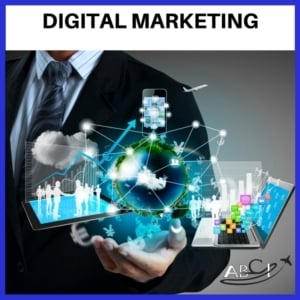 An active collaboration to make the most of your time and expertise.

An analysis of your audience and purpose. We plan an editorial calendar for you based on your unique objectives.

Our exclusive approval management process – We make the process easy and transparent for you to stay in control of the process.

A variety of creative updates, including your ideal keywords and topics.

High quality writing – Our writers provide intelligent, insightful coverage of aviation topics that comes from years of experience.

Graphic design you'll love. We create graphic images that make your posts stand out in a busy social media environment.

Aviation industry knowledge – Our writers understand the language of different specialties within the aviation community.

Monthly Reports and strategy sessions, with progress, opportunities and recommendations.

Your investment – from $1379/month.  One year commitment "handshake" commitment required, but your satisfaction is absolutely guaranteed. 
Schedule your Digital Marketing Kickoff!
Schedule your Digital Marketing Kickoff!
Let's get started building a responsive community of potential buyers and influencers!
We start every new digital marketing project with a consultation to ensure we understand (and can meet or exceed) your expectations and priorities!
Pricing from $1379. Your online presence can start getting measurable results right away!
Schedule your Digital Marketing Kickoff!