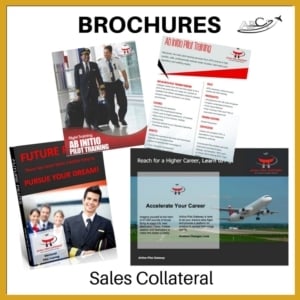 Your aviation brochures should be a hardworking part of your sales team.
Not a freeloading space-filler!
If you sell an aviation product or service, your brochure should be a hardworking part of your sales team!
Prospecting at a trade show
Prospecting by direct mail package
Building credibility as collateral in the sales process
To provide an update or announcement
To encourage new customer happiness and referrals
What should you include in your brochures? (Not just boring company or product information!)
Problem/solution
Outline of Benefits, rather than Features (How does this save money, save time, improve safety, or improve experience?)
A buyer's guide to your product or service.
A comparison table of options.
Charts, graphs, diagrams & photographs
A consultation about the List, Offer, and Presentation required to get the results you want.

A visually arresting design, using stock photography (or your own photography) and professional graphic design.

Compelling sales copy written by aviation-industry copywriters.

Full Color front and back.

100 Copies More available at a discounted price.

Premium Glossyheavyweight stock.

Press Checked and delivered to your office

Press-checked, and delivered to your office.

Other sizes/formats available.The more creative, the better!

Custom photography and other services available for an additional fee.