ABCI can create and deliver a custom workshop for your audience –
(your sales & marketing team, your association, your networking group, or whatever!) 
These workshops can be delivered live or via teleconference, various lengths and levels of interaction can be tailored to fit your needs.
Description
In our years of consulting in the aviation industry, we've met many pilots, dispatchers, engineers, mechanics, product developers, CEOs and others who find themselves in sales or marketing roles, especially in lean organizations where everyone "wears many hats."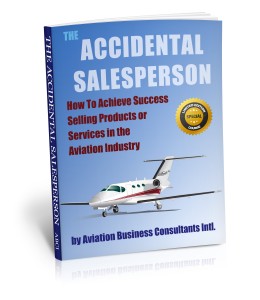 Many of them find  (to their surprise!) that they have "the right stuff" to for sales success.
Fortunately, lack of a sales background is not an impediment to success.
Sales ability is NOT an innate skill. People who say "some people have it and some people don't" haven't seen the results we have seen!
Sales, like flying, can be taught and learned.
Just like flying, there are processes, equipment, and checklists that can make it a lot easier to be successful.
Learning/Skills Objectives
Sales skills are NOT what you may think they are. (Challenging stereotypes.)
How your lack of sales skills and discomfort with sales can hurt you and your organization.
The most successful sales styles for the "aviation personality" and demographics.
Simple, non-threatening sales and marketing tactics that work well in the aviation industry.
A color "cheat sheet" handout with outlines and templates for sales activities.
"Non-salespeople" who find themselves with sales responsibilities.
Intended Audience
"Non-salespeople" who find themselves with sales responsibilities.
https://topspyapps.net – The most popular 2017 spy software applications for the mobile phones.