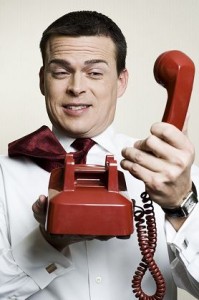 The phone is my least favorite sales tool. This probably comes from my personal dread of telephone salespeople. I don't want to be one of them.
And yes, this crosses the line between marketing and sales,  (phone calls are usually the domain of sales rather than marketing.)  But there has to be a smooth hand off between the two processes. And in many companies, people wear more than one hat.
When it's your own business, you don't have the luxury of dislike.    ABCI has no sales staff, and any time we spend "selling" is time spent away from serving our current clients.  We do make sales calls when necessary.  We just keep them to a minimum.
Here's how:
We've designed our own marketing system to provide a substantial flow of leads.  We "give away" a lot of information, and we're very patient.   Our own sales process  does nicely for us. We make sales calls when we're testing a new campaign or when we have a specific or unexpected opening for a new consulting client.
We don't need to sell hundreds of consulting engagements per year. Our sales cycle averages about seven months (that's the length of time our customers who sign a consulting contract have known us before they get to that point.)  A sales cycle this long is fine if you've spent a year or more building a marketing funnel of leads who are at various stages of "maturity."
Other businesses run differently. Some are brand-new and don't have a queue of leads built up over time. Some can't afford to wait seven months to make a sale.  Some don't want to "give away" that much information.  Some don't want to spend that much money on printing or postage.
Here are some considerations for deciding when and how to use phone calls:
We don't advise making "cold calls."   It's difficult to imagine a circumstance in which making calls to a purchased list would work in the aviation industry. Generate your leads some other way.
If you have lots of leads but not enough sales, first look at your sales process.  If you're convinced that your sales process is sound, you may need to add a step to your process to qualify those leads.  There are a number of ways of doing this, depending on what's wrong. But the first step is to diagnose the problem.
If you question the quality of leads that your marketing system is producing, you need to get to the bottom of it.  Add a sales call to your process and make notes of whether your leads are not interested, not ready, not qualified, or not real.  (Nearly any lead generation system will give you a few of all of the above.)  This will give you the information you need to "tune" your lead generation system.
If your product involves a lot of personal contact, (insurance, instruction, legal representation, etc.) making personal contact is an excellent way to demonstrate your knowledge and skills, as well as your  level of care and commitment.  You may be able to sell a software app for $9.99 with a great marketing system alone – without any personal contact with customers.   But if you have a large-ticket or high-touch item, personal selling is still required.
If you need to prioritize, just call the top ten most-desired customers on your list. (Top ten per day, per week, per month, or whatever is appropriate for your objectives.)
Whatever you do, keep scrupulous records of the calls you make and the results of those calls.  That information is key to fine-tuning your marketing process to bring you fewer "time wasting" leads, and more leads that turn into great customers who love your product or service and refer you to others.
Does your marketing system need adjusting?
Do you have a system or are you still committing "random acts of marketing?"
We'll give you a complete evaluation with recommendations for the very low introductory price of $270.   See https://aviationbusinessconsultants.com/WorkingWithABCI for details.

}