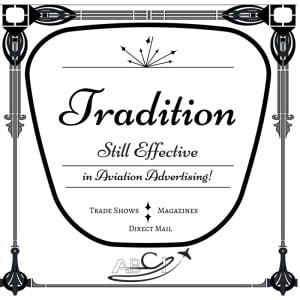 While our conversation with Benét Wilson and Michael Dye last week focused a lot on "new" methods of advertising in aviation industry, there are some benefits to some of our favorite traditional methods, including trade shows, magazines and direct mail.
Especially when you combine the old with the new!
Aviation Advertising – Trade Shows
Benét mentioned that one of her favorite advertising and prospecting channels was the good old-fashioned Trade Show. These aren't going away soon, and while it is admittedly expensive to travel (and even more expensive to exhibit!) there is NO substitute for meeting in person, shaking hands, answering questions, demonstrating your product "live" and in person, and (ideally) letting prospects get their hands on it.
ABCI attends at LEAST two shows per year, (HAI and NBAA this year) and it's often the only time and place we get to meet in person with new and existing clients.
Trade Show Combinations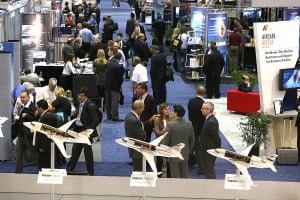 You can use other advertising methods to maximize your investment in a trade show by enhancing your appearance with other advertising methods.
Before the Show
Use a magazine ad to promote your trade show appearance. Invite people to your booth, and give them a reason to drop by.
Do the same with a postcard or direct mail package. Send a key or puzzle piece by mail, invite people to come to your booth to see if it "fits."
Offer a schedule of times for mini-consultations, using an application like TimeTrade (www.TimeTrade.com)   This works even if you don't have a booth! (You can schedule coffee appointments.) Publicize your openings for appointments using email broadcasts or social media. (Or both!)

During the Show
Have a selfie photo booth – offer a prize for people who post selfies on your social media pages.
Use the show's official "hashtag" on Twitter to promote happenings at your booth. (Such as #NBAA15)  Many shows have an app or display board showing a live feed or ticker of hashtagged tweets.
After the Show
Less that 10% of aviation companies follow up properly after the show, effectively wasting all of those expensively-obtained leads.
The good news means that if you DO follow up, you stand out from all of the competition! Send thank you notes (real ones via postal mail) to booth visitors, perhaps with an information package.
Send information AFTER the show, rather that giving people marketing materials during the show. You'd be amazed how much of your expensive marketing ends up on convention center and hotel room garbage cans as people pack for the trip home.
Aviation Advertising – Magazine Ads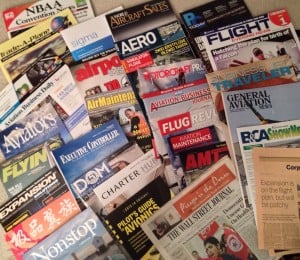 Magazine ads still have very high credibility among aviation decision makers,  but they also have a  high cost.
Make the most of the credibility of your magazine ad by using the magazine's logo on your website, printed newsletter, or social media – "As Seen in Aviation Week" will grab the attention of people who may not even have seen your printed ad. Make sure you follow the magazine's guidelines for this.
Reprint the ad in you own newsletter, social media, and other advertising with a headline, such as "Did you see our ad in Plane & Pilot?"
Have a clear "Call to Action" in your magazine ad that is a low-risk, low-investment action – download an ebook, call for a free consultation or information package, etc.  Your intention is to begin a relationship with people that may not be in the market right now but will be next month.
Aviation Advertising – Postcards and Direct Mail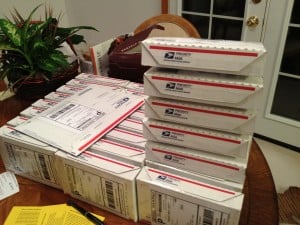 The decision-making demographics in the aviation industry still show a clear preference to reading physical materials to those online.  You can combine methods, which provides the best advantages of each media:
Remember that the #1 obstacle for direct mail advertising is to get it opened by the recipient.  Use a visually arresting postcard (with no envelope) a great headline or teaser on the outside of the envelope,  or something "lumpy" in the envelope that incites curiosity.
Send a postcard leading to an online video, ebook or online catalog. Postcards are great for prospecting and lead generation because they have a unique combination of low cost and high response.
If you have a shorter, more targeted list of high-quality prospects, send your sales letter in a direct mail package containing a sample or small gift (packages are MUCH more likely to be opened than sales letters.) Again, be sure you include a low-risk call to action; not a full-on sales pitch.   This is a "first date" activity, not a marriage proposal.
So, which is better?  Traditional or "new" advertising media?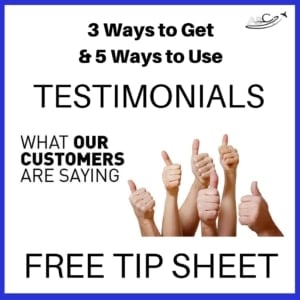 The answer is both! Use combinations of two or more advertising media for the most effective results.
No matter what media you're using, customer testimonials are incredibly important in building credibility with skeptical aviation prospects.
Download our free tip sheet – 3 Ways to Get and 5 Ways to Use Testimonials!}..