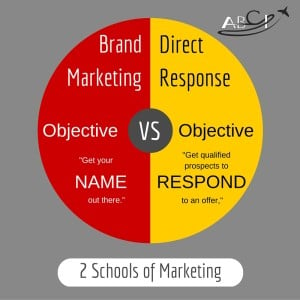 "So, what's wrong with building your brand? You have to get your name out there, you know. Not every interaction should be a sales pitch."  A very smart advertising salesperson wrote in response to yesterday's podcast on advertising.
"True, but every ADVERTISING dollar you spend should have a CALL TO ACTION associated with it!" I replied. "And a great offer doesn't have to be a sales pitch.  It can be a free buyer's guide, or a tutorial or tip sheet that your customers would love. By providing an invitation for the customer to respond,  a direct response ad is an interaction rather than a one-way broadcast."
Not every marketing activity should be a sales pitch.  But every marketing activity should have measurable results.
I know why advertising salespeople are opposed to this.  It makes every ad they sell look like a failure if it didn't directly lead to sales.
And most people hold their advertising to unrealistic standards – it's true that many ads don't have a direct, profitable short-term return on investment. That doesn't necessarily mean that they're failures.
One person found out about us when they saw an ad for our Marketing Master Class three months ago, and later bought a Marketing Flight Plan. This one transaction more than paid for the cost of the ad, which, until a week before I would have classified as a "poor performer."  Sometimes we need to lengthen the timespan and/or expand our "success criteria" for an ad.
So, just because things are difficult to measure doesn't mean that it's not worth the effort to collect and analyze as much data as you possibly can.
But, I digress.
Brand Advertising is what they teach in most university programs. And it's wrong.

Brand advertising is what Don Draper does on Mad Men.
And it can be great for certain consumer products.  But it's completely unsuited to the aviation industry.
Most people, when they took a marketing class in college, learned about "brand advertising."  They learn about saturating a market with your logo, colors, fonts, and symbols. They grew up in a world with Coke and Pepsi logos plastered on every available surface and shining from every sign and window.  They know how powerful a visual brand is, and they think that the highest and best purpose of advertising is to promote the brand.
And that's fine, if you're Coke or Pepsi.
But, in the aviation industry, we have a few minor differences:
Everyone is a prospect for Coke and Pepsi.  Very few people are prospects for a G IV completion, or a B737 type rating.
Coke and Pepsi have a very low cost product with very high margins. They can devote 67% of their revenue toward advertising. Most of the rest of us have thinner margins and can't invest that much in advertising.
Coke and Pepsi are practically interchangeable and require very little education to buy.   Most of our products are very specialized and require a lot of education to make a purchase decision.
So, why is direct response advertising preferable to brand advertising for aviation companies?
Because people are busy and distracted and will forget about our product or service if we don't ask them to respond to an ad immediately.
Because requiring a response gives us an opportunity to track the effectiveness of each ad. (Imperfectly, but imperfect data is better than no data!)
Because we can't afford to blanket the world with advertising, and need to make each ad accountable for as much revenue as we can.
These three factors make direct response advertising for aviation far more effective than the traditional brand-building advertising.
But what about brand building? Isn't that important?
Of course – but conveniently, the best way to build your brand in the aviation industry is to sell more products.
Your customers become your very best brand advocates and sales team!
Which is why we recommend plastering your brand (and that shiny logo you've been dying to use)  to your heart's content on Phase III marketing activities, including new customer welcome packages, referral and renewal campaigns, and so on.
So, done correctly, a direct response advertisement with a compelling offer (or "call to action," as marketing nerds call it) can be a better tool for building your brand than those glossy, artsy ads that leave you wondering what exactly it is that they sell.
For more about Aviation Advertising:
How to Get Testimonials for Aviation Advertising!
What's the best Aviation Advertising Media?
"Aviation Advertising – Don't Abandon Tradition, Build On It!
Buying Advertising for Aviation Products and Services
Seven Ways to Use Postcards in Aviation Advertising
Book Club Discussion – Contagious – What Makes Things Catch On? How to Create Viral Aviation Advertising
How to Get Testimonials for Aviation Advertising!
What's the best Aviation Advertising Media?
Aviation Advertising – Don't Abandon Tradition, Build On It!
Buying Advertising for Aviation Products and Services
Advertising & Prospecting Basics
Brand Advertising versus Direct Response Advertising
Aviation Advertising – Create a Checklist to Help Your Prospects
Presenting Your Offer – AKA – Your Advertisement
Free Webinar – Convincing Prospects and Customers with Visual Data in Aviation Advertising
More About Aviation Branding Topics:
Branding Mishaps – and the Insider Circle
Brand Advertising versus Direct Response Advertising
Aviation Marketing Master Class – Genaro Sanchez, Cutter Aviation talks about images, video and branding.
Use Your Company (Or Product's) Core Story to Build Your Brand
I'm not Boeing, Coca-Cola or NetJets. Can I Afford a "Brand?"