San Diego, CA
September 13, 2018
LD Aviation launched a new website this week that will change the thinking of many small fleets, individuals who own aircraft, and small to medium-sized corporate flight departments.
Most private flights are undertaken because they provide convenience and simplicity to passengers who can focus on business or pleasure.   Bypassing the complexity of the airlines is an increasingly attractive option for companies that have to serve customers without the excuses of airline delays, misplaced baggage and other problems.
But new aircraft owners quickly discover that the simplicity and ease of those private flights is not necessarily automatic. There are many details to be arranged – purchasing fuel and aircraft provisions, geographical and logistical planning, scheduling crews, monitoring the weather, ensuring customs and other regulations are followed, and many other factors, all of which are likely to change at a moment's notice because of a business decision or a weather event.
Large flight departments are staffed by crews of flight dispatchers who use complex software and have subscriptions to information services.
Smaller flight departments and individual owner/pilots don't have that luxury.  They have historically left the details to pilots and administrative staff.  Pilots often push the limits of their duty hours arranging ground logistics and fetching catering items.
Lindsay Dyer has changed that for her clients.
David Thompson, Director of Aviation at General Dynamics Mission Systems,  says this:
"Lindsay quickly set up our account and began dispatching our trips with a minimal amount of direction.  She is extremely professional, efficient, detail oriented and extremely competent. Lindsay has an excellent relationship with the crew, has great communication skills, and a quick response time when we need changes and adjustments to the schedule. Lindsay connects with all of our executive assistants (EAs) and I can tell you that all the EA's love and appreciate all that Lindsay has helped us with during the last 2 ½ years."
Greg Anderson, the Aviation Manager of Vulcan Value Partners has worked with the company founded by Dyer-
"LD Aviation Services has been a perfectly tailored solution, across every dimension of my flight operation. With one aircraft, three pilots and a Maintenance Manager, we've been able to leverage Lindsay's team's capabilities as a significant force multiplier.

They provide a phenomenal, virtual flight department experience that has enhanced my managerial bandwidth tenfold. Capabilities include: FBO selection and optimized fuel purchasing plans; fuel vendor account set-up assistance; catering (location, ordering, tracking and quality control); flight planning assistance, as needed; NOTAM and critical information awareness; commercial travel, lodging and rental car scheduling and support; and dependable, in-execution tracking of flight progress, FBO updates and passenger ground transportation.

Most importantly, I have entrusted Lindsay's team to coordinate directly with our Executive Assistants to help manage the iterative process of itinerary planning while my team and I execute the missions. Their professionalism and style integrates seamlessly, and the outcome is always superb. We are proud to have them on our Vulcan team!"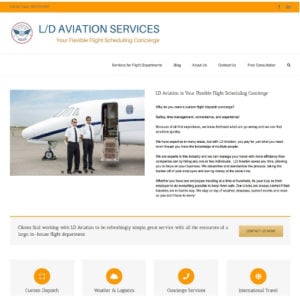 The company has launched  a new website at FlightSchedulingConcierge.com.
"We love helping companies like LD Aviation – they have a great service that their customers love, but that are unintentionally the 'best kept secret' among flight department managers and aircraft owners." Said Paula Williams of ABCI, who designed the new website.  "They have a fantastic story to tell, they truly care about helping their customers and the industry, and Lindsay Dyer and Lori Knoper have done a great job of writing some really valuable content and assembled some really helpful resources."
Some of the resources on the site include
A discussion about sourcing jet fuel for business aircraft
An article with tips for choosing the best FBO for your clients' trips
An exhaustive list of tasks that flight schedulers/dispatchers can accomplish for you
The site will be updated regularly with resources that chief pilots,  flight department managers and owner/pilots  will find valuable.
About LD Aviation Services
LD Aviation Services was started by Lindsay Dyer, CAM, in 2016 after years of working in various capacities in the aviation industry and discovering her niche of dispatching for General Aviation (Part 91) flight departments.   LD Aviation was founded on the belief that large AND small flight departments should have access to the benefits of professional aircraft scheduling and dispatching, without the cost of a full-time employee when only part time hours may be needed, particularly for small flight departments.
LD Aviation can be found on the web at www.FlightSchedulingConcierge.com or by phone at 404-775-6367.
Interviews and high-resolution photographs are available on request.