Why use an Aviation Marketing Calendar Template?
One thing we learn every year: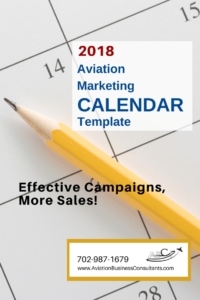 We get better results when we do better planning.
If you feel like you're behind the "power curve" with your marketing, if it's always a struggle to get the budget and resources you need, and feel like trade shows, events, holidays and promotions "sneak up" on you, this can help!
The template will give you the guidelines and framework to improve your marketing system in manageable  increments each month without making yourself or your team crazy. The aviation marketing calendar template includes:
How planning is the key to successful marketing strategy
How to speed up the process and remove the stress of sales with content marketing and blog posts
How to deploy pieces of content in your social networks in the most effective way
How and why a series of "information snacks" can help you
A comparison of advertising media for aviation
The most common reason marketing efforts fail
A sample (completed) marketing calendar template
A blank table in Microsoft Word that you can modify for your own content calendar
Complete instructions.