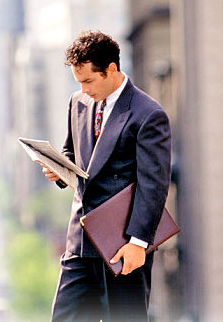 We advise against jumping headfirst into anything.
We've seen the power results of social media to bring qualified buyers and sellers together. We make it happen every day for our clients. But we don't advise jumping into creating accounts on Facebook or Twitter and writing posts and tweets without a plan.
Social media drives sales and supports your brand only when it's carefully planned as part of your total marketing strategy.  It's important to know what you're publishing and why. It's also important to  have a logical progression of content, (we call it an "editorial schedule") and to have the roles and responsibilities for social media clearly defined.
Publishing in the social media without proper preparation can cause some bad things to happen.  As an example, an abandoned profile listed under your company name makes your organization look unresponsive to customers.   As another example, a staff member who is inexperienced that makes a post (or responds to one) with an incomplete knowledge of your product or service could confuse a potential customer and cause them to lose confidence at a key moment in the sales cycle.
We've all seen examples of posts or tweets written by an employee with poor writing skills or poor judgment.
If you're not ready to plan and execute a complete campaign, there are some things you can do to learn more:
Take our free aviation marketing Mini Course.
Hire and train new or existing staff to plan your own campaigns and manage social media within your company.
Engage ABCI to manage and plan your media campaigns in collaboration with you.
No time or budget for that?  Here's a way to experience the power of social media on a smaller scale with less of a time commitment. Have us create a document for your company and publish and promote it in the social media.
Here are some examples of documents that make good "social objects" to publish and promote in the social media:
Press releases
Product reviews
Case studies
Of these, the Case Study is one of our favorites to write because they involve two companies (you and your customer) and is essentially a success story. Case studies are great for demonstrating the value of your product or service in the words of a customer.  They make both companies look good, and they are very helpful to someone shopping for your product or service because they a story of a real-world example.
Pete Savage, a business to business (B2B) copywriting specialist, defines a case study this way:
A case study is a one-to-four page "success story" that explains how Company A helped one of their customers, Company B, achieve specific business results.
We enjoy writing these for another reason as well – they are not asking customers directly to buy from you. They are showing customers what happened in a specific instance to a customer who bought from you in the past.   Showing is always more powerful than telling. They're also well-received by many of the social media channels that don't approve of direct selling.
A case study is often a great first project to get to know ABCI.  We do the research, conduct the interviews, and produce a draft and complete the revisions for a polished document, usually for under $3000 and often have the project completed in less than a week.
The resulting document can be handed to prospective customers by your sales reps, included in press releases, added to your website, or used in whatever traditional channels you like.
With your approval, we also promote the case study in the social media.  Places we publish or promote a case study can include:
Article databases
LinkedIn
Facebook
Twitter
Our local, national and trade press contacts
Bookmarking services such as Del.ici.ous, StumbleUpon, Digg, Technorati and Newsvine
Specialized outlets depending on the industry, such as Technology Evaluation Center, TechRepublic, Ziff Davis Web Buyers Guide, and BNet
For a nominal additional cost we can submit your Case Study to paid services such as PRWeb and BusinessWire.
So, if you don't know where to start with social media, it might be an excellent strategy to start with something familiar that has more than one purpose.
If you have a success story (and what successful business doesn't have at least one!) and would like to use Social Media to get more publicity for your company, give us a call at 702-987-1679 or email us and lets get started on your case study today.
Other Aviation B2B Marketing Topics
Aviation Marketing Technology and Techniques – Why Are We Behind the Times?
What's the Best Marketing Tool for Aviation?
Examples of Direct Mail Advertising for a B2B Product or Service
The Most Common Reason Marketing Campaigns Fail
How To Buy Aviation Advertising for B2B Products & Services
Aviation Marketing – How to Dip a Toe Into Social Media with a Case Study
Book Club Discussion – Content that Converts by Laura Hanly
Aviation B2B Marketing Strategies
B2B Aviation Marketing – More Deals in the Pipeline, But Taking Longer to Close