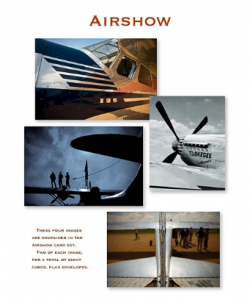 Thanks to everyone who responded to our survey in April – we use this information to adjust our product and service offerings to the needs of people who we serve.
We appreciate the information because many times the things we assume about what our customers want are not necessarily what they actually want.
In the two weeks that the survey was actively running, 52 people responded. The survey is still open, and we welcome input from anyone who would like to respond.
Congratulations to Nelson Valderrama of Aircraft Fasteners International LLC, who won the drawing of survey respondents.  Nelson won a beautiful  boxed set of aviation photography art greeting cards from award-winning photographer, John Slemp of Aerographs.
This was a surprise for us. When we talk to people on the phone, many times they have a brochure or other piece of collateral that they are not happy with because they feel it's not compelling enough.  We were expecting to see bigger numbers (bigger than zero, anyway) in that category.  However, because of the way we worded the question, it was apparently not people's BIGGEST challenge.
Many companies find it a challenge to find new potential customers.  We will be looking into offering some service in that area.  Right now we do market research as part of our Search Engine Optimization and Social Media packages – we have to do some demographic and psychographic research to find out who your ideal customers are and how best to get them to your web site.
We'll look at options to offer market research as a stand-alone service as well if there's interest.
This is about what we had expected. We've had a lot of people show an interest in our Web Site Audit process, because it takes the mystery out of what's working with your web site and what could be improved. We've also seen a lot of interest in Search Engine Optimization, since it's a fairly specialized field and outside of most aviation professionals' realm of experience.
The Follow Up Process had the biggest response.  We think that our customers understand that following up is key to making sales, but it's difficult to keep up with a follow up process while you're busy with other, more apparently "urgent" parts of running a business.
Many companies spend a lot of money on advertising or trade shows and collect a lot of leads, but then fail to adequately or appropriately follow up.We have the tools, skills and economies of scale to handle your follow up process in an organized way that provides you with improved conversions and great reports and control of the process.
Press releases and sales copy were the most popular products for aviation writing, with strong interest also in developing an editorial calendar.
Perhaps we should have worded this differently in hindsight.  We would all prefer to have someone do our work for us, but we suspect that there would be interest in coaching and information products if it's possible to realize a cost savings.
Our primary focus is, and has always been, full-service marketing.  Looks like we'll keep it that way!  That makes us happy – we enjoy working directly with our clients.
Not much interest in audio products, everyone likes video.
Respondents showed almost equal interest in a Search Engine Optimization information product as an automated Follow-Up process.
Conclusion-
We'll continue to stay focused on our primary objective of providing world-class marketing services to aviation companies, but we're very happy to have learned how to focus some of those service offerings in ways that are directly relevant to companies that we can assist.
}.