Many of the people who come to us for marketing advice do so only after having tried many campaigns that fail to meet their expectations.
Marketing seems so simple – all you have to do is reach the right people and let them know that your product is the best available solution to their problem, and of course they will make the most rational decision.
Unfortunately, it's not that simple.
It's my contention that more marketers fail for this reason than for any other reason: They simply underestimate the difficulty of their tasks at hand.

-Dan Kennedy
In the aviation industry, we like to think that our customers and their potential customers are intelligent, rational and courageous. It's very easy to underestimate the amount of time and effort required to get their attention, to present our case, to get them to agree with us that our product or service is the most rational choice, and to make a commitment and write a check.
The truth is that B2B buyers may feel that their very job is put at risk by every decision, every purchase, and every embrace of a new or different vendor. Even entrepreneurs or otherwise smart business owners or C level executives who are apparently used to decisively "calling the shots" need more convincing than we would expect before they part with their hard-earned capital.
What seems like a simple decision for an aviation-related purchase usually involves most (if not all) of the following:
In depth research to find the right prospects (target market)
Strategy to find the right communication channels and venues for advertising
Hours of perfecting and polishing advertising messages
Days, weeks or months of relationship and trust building
Reams of information, including newsletters, product sheets, demo CDs, articles, social media "information snacks,"
Many phone calls (sometimes 20+ separate calls over a period of time)
Personal visits (at trade shows, conventions, your place of business, their place of business)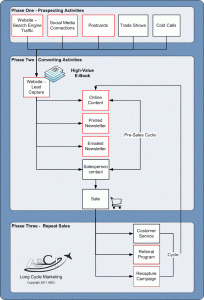 Without a measurable, results-oriented system to provide a road map to re-use, automate, measure and continually improve this effort; and skilled, trusted people doing the work at every level; marketing  becomes prohibitively expensive. Companies typically give up too quickly on prospects. They don't meet their sales quotas or revenue minimums. Many can't sustain their expenses and they go out of business.
Our specialty is Long Cycle MarketingSM.  This style of marketing is particularly effective in the aviation industry; as well as other large-ticket, high-trust or complex products and services.   Long Cycle Marketing is characterized by a systematic approach that includes an incentive for targeted prospective clients to "opt in" based on an informational incentive (usually a free white paper, report or ebook, as in this example.)
In exchange for high-quality information the prospect then begins a cycle of progressive, long-term, low-key, low-cost and educational contacts using a mixture of media, including social media, direct mail, email, video clips and other methods as determined based on the demographics of the target prospect.  Long Cycle Marketing is designed to position our client as the knowledgeable expert and source of information on the topic, as opposed to being viewed as a salesperson or vendor.
The prospect is thus moved further along the sales process.
After the sale takes place, Long Cycle Marketing continues to nurture the relationship so that testimonials, referrals and resells become a natural consequence.
Of course, this whole process depends on publishing interesting, high-quality, relevant content that your customers enjoy reading or viewing.  We develop and produce excellent articles, podcasts, newlsetters, and video to educate your customers and prospective customers about the unique value you bring to the table.
Ready to learn more? Call us at 702-987-1679 and let's talk about your marketing challenges.
Other Aviation B2B Marketing Topics
Aviation Marketing Technology and Techniques – Why Are We Behind the Times?
What's the Best Marketing Tool for Aviation?
Examples of Direct Mail Advertising for a B2B Product or Service
The Most Common Reason Marketing Campaigns Fail
How To Buy Aviation Advertising for B2B Products & Services
Aviation Marketing – How to Dip a Toe Into Social Media with a Case Study
Book Club Discussion – Content that Converts by Laura Hanly
Aviation B2B Marketing Strategies
B2B Aviation Marketing – More Deals in the Pipeline, But Taking Longer to Close