Since we get to work with the smartest people in the Aviation industry, it is not surprising that we learn a lot. In the case of these 31 aviation marketing tips from the 2014 Aviation Marketing Master Class, sometimes these are ideas that we've heard before, but applied in a new way that makes all the difference!
Our most successful clients and members are those that take solid sales, marketing and customer service principles and adapt them to their businesses in an innovative way that really gives the idea power, and "lift!"
The tips that follow are great, but the "application notes" are what really make the difference.
So, for members, this is a "year in review,"  For others, this might be a nice introduction to our Executive Brief program.
Tip 1 – Images vs. Words

While ABCI has always focused first and foremost on VERBAL content for marketing materials, images have become much more important.
Of course both are important for several reasons:
Factor
Images
Words
SEO
Can't be indexed by search engines
Are the main component in Search Engine Optimization
Web Content
Images and words are both very influential for website visitors.
Social Media
Becoming more important for attracting attention initially
Must be compelling to get website visitors to take the next step.
Brochures
Images are excellent for getting people's attention on a printed document
Essential for building credibility and getting prospects to take the next step in the sales process.
Print Ads
Images are essential for attracting attention.
Images should be minimal, but must provide a call to action (CTA)
Application Notes – Look at all of your marketing materials – for each idea you explain with words, consider whether an image might add value. Consider photographs, diagrams, infographs, video or slides.
Tip 2- Elements of Design
There are five basic elements in Graphic Design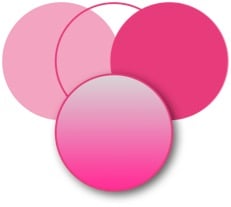 Lines
Shapes
Mass
Texture
Color
Any image you can imagine is made up of these five elements. Modifying any one of them can make a huge difference in the effectiveness of a particular image.
Application Notes – Even if you never design anything personally, it's a huge advantage to know these terms so that you can communicate with your designer efficiently. Nothing is more frustrating (to you and to them) to have to communicate that you don't like an image but are unable to explain specifically what you want changed.
Tip 3 – Things to do with Images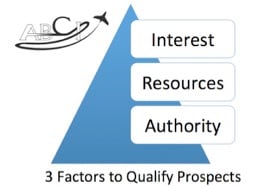 Show/explain products.
Present/explain dry or numerical data.
Demonstrate how things work
Show Personality
Build Credibility
 Tip 4 – One Idea at a Time
Any image should only convey one idea. If you have more than one idea, you should use more than one image.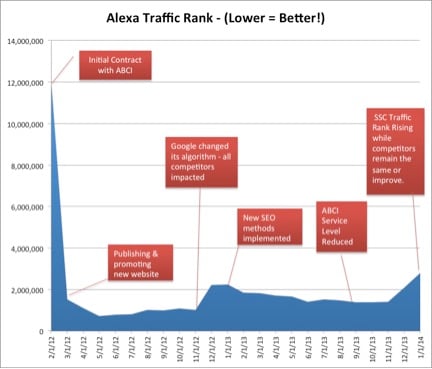 Application Notes – When you create marketing materials, step back and consider – "What is the one thing I want my reader, viewer or visitor to understand as a result of this communication?"
Most novice marketing and sales professionals bombard the prospect with a list of complicated and unrelated concepts in their first contact.  Restrain yourself and communicate one idea at a time.  (You can use a lot of information to back up that one idea, but everything should support that one idea. Save everything else until you are certain that your prospect understands and has processed this one idea.)
Tip 5- Send New Customer Packages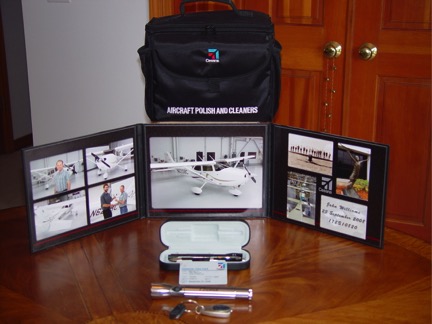 Add a New Customer Packages to your sales process. Or improve the one you have.   If your New Customer Package is effective, you should see:
A measurable increase in your Customer Lifetime Value,  (CLV) (particularly referrals!)
A decrease in your customer support calls from new customers.
Better ratings on your customer satisfaction surveys
Application Notes – Consider what you send to new customers. Is there anything you can send to make them feel happier with their purchase decision, more confident using the product, and more likely to talk about it to colleagues?
Tip 6 – Package your Documentation
If your New Customer Package necessarily includes a lot of documentation (like ours does) there are several options for printing and binding. You can include items such as the following:
A personalized letter of thanks (and welcome)
Billing information (paid receipts, etc.)
Instructions/Troubleshooting information
A Frequently Asked Questions document
Contact information in some convenient form they're likely to keep around the product, like a sticker, magnet, memo pad, or pen.
A Customer Satisfaction Survey with a self-addressed stamped envelope (or information to complete the survey online.)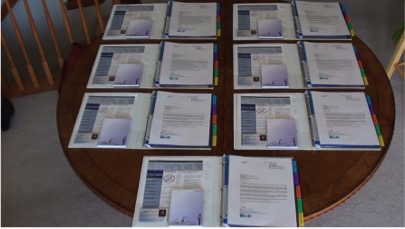 Application Notes – We like 3-ring binders because they are convenient to create and store. You can have binders printed (if you have the budget and scale to do so) or you can print covers and spines and use binders that have clear pockets for images.
 Tip 7 – Branding is Visual Shorthand
Branding is visual shorthand. And people in the aviation industry are naturally visual people!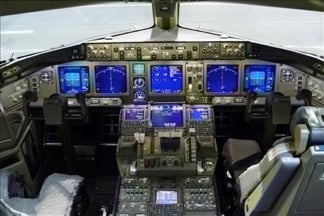 Application Notes – Consider your letters, postcards, newsletters, emails and other communications to customers. Are they instantly recognizable as being from your company?    Be consistent in your use of colors, fonts, images and so your communications aren't overlooked in the avalanche of information your prospects are hit with every day.
Tip 8 – Your Brand Is More Than Just Your Logo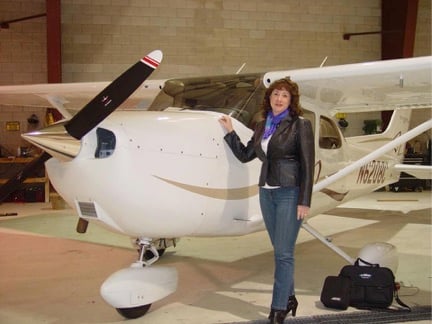 Your brand is more than just your logo – it's all of the visuals, photos, fonts, colors, and other assets that communicate your story
Application notes – Aviation professionals are a very visually-oriented bunch.  They absorb (and trust) information "shown" to them much better than information "told" to them.  We use this photo in many of our introductory materials – yes, that's Charlie, (N6208C) my Skyhawk.  And yes, I do have a PPL rating. And yes, we had spent hours scrubbing Charlie's belly for this photo.   (Shiny, yes?)
Tip 9 – Testimonials are part of your brand!
Testimonials are part of your brand!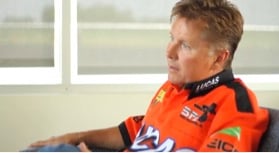 Application Notes – This video testimonial from airshow pilot Mike Wiskus for our client Tanis Aircraft Products is much more powerful because it's coming from someone who has a lot of credibility with Tanis' target audience.  Make a "wish list" of people you'd like a testimonial from, and earn one!
Tip 10 – LinkedIn is the social media channel most respected by aviation professionals.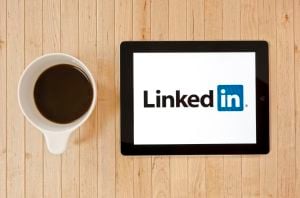 Application Notes – You probably don't have time to get personally involved in EVERY social media channel. It's better to get really good at one than to be casual about many.  Even if you can only spend a few minutes every now and then,  take the time to learn how to use it to your advantage. And as with any social media tool, don't waste time dabbling.  Learn to use it properly.   Start  with the LinkedIn intro videos here.
Tip 11 – Which Social Media do Aviation professionals use?
Personal use – Which Networks, How Often?
| | | | | |
| --- | --- | --- | --- | --- |
| | Seldom | Monthly or More | Weekly or More | Daily or More |
| LinkedIn | 0% | 19% | 42% | 41% |
| Facebook | 21% | 13% | 12% | 42% |
| Twitter | 22% | 33% | 17% | 28% |
| YouTube | 16% | 40% | 17% | 17% |
| Google Plus | 56% | 13% | 13% | 19% |
| Pinterest | 63% | 13% | 25% | 0% |
| Instagram | 52% | 23% | 23% | 0% |
| Reddit | 88% | 13% | 0% | 0% |
Application Notes – Aviation professionals (AKA your prospects and customers) are most likely to be using LinkedIn and Facebook frequently.  And a LOT of people use YouTube, but not as regularly.  The other networks have smaller but dedicated followings.
Tip 12 – Which Social Media do Aviation Professionals Use for Marketing?
Marketing Use – Which Social Networks – How Often?
| | | | | |
| --- | --- | --- | --- | --- |
| | Seldom or Never | Monthly or More | Weekly or More | Daily or More |
| LinkedIn | 26% | 31% | 12% | 33% |
| Facebook | 40% | 13% | 9% | 46% |
| Twitter | 45% | 17% | 14% | 21% |
| YouTube | 40% | 21% | 14% | 0% |
| Google Plus | 66% | 7% | 4% | 21% |
| Pinterest | 85% | 0% | 4% | 12% |
| Instagram | 78% | 4% | 11% | 3% |
Application Notes –  Many Aviation Professionals (aka your competitors) are NOT advertising on YouTube . . .  See an opportunity here?   We do.
Tip 13- Know the difference between Desperation and Enthusiasm!
Desperation is about you. Enthusiasm is about the other person.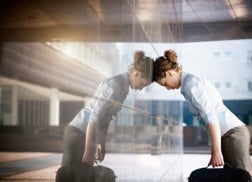 Application Notes –  Prospects can smell your attitude.  Well, maybe not actually smell it, but desperation in a salesperson is very repellent, no matter how attractive the offer.   The best way to avoid desperation is a good marketing system and a full pipeline of leads.  If any particular one doesn't pan out, you can shrug your shoulders and move on.   Prospects can smell that too.
Tip 14- Use FORM and Always Have a Great Conversation Starter!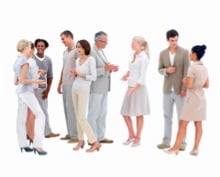 Family
Occupation
Recreation
Mission
Application Notes – Ever get tongue-tied at a networking event, and not know how to start a conversation?  Memorize this mnemonic, and ask a question about one of these four topics. It will almost always be well-received.
Tip 15- Your 15-Second Sales Presentation
What do you say when someone asks you "What do you do?" Your 15 second sales presentation!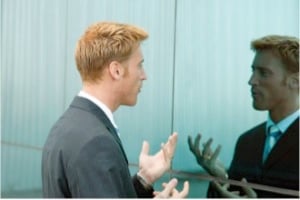 Application Notes –  Practice – Tweak – Practice – Tweak until it flows.  It should be comfortable and compelling to the right people, but non-pitchy.
Tip 16 – Use the Aviation Service Directory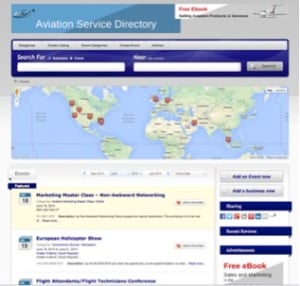 Application Notes–  Advertise your events, and find trade shows and networking events for your own marketing. Pick the best "target-rich environments," a la Top Gun. (!)
Tip 17 – Be Ready to Leave a Message
Prepare your voice mail message before you make a sales call. Chances are good you'll end up leaving a message, so be prepared to leave one. Be concise, benefit- oriented, professional and polished.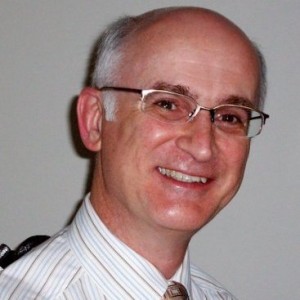 Via Panelist Michael J. Ryan, AirPSG.com
Application Note – When we first worked with Mike Ryan, we thought scripting everything was too much work, and unnecessary.  After seeing trying it his way and seeing the results, we script a lot more than we used to!
Tip 18 – Sales is about Passion.
Sales is all about passion, and finding people who are a good fit for your product and will be just as passionate as you are.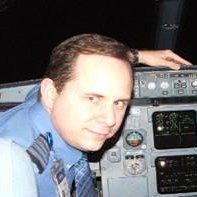 Via Panelist Captain David Santo, Aerostar Training Services
Application Note – If a prospect senses your passion for what you do, they become much less sales resistance!
Tip 19 – Have a Realistic Objective for Each Sales Call
Have a realistic objective for each sales call. The first visit is probably not going to be about closing the sale, so have some specific objective in mind that is in your prospect's best interest to discover.

Via Panelist Mike Livezey – Cutter Aviation
Application Note – Cutter Aviation is known in the Southwest as the FBO that "has it together" but has a very relaxed, casual atmosphere.   They set this tone in their sales process as well.
Tip 20 – Do Your Homework
Prepare for every sales call. Know everything you can about your prospect; his company and his airplanes. That just shows respect and interest, and takes the conversation deeper quickly.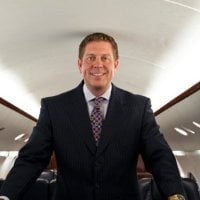 Via Panelist Brad Harris, Founder and CEO, Dallas Jet International
Application Note – Dallas Jet International works with affluent individuals and busy business owners. It's key to be respectful of their time.
Tip 21- Sales is a Process
Sales is a process – if you have a good checklist and you follow it intelligently every time, you'll have much better results than if you're making things up every time.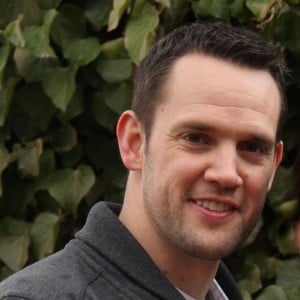 Via Panelist Dan Bigelow, MCN Sandler Sales
Application Note – There is nothing magical about sales skills. It takes time and practice to develop them, just like piloting skills!
Tip 22 – Success is about Time Management
Your success or failure with sales and marketing tasks often has more to do with your time management skills than with any particular sales or marketing technique.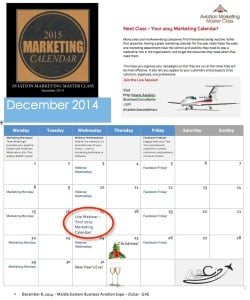 Application Notes –  Just as many healthy people have a fitness routine, great sales and marketing pros have an efficient routine as well.  Here's ours:
Marketing Mondays – Evaluate sales system and prospects in the pipeline.
Testimonial Tuesdays – Reminder to earn, ask for, and use testimonials in your materials.
Webinar Wednesdays – Learn or practice new skills
Follow Fridays – "Follow" or catch up with your current customers and Top Ten most wanted prospects on Social Media, write personal notes,  make sales calls, do other follow up tasks,
Tip 23 – An Editorial Calendar is Key
An editorial Calendar is key to successful branding, relationship building and sales.

Application Notes – Providing high-quality information to your customers and prospects gives you an opportunity to interact without every interaction being a sales pitch. This positions your company in a very different light.
Tip 24 – Committees and Associations Can Help
Expertise and credibility are benefits of committee membership, and gives you a great source of "inside information" in your industry.

Via  Panelist Sharon Desfor, HeliValue$
Application Note – You may wonder whether being on a committee or association is worth the time. If it offers opportunities to associate with your ideal prospects and/or be in a position to have information your ideal prospects want and need, then it probably is!
Tip 25 – Be Scientific
Thinking like an engineer brings a clean, methodical, systematic approach and keeps your marketing grounded.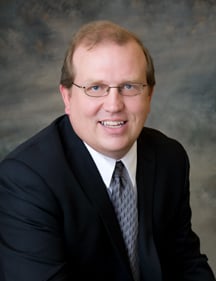 Via Panelist Doug Evink, Tanis Aircraft Products
Application Notes – Aviation professionals like data – especially if it's visually attractive and easy to understand.
Tip 26 – Good Data Requires Hard Work And Intelligence to Apply.
Great data is hard to get- it takes human intelligence and a lot of work to "peel the onion" to verify data and apply it in a meaningful way.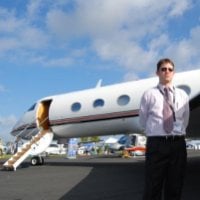 Application Notes – Data you get from software and automated processes is of limited value unless you do the work to determine what it means and how to use it.  Just because it's easy data to acquire doesn't mean you should be spending time and resources on it.
Tip 27 – There is ALWAYS something to write about
There is always something in the news, or something that your community is talking about. So there's always great material for good content.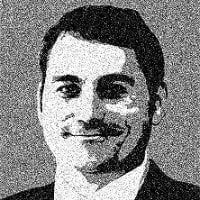 Application Note – Watch the news, set up Google Alerts for key topics important in your industry, and let those inspire fresh, current marketing materials.
Tip 28 – A Loyal Audience Will Follow You Anywhere
If you produce interesting information, you can build an online audience or community that will be loyal to you as things change, you change geography, and your company shifts.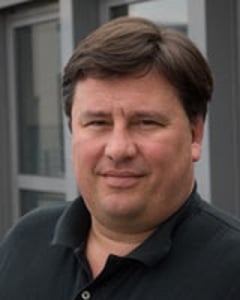 Application Note – Your audience is often more loyal and devoted than you think!
Tip 29 – Curate Other People's Content, but Be Yourself
You can curate other people's content and keep your message consistent – with an editorial calendar and by continually asking – "If I (or my product) is the answer, what is the question that my audience is asking?"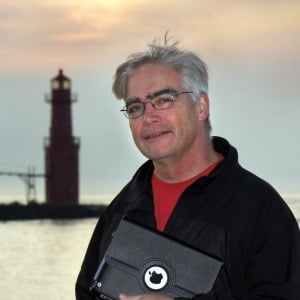 Via Panelist Todd Lohenry, Kestrel Aviation
Application Note – There is a lot of information already out there. If someone's already written about it, reference (and attribute) their work and add value where you can.   In Todd's words, "Don't reinvent hot water." Use what already exists!
Tip 30 – Don't Run Campaigns with Missing Pieces
Every campaign needs these three elements – a great list, a great offer, and a great presentation. If any of these things is weak, you won't be successful.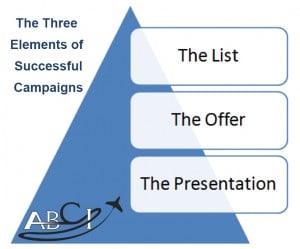 Application Note – An example of a campaign with a missing piece is the typical magazine ad.  It has a list (magazine subscribers) and may have a glossy, beautiful presentation, but if there's no specific offer or "call to action,"  the reader doesn't feel any inclination to respond in any way.   These types of ads seldom have a good return on investment (ROI.)
Tip 31- Your Calendar is Your Defense Against Chaos
Your calendar is the best defense against chaos – include items such as:
Trade shows and events
Editorial calendars from the magazines your customers read
Seasonal events, your busy season and holidays
Planned Campaigns
Expenses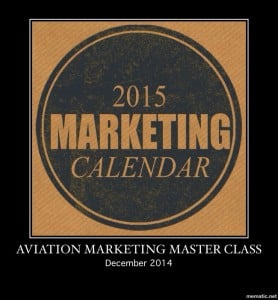 Application Note – Join us on Wednesday, December 17 for our Marketing Calendar Workshop. We'll walk you through the exact process we use at ABCI, and use for our clients!
Thanks Again
To our fabulous panelists and members, who brought you this trove of powerfully useful information!