How do we get more customers to be happy enough to be working with us that they give us more of their business, and refer their friends?  With a great new customer onboarding process!
Marketing that stops when the customer hands over the check has no place in the aviation industry. You've won yourself an opportunity to earn your new customer's trust, and his continued business, referrals and testimonials. We talk about how to make those first days, weeks and months a great experience worth talking about with a "positive exchange of control" from sales to customer service.  (Even if you're a small organization that wears all of the hats!
[smart_track_player url="http://traffic.libsyn.com/aviationmarketing/AMHF_150_-_New_Customer_Onboarding_Process1.mp3″ background="default" ]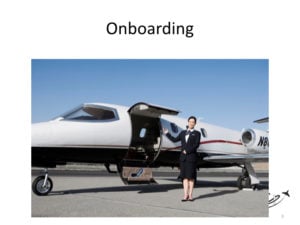 Like all aviation marketing, our customer set has very high expectations of very personalized services.
If you meet those expectations, especially at the first few interactions, you're set up for a much better chance at a long, profitable and satisfying relationship!
Many states have "cooling off" laws because they know that people may have "buyers remorse" after executing a large transaction.
"Did I make a good deal or a bad one?" They may ask themselves, their colleagues and their friends.
If you make this a positive and reassuring experience, they will be bragging to their friends about the great decision they made.
A Warm Handshake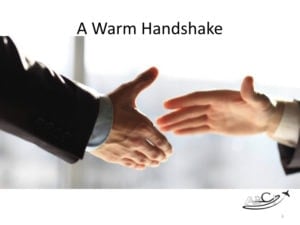 This is also often a handoff between sales and customer service here, and anytime there's a handoff, you need a checklist and a positive exchange of controls.
Things we like to do (or suggest to our clients) can include:
A project "kickoff meeting" or phone call.
Introductions to people they will be working with.
Roles & responsibilities.
Expectations for the first 30-90 days
New Customer Welcome Package. (More about this in this article.)
An Early Win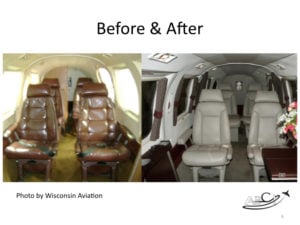 We like to ensure that each customer gets good news, soon in the process.
Sometimes this involves structuring the engagement to show early responses.
Get them an easy, initial success (ideally within the first 10 days of working with you.)
Collect baseline data (or conduct an initial assessment.)
Show contrast (before & after.)
Congratulate them on doing their part.
Involve as many team members on "their side" as possible in the process.
Weekly/Monthly/Quarterly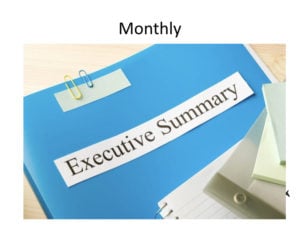 The relationship has been set up, it's good to keep the momentum going with regular communication.
Send reports that remind them of "what you've done for them lately."
Continue the relationship – connect on social media, see them at events, introduce them to people, etc.
Send reports that remind them of "what you've done for them lately."
Send a printed or emailed newsletter, 'tip of the week,' or other regular information.
Annually
 "State of the Industry" update with what's  new for your product, service and company
Account Review consultation and/or report
Handwritten note or card thanking them for their business
Invoice/Tax documents
Current catalog of your products and services
New Desk accessories
(for a white-collar customer)
New Shop accessories
(for a blue collar customer)
Food or candy
New Toys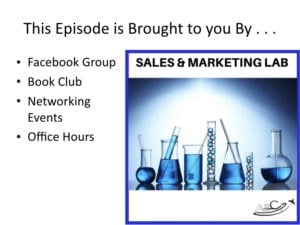 Need some help?  We're talking with our Sales & Marketing Lab members about this process this month, or about whatever tops their priority list.
Podcast: Play in new window | Download
Subscribe: Google Podcasts | Spotify | Amazon Music | RSS