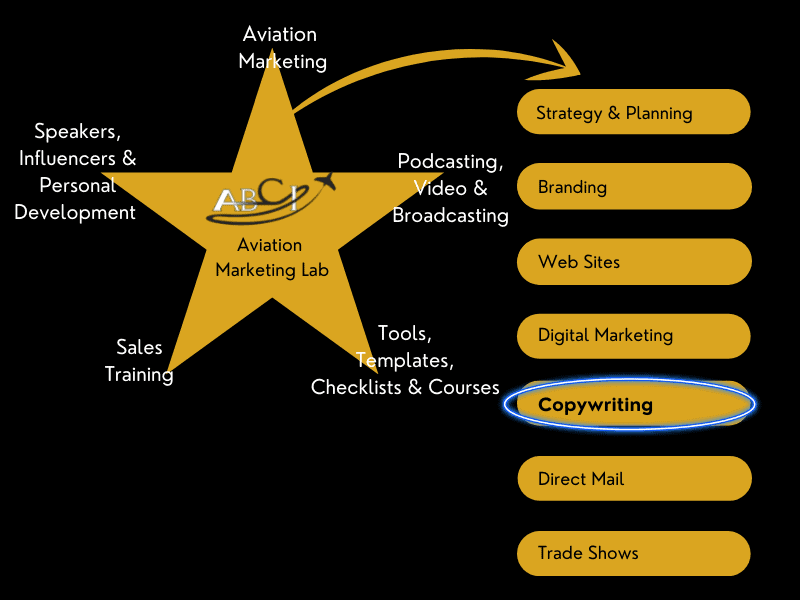 ABCI's First Mission – Great Aviation Copywriting!
When we first started ABCI, the intention was to fix the appalling state of marketing copywriting for the aviation industry.
We know how hard it is to write great copy.
And we know how finicky aviation industry decision makers can be.  They can "smell" agency copywriting (and now AI copywriting!) a mile away.
It can be very obvious that the people (or bots) doing the writing have never spilled gas on their hands to preserve the paint on an aircraft.  Or scrubbed the belly of a 172. Or experienced an airpocket that abruptly dropped your entire existence 10 feet below where your headset, sunglasses, and most internal organs were hovering.
We saw an opportunity. Every other service ABCI offers grew from client requests:
"Since you created this great copy, how do we improve our web site so that more people will see it?"
"Can you craft a great brochure to showcase this story?"
"Can you turn this article into a video? Oh, and we'll need a YouTube channel with a big enough audience to justify it."
"Can you turn it into a keynote speech for an  upcoming event, and teach me to deliver it?"
Everything stems from great, well-framed, well-crafted copy!