Every time a client feels more confidence in their business because they feel great about their website, a marketing strategy or a brochure, I feel great! 99% of the world's problems could be solved with better marketing.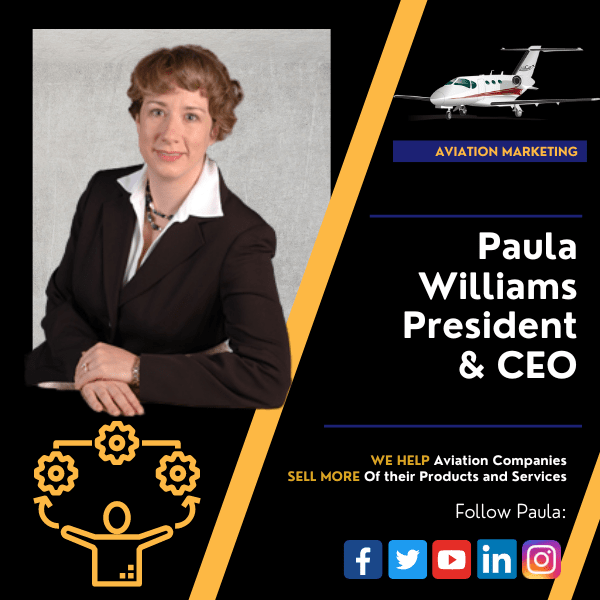 Paula is the co-founder of ABCI, with a focus on project management, client relations, sales, sales training, and "chief cook and bottle washer." In other words, anything that needs to be done, she sees that it gets done!
Paula started her career working for Fortune 500 companies like Wells Fargo and Pearson Education. She learned marketing from the ground up working with a variety of talented people in these companies.
She loves melding techniques and technologies from other industries into the aviation industry. "This is so much more fun than finance or education!"
Success is when a client shows me their sales numbers after a year of working with us – we all celebrate together as a team.
Paula calls herself a "total marketing nerd" and loves the ability to combine her passion for computer programming, marketing, and writing into a wonderful career. She loves reading, especially the diversity of opinions and ideas shared in the ABCI Book Club.
Who would Paula like to sit down with? Benjamin Franklin, of course. "He was HIS biggest inspiration and probably one of the best marketers in the history of the world. We need another one of him today!" according to Paula.
In her free time, Paula enjoys hiking and recharging after a day enjoying the natural surroundings of Salt Lake City. She is also a pilot and knows her way around the skies.
If you need marketing guidance or inspiration, Paula is a great resource. Give us a call today to get started.
Contacts: [email protected]
https://www.linkedin.com/in/paulawilliams/
Portfolio: https://aviationbusinessconsultants.com/
Birthday: Nov 19th