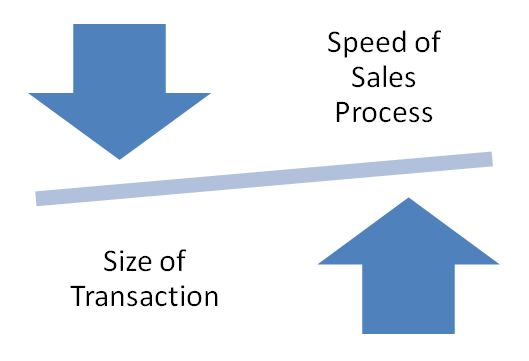 We sometimes find that companies are working against themselves.
When a client says both of these things in our first conversation:
"We want to raise cash quickly."
"We need to court larger prospective clients for larger transactions."
Then we know some prioritizing needs to happen, or that we have two projects to accomplish at the same time.
Why?
The larger the transaction, the longer the sales cycle is likely to take.  Large transactions require a longer process. More trust needs to be established, more questions need to be answered, more people need to be involved in the purchase decision.  Larger companies (who make larger purchases) take longer to make decisions than small, nimble companies or entrepreneurs.
It can be a great business strategy to increase the average size of transactions. But sales managers often find that when they devote resources to pursuing larger transactions, sales numbers actually drop in the short term.
It may seem to go without saying, but we've found that nothing really goes without saying. 🙂
Marketing dollars and hours devoted to sales of larger transactions will take longer to see a return on investment.  It may be a larger return in the long run, but sales objectives might need to be evaluated on a six-month or year-long scale rather than a quarterly scale.  Sales incentives also need to be adjusted accordingly.
An alternative is to plan two simultaneous campaigns – one campaign to sell a small, introductory product  and another campaign to sell the related large, high-end product.   This may seem like a lot of work in the short-term, but it is the fastest way to accomplish both objectives for companies that need to raise cash immediately as well as build up a long-term, sustainable sales pipeline that generates a larger income.
Ideally, you can also use the smaller product as a "gateway" to establishing trust and understanding the clients' needs while the longer campaign works up to the sale of the larger product. In other cases, it will be necessary to sell the smaller product to a completely different set of customers (selling a software system with a more limited feature set and fewer user licenses for smaller businesses is an example of this.)
Even if you can't capitalize on the small campaign as an introduction to the larger campaign, you may find that it's a great way to maximize your sales and generate income to support the company while the sales of the larger product is spooling up.
Characteristics of a Successful Short-Term Sales Cycle
Some general guidelines
Small product or service package ($500 to $1000 price point)
Low risk, short commitment
Solves a common but small problem (or provides a small but reliable opportunity) for the client
More sales required to meet income targets
Follow up required in 60-90 days, when the product has demonstrated its value.
Characteristics of a Successful Long-Term Sales Cycle
High value product or service package
High trust, high commitment, long term involvement required
Solves a very specific problem or provides a large opportunity for the client
Fewer sales required to meet revenue targets
Follow up required over a longer period
In either case, it's essential to follow up with customers after the sale to demonstrate the value of the product, illustrate the point that it performed as promised, and to collect information you can use in future marketing campaigns.
Nothing succeeds like success. And if you do it right,  small successes can lead to larger ones.
More articles about Aviation Marketing Campaigns
AMHF 0156 – Three Business-Building Aviation Marketing Campaigns to Plan for 2019
Three Ways Aviation Professionals Can Use a Retargeting or Recapture Campaign to Sell More Stuff!
Evergreen Content and Reusable Campaigns – Why You Should Invest in Quality Aviation Marketing Materials
AMHF 0010 – Budgeting and Holiday Campaigns
AMHF 002 – Why Bother with Marketing Campaigns?
ABCI's Marketing Funnel By the Numbers – Direct Marketing Campaign Examples
Is Your Company Too Boring For Campaigns? Try this:
Four Great Holiday Campaigns for Aviation Companies – And One Bad One
Fixing a Broken Marketing Campaign – What Can We Simplify?
The Most Common Reason Marketing Campaigns Fail
Size Matters!  Campaigns for Large and Small Aviation Transactions
.