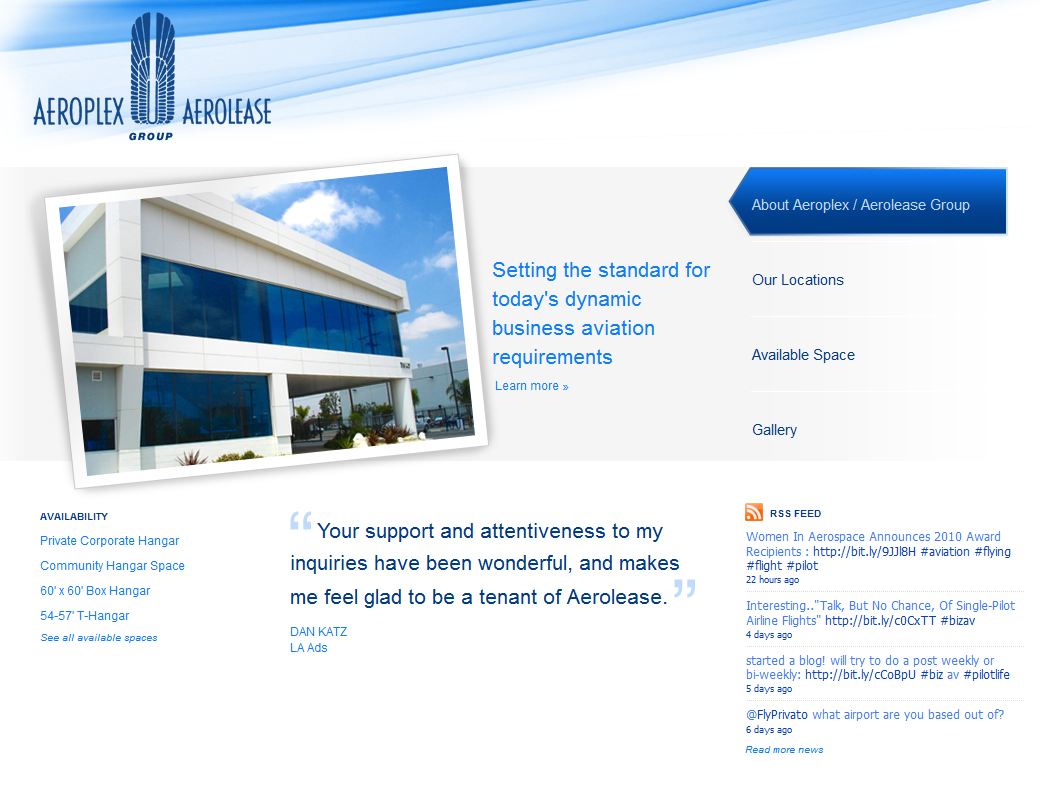 Clients often call and ask if the SEO Do It Yourself Program is a good fit for their current situation – if their website is currently under construction, or if they're planning other changes, they think it might be better to wait.
But Bruce Widelitz and Curt Castagna from Aeroplex/Aerolease started using the program in the middle of a major site redesign, and they did a great job of optimizing the site along with making the other changes. They saved themselves many hours of re-do down the road and making big improvements to their site.
As we've said before, it doesn't matter how much work and money you put into making your site beautiful and getting the wording perfect unless enough of the right people are visiting your site.
If you're considering our Do It Yourself SEO program and don't know if it would be a good fit for you, here's what Bryce Widelitz had to say just before their new web site launch this week:
With more and more people going online for purchases and information, it is extremely important for every business to have a strong web presence. In June of 2010, we decided to revamp our website and give it a more modern look and feel. While marketing via phone calls, e-mails, and trade shows are important, we also saw the value in beginning a Search Engine Optimization campaign to drive traffic to our site. We knew we wanted to utilize SEO, but didn't want to allocate a significant amount of funds to it. Paula Williams from ABCI reached out to us and informed us of the "Do it Yourself Kit", a great inexpensive alternative to not only learn about SEO, but also to be able to improve your search engine rank and do the work yourself.

Simply put, the "Do it Yourself Kit" makes sense. Even to those that are not the most computer savvy, the steps in the kit are extremely easy to follow and understand. Paula is always extremely responsive to e-mails and was always there to answer questions. Within one month and without making any changes to the website, we were able to jump 14 points (29 to 43) on websitegrader.com thanks to ABCI's instruction.

In the next week, we will be launching our new website and will put our keywords and SEO expertise to the test. We now feel confident that we have the tools to bring us to the top of the search engines. We would recommend the "Do It Yourself Kit" to anyone interested in improving their SEO results and has a few hours a week to dedicate to the process.

Bryce Widelitz
Aerolease Group
Give the new Aeroplex site a visit – especially if you're looking for hangar or office space in Van Nuys or Long Beach California. Bryce and his co-workers are great people to work with!
And if you'd like to try the Do It Yourself program, we're offering the Google Local Search instructions as a free bonus if you order this month.

d.getElementsByTagName('head')