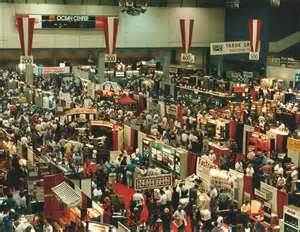 You arrive at a trade show, pockets full of business cards and charged with the responsibility of promoting your products and services to decision makers in your industry.
Let's assume you have a booth, that it's  attended and you're free to use your time as you choose.
Fantastic. Now what do you do?
Bury yourself in your tablet computer at the coffee shop, answering emails and updating your Facebook status?
Aimlessly wander from booth to booth picking up funny pens with lights in them and entering drawings for an iPad, avoiding the eyes of people manning the booths?
Spend the whole time talking to people from your own company and the two friends you knew from your last job about where you're going to go for dinner?
Uh, no. . . .

What is the one thing you can do at a trade show that you can't do as easily in any other setting?
Meet people in person!  Shake hands! Start relationships!
Many people are intimidated by the rush and crush at trade shows. But if you're prepared and purposeful, you'll feel a lot more confident about using the time well.
We advise our clients to spend a couple of hours preparing for each show that they attend. If they've done the preparation, they are NEVER at a loss for what to do next.
How do you prepare?
All trade shows publish a list of exhibitors, and most publish a map of where each booth will be. Use this, and your current marketing data to do the following:
1) Make a list of your ten most wanted customers. 
Learn as much about them as you can beforehand. Have they talked to someone from your company before?  What were their primary concerns?  What has changed since the last conversation? Do you have a new product or service you could tell them about?  Do you have three good reasons they should be doing business with you instead of whatever they're currently doing?
Make contact before the show if possible and set an appointment for coffee or a quick conversation.  Even if you weren't able to make contact prior to the show, make it a point to drop by their booth, introduce yourself, make an attempt to connect with a key decision maker.
2) Make a list of your top ten direct competitors.
Learn as much as you can beforehand.  Watch their website and social media sites before the show. What are THEY doing to invite people to their booth?  What key points are they emphasizing about their product or service in their materials?   Make it a point to drop by their booth and pick up some literature.  In aviation, competitors are usually honest, courteous and aboveboard, but find out the key differences between their product and yours and make sure you pass that information along to the folks manning your booth.
3) Make a list of ten potential partners.
These are people who provide products or services that could be complementary to yours. Contact them before the show if you can, and discuss how to recognize a good referral for them.  Make it a point to introduce yourself if you don't already know them personally. Don't take up a lot of their time at the show, but you (or they) might have some great ideas about joint marketing, product packaging, or other mutually beneficial partnerships.
Go Home Happy.
Based on these three top ten lists, you have thirty potential action items for the show. If you accomplish fifteen or twenty of them, you've had a very profitable, worthwhile show and have set yourself up with some big improvements to your business for months and even years to come..