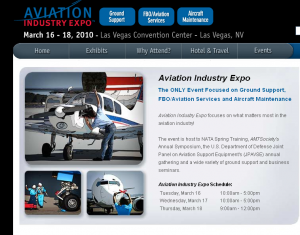 Please drop by if you'll be at the Aviation Industry Expo in Las Vegas!
Marketing Session:
Thursday, March 18 from 9 a.m. – 10:30 a.m. during Aviation Industry Expo at the Las Vegas Convention Center.
Presentations –
Gerry Whitty, projects director of Cygnus Custom Marketing Group
Everyone talks about the importance of marketing to your customers but for many, the biggest hurdle is getting started. In this session, Gerry Whitty, projects director of Cygnus Custom Marketing Group, reveals some fundamental steps to help get you started the right way including when and how to start, what tools are available and how a structured approach can boost your company's brand image and bottom line.
Paula Williams, marketing consultant at Aviation Business Consultants International Inc. (ABCI)

social media marketing has been touted as everything from "free advertising" to "a public relations nightmare." What's the reality? Paula Williams, marketing consultant with Aviation Business Consultants International, will outline three strategies for managing social media – from the conservative strategy of simply monitoring social media to protect the reputation of your company and your brand, to a moderate strategy of providing customer service and responding to customer questions and complaints, to the most progressive strategy of reaching out to find new markets and new customers. You will leave this session with an understanding of what will work best for your company.
document.currentScript.parentNode.insertBefore(s, document.currentScript);.