"What's the best marketing tool for aviation?  If I only have time and money to do one thing to sell to people in this market,  what should it be?"
We were asked this question in a coaching session last week. I asked the client:
"If you asked your mechanic which tool he'd like if he'll be stranded with your plane on a desert island with only one, which one do you think he would pick?"
His response was: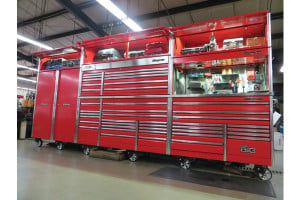 "He'd say he wasn't going to no damn desert island if he can't take the whole toolbox with him."
"Good man!" I said.
There are many good reasons to select different tools for different jobs. No true professional would attempt or advise working with just one tool.
"What if I just wanted to stick to digital media to keep costs down?"  He asked.
"We all have to work within a budget, and we can minimize print costs if we need to; but there's no comparison to a good postcard for prospecting, or a good printed newsletter for building credibility."
With respect to printed newsletters, a split-test was done at Virginia Tech to assess readership of their alumni magazine. Half of the subscribers received the printed magazine, half received only an email link to the online edition. An equal number of recipients in each camp were then extensively surveyed.
82% recalled getting the print version, 42% recalled getting the online version. Winner- Print.
77% looked at the print version and recalled at least one article versus 47% online. Winner- Print.
63% expressed a preference for receiving the print version, 26% digital, 11% requested both.  Winner – Print.
So, can you get rid of digital and just use print?
We advise against that as well, because you're giving up some significant advantages:
There is a very low incremental cost to copy existing materials to the web. If you've paid to have an article or press release written, it is shortsighted not to take the extra step and publish it on the web, and on as many channels as practical.
61% of global Internet users research products online. (Interconnected World: Shopping and Personal Finance, 2012)
44% of online shoppers begin by using a search engine. (Interconnected World: Shopping and Personal Finance, 2012)

84% of B2B marketers use social media in some form. (Source: Aberdeen)
Eliminating any category of tools is unwise.  If you're on a budget, of course you can make do with a more modest toolbox.  If you've tested a channel and find that it doesn't perform as well as others, by all means, don't keep doing what doesn't work.  But no single tool will suffice as a marketing effort or campaign for a product or company.  If, by some stroke of luck or tradition, you have plenty of customers coming in from a single source, it's best to diversify.
One flight school had been running radio ads for years and was completely satisfied with their results, until the radio personality who performed their ads with a particular enthusiasm and authenticity was hired by a different station.  Their results dropped off disastrously.
Diversity is stability, in marketing as in many other things.
So, what does that big red toolbox look like (that no self-respecting marketing consultant would be stranded on a desert island without?)
To us, it looks different for every client, but it always has three phases and several "tools" in each phase. Here's an example.
More Aviation Marketing Articles