Software Developer Spends $1 Million to Solve Flight Schools' Biggest Problem
In light of the much-discussed pilot shortage, flight schools play a more important role than ever.
While flight schools have always been the means by which future aviators realize their dreams, they have always carried a heavy responsibility with a light budget. But in recent years, schools have had a more crucial role than ever – they provide graduates to the airlines, the charter organizations, freight operations and tourism industries as safe, reliable pilots.
According to AOPA and General Aviation News, 80% of student pilots drop out of training each year before earning their pilot rating.
Flight Schedule Pro Exec – There's a Pilot Shortage – and an 80% Dropout Rate
Retaining students is a huge problem for flight schools, and solving that problem has been a huge priority for Jasen Barnes and his team of flight school management software developers at Flight Schedule Pro.
"High turnover is a significant burden for flight schools.   It's difficult for schools to schedule instructors and staff, manage resources and cash flow, and to provide a stable and consistent experience with students coming and going so quickly." Said developer Jasen Barnes. "For this version of Flight Schedule Pro, we brought the convenience and integration that everyone has come to expect from software in other industries to solve some very large and urgent problems."
According to a Bold Method article, the most common reasons students drop out are these:
Lack of structured training
Finances
Medical Problems
Poor Flight Instruction
Checkride Failures
Not Setting Clear Goals
Killing the Fun of Flying
The "Solo Plateau"
Flying is Much More Work Than Anticipated
Many of the problems highlighted by the article are intertwined. Flight students who feel that their program lacks structure may not continue because they don't feel prepared for their next upcoming lesson, or see how much they have progressed over the last week or month. This may also impact their ability to pass checkrides, plan the finances to finish their program, or see their way out of a plateau.
Flight Schedule Pro's V4 edition promises to solve several of these problems by helping flight schools provide "less friction, and more flying." While the software can't help students come up with the cash for their training, it can certainly help with items 1, 4, 6, 7 and 8 on BoldMethod's list by making the instruction program and progress more visible and enhancing communication between the student and instructor.
"V4 is the first rollout of Student Training product, which promotes better student retention through improved communication and connectedness throughout the school." Said Barnes, noting that the team has envisioned additional improvements centered around the goal of student retention. "I'm excited to bring the recent technology and research advancements about ease of use, social interaction and acknowledgement, and motivation to better serve flight schools."
The improvements to the software include a new schedule layout that is color-coded, drag-and-drop, more informative, and seamlessly integrated with training management and flight recording. It is also easier to use with mobile devices that are popular with students.
Sky-High Customer Service Expectations
Students have high expectations of the customer service and technology used by any company they do business with, and the decision to begin (or continue) with a flight school may depend on how effectively the organization meets those expectations.
Customer Experience Insight magazine notes that since 2016, customers expect more personalization, more options, consistent contact, and control of the experience.
While customers see these improvements reflected quickly in their banking, ride-sharing and even college or university software, changes can be harder to implement in the heavily regulated aviation industry.   Including more functionality, serving more and different customers, making the system more reliable, and simplifying the interface are all difficult problems individually. Doing all of these things at the same time adds exponentially to the challenge.
Apple designer Jony Ive explained the technology development problem this way – "Different and new is relatively easy. Doing something that's genuinely better is actually very hard."
Barnes and his team at Flight Schedule Pro spent the last three years listening to customers and building the ideal platform for the industry's leading flight schools.
"Less Friction and More Flying"
Bountiful Flight Center, a busy flight school in Utah, has been a customer of Flight Schedule Pro for two years, and has upgraded to the latest version. Instructors and administrators enjoy many of the benefits, but students are the focus of their efforts.
"(Prior to implementing Flight Schedule Pro) We had tried multiple free scheduling systems, but found them restrictive, archaic, and counter intuitive, especially when compared to Flight Schedule Pro. The leading edge features and all-inclusive services have secured our loyalty and we are eager for their services to continue to expand, further relieving our students, instructors, and administrators," said Derek Young, Chief Flight Instructor at Bountiful Flight Center.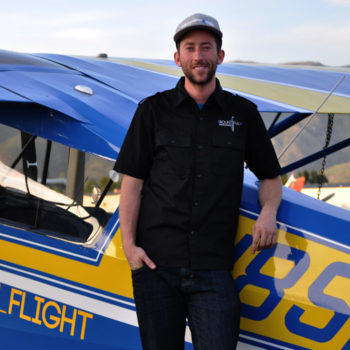 "Flight Schedule Pro allows our school to be a paperless one-stop-shop, which makes life easy for our students. Scheduling is easy and intuitive, billing is hassle-free, and monitoring their own flight training keeps students informed and motivated. Students deserve to be well-informed, so when students are in control of their own training through Flight Schedule Pro's scheduling, billing, flight training, and maintenance features, motivation stays high and so does our retention/graduation rate," he adds.
Jason Clark, the manager of Bountiful Flight Center noted, "We have the highest graduation rate of any flight school in Utah. The number one reason students don't complete is money, but we have a strong financing program. The structure of a user account in Flight Schedule Pro also really helps us be more professional so students can see how far they've come and what's up next, so they can maximize their flight time."
Warren Benson, Chief Instructor at the Flying Tigers Flight School,   a flying clubs in Houston, Texas, agrees. "I have reports that they really like to see their progress bar moving forward (probably helps with retention)."
He also likes how communication is improved between students and flight instructors. "(Students) can also easily see their upcoming lesson from home and come prepared for each of the tasks. They like the various grading levels that are available also, rather than just being satisfactory or unsatisfactory."  He said. Everyone is happy with FSP's ease of use. It really takes a short amount of time to log each lesson and to review overall progress."
To further reduce "friction" for students and schools, the new version of Flight Schedule Pro includes additional billing options for memberships and recurring billing.
About Flight Schedule Pro
Flight Schedule Pro is the industry's leading online scheduling and business management system for Flight Schools. A wide range of general aviation and military aviation organizations use Flight Schedule Pro to manage their flight operations online.
Flight Schedule Pro V4 includes drag and drop resource scheduling for flight schools, including aircraft, instructors, equipment, and students. It accommodates pilot documents, including certificates, licenses, and TSA. Aircraft maintenance logging, training program management, billing, point of sale, and QuickBooks integration are all included in a desktop and mobile-friendly platform.