What's the best marketing automation software for aviation companies?
We've tried quite a few different software solutions for our own company.  We have worked with a lot of different types and sizes of aviation companies that use different software.  A solo broker or insurance salesperson will need a different solution than a large flight schools with multiple salespeople.
Obviously, there are different budgets and needs, and preferences among aviation business.
But there are three questions that will help you get to the right answer for YOUR business.
There is a HUGE array of marketing technology options! Software can:
Post on social media for you
Send email for you
Create a mobile app out of your content
Manage your SEO and search marketing
Find video and print marketing opportunities
Create interactive content
Personalize content on your website
Manage leads and prospects
Manage loyalty programs
And many more things.
So, in this episode, John and I talk through our rationale behind our selection of software,  and some of the logic we use with clients.
A bit of background – there is a DIZZYING array of software available on the market.
A company called Martech has been building maps of the software on the market that has been growing each year, and categorizes it into various functions. Of course many software packages cross into more than one category.
This map has nickname of the Martech 5000 — it has a certain ring to it — but this year's graphic actually charts 6,829 marketing technology solutions from 6,242 unique marketing technology vendors.
What should marketing automation software do for you?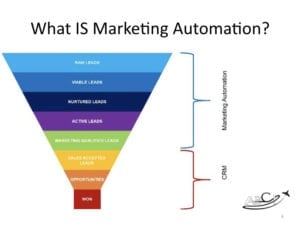 For us, the most important bits on the map for marketing software are these:
Keep track of people
Deliver marketing materials
Help us make good decisions
Keeping Track of People
We like to keep a Top Ten list of prospects or leads we're actively pursuing at any given time.
We also like to keep a full pipeline of about 7000 contacts who may become interested in our products or services at some point in the future.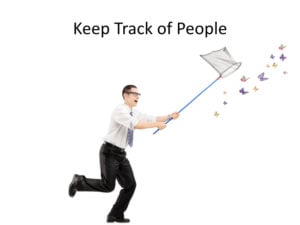 It takes some doing to keep track of  7000 people.  We use a "holding pattern" to stay in contact with them by various means.   Our intention is to slowly build a relationship with them. We offer small "information snacks" about marketing to help them eventually become happy, well-educated customers for our products and services.  These "information snacks" can take many forms, depending on how qualified that prospect might be at any given time.
You can keep track of people in a spreadsheet, on a whiteboard, or in a good old-fashioned Rolodex. For some business to business clients in the aviation industry, there is a limited number of prospective customers.  But once you get more than a hundred or so, it becomes a lot of work and you may find that you're spending more time than necessary keeping track of these people!
And prospects become customers, so you'll need to keep track of their needs and preferences to do customer based service. So, it's important to have software that follows all the way through the customer journey.
If you have more than one person doing  sales, marketing and/or customer service, you'll also need to share information between people at your company.
And your team may not be together in the same room all the time.
So, it's important to have a good solution for keeping track of people.
Deliver Marketing Materials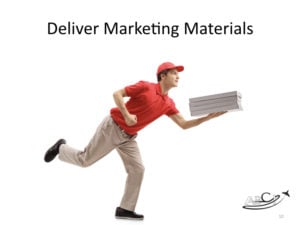 Some of the ways we might want to contact prospects or leads might include:
Making personal phone calls
Connecting with them on social media
Sending them postcards, direct mail advertising or packages
Content marketing, and perhaps directing them to personalized web content
Targeting them with advertising on social media or search.
So, we'd like our software to be able to deliver some of these materials, and give us reminders to do others.
Help Us Make Good Decisions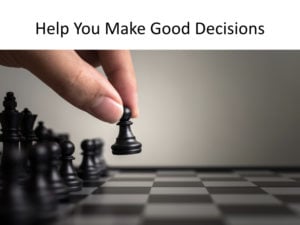 Of course, the amount of time, energy and money we spend on any given contact has to vary, depending on how likely they are to be a profitable customer.
Some of this decision happens at the hands of salespeople.  They do the work of asking good questions to qualify the customer and assess his or her needs.
Some of it can also happen using "machine intelligence" by compiling publicly available data, and observing certain behaviors.
How many emails do they open, click or forward?
How many  visits do they make to our website?
Which pages do they visit?
How much time to they spend?
Do they engage with us on Social Media?
Most of these programs have a way of providing a "lead score" based on their number of interactions.  The data and reporting from our marketing automation software should provide good data for planning your marketing campaigns.
Our  Conclusion –
We evaluate our software and tools each year, and had been using Infusionsoft for about 11 years!
It's a great system that has lots of powerful options to keep track of people, deliver marketing materials, and help us make good decisions.
The problem is, it's hard to manage. Especially for multiple customers.   And our customers were SO not fond of it that it would create more work for us. We end up doing a  lot more of the work ourselves  to input data, manage campaigns, and report for them to help them be successful in achieving their sales and marketing objectives.
So, we're switching to SharpSpring during February,  and if all goes well with our evaluation, we will offer it to customers starting in March.
Our reasons for switching:
It does a REALLY good job of keeping track of customers, and is easier for salespeople to input data and do the research for their sales calls.
It does a great job of delivering marketing materials, including a few things that Infusionsoft did NOT do easily, like personalized web content.
And it has tools like website visit monitoring that will help us make good decisions.
Also, their pricing model is better for our small to medium-sized customers.
So, our favorites:
CRM
Sharpspring! – best all-around, versatile tool for small to medium sized companies.
Infusionsoft  – great for those who need powerful marketing automation tools and have the patience for not-fabulous user interface and experience, especially for salespeople or the non-technical.
SalesForce – great for those with teams of salespeople and multiple commission options to keep track of.
HubSpot – great content management and opportunity management tool for certain sales cultures.
Email Marketing
Constant Contact and Mailchimp – both great for really small companies that don't really need a CRM yet.
Podcast: Play in new window | Download
Subscribe: Google Podcasts | Spotify | Amazon Music | RSS