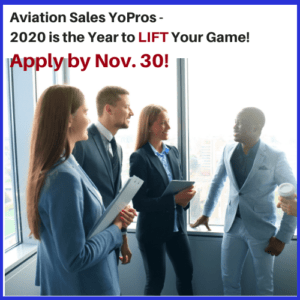 Know someone interested in (or already in) an entry-level job in sales or marketing for an aviation company?
Let them know about our scholarship provides our Marketing Lab for 12 months in 2020 – including coaching, personal branding, book club, and networking opportunities.
We'll be awarding two Aviation Marketing Scholarships for 2020. Application deadline is November 30, 2019.
The value of the scholarship is $179/month, for a total value of $2,148, or priceless to the right person!
The application process will open November 1, and winners will be announced on December 15.
Last year's winners included Caile Chamberlain and Jillian Wise are the winners of this year's scholarship. John Chvatal and Alexis Creedy were runners-up who earned similar packages.
2019 Scholarship recipients reported several accomplishments this year:
Caile Chamberlain was hired by Business Air to do Aircraft Charter Sales and Marketing in their Boeing Field office in Seattle.  She is enjoying working with new clients and more aircraft.
Jillian Wise was promoted to Portfolio Manager, Aviation Finance in 2019, and her aviation finance team funded 75% of her annual target in one quarter.
John Chvatal  said, "I launched my business website. I am still tweaking things but I strongly feel I got a lot right because of the guidance I received from ABCI. The best part is I'm gradually being integrated into the ABCI team!"
Last year's scholarship recipients were chosen based on two essays – the first about how they will use the resources provided by the scholarship, the second about how they will use the skills and experience they bring to benefit the group.
The Aviation Sales and Marketing Lab is a group of ABCI clients and industry thought leaders who share strategies, tactics and results.  The Lab also includes an Aviation Sales Basics Certification Course, a Book Club, marketing and SEO tools and software.  The two primary winners will also receive custom one-on-one consulting.
"I was really impressed with the quality of applications last year, and I expect the same this year!" said Paula Williams, President of ABCI. "Last year's  Scholarship Committee did such a lot of hard work in getting the word out and helping us find the best possible candidates.  Benet Wilson, Joni Lampert Schultz, Jeffrey Stodola, Kathryn Creedy and Kasey Dixon, as well as John Williams, who made this possible. We'll be asking the same folks, as well as our Scholarship Alumni, to participate as well.
"Magical things happen when you put good people together, and the background these folks bring to the table is beyond what we could have hoped for."
About ABCI –
Aviation Business Consultants International (ABCI) is a marketing company that assists aviation- related companies to market more effectively and sell more of their products and services. ABCI brings technologies and "inbound" marketing techniques from the finance and technology fields to the aviation industry, and focuses on measurable, content-rich, "long cycle" marketing of complex or high-value products and services.
More information about ABCI can be found at https://www.aviationbusinessconsultants.com/about
About the Aviation Sales and Marketing Lab –
After informally introducing clients to one another on several occasions, ABCI founders Paula and John Williams noticed that these introductions often led to creative referrals, co-marketing arrangements, and other mutually profitable endeavors.
ABCI created a private social media group, a book club, interactive webinars, in-person events and other resources to foster these relationships among aviation companies. Silver and Gold level members also receive one-on-one sales and marketing consulting services, in the form of "office hours," at deeply discounted rates.
More information about the Marketing Lab can be found at https://aviationbusinessconsultants.com/insidercircle/