Going to NBAA?  Since this is the largest business aviation convention of the year, you probably began your preparations months ago.  But it's always good to "make a list and check it twice" so here's a list to check yours against.
Non-Marketing Logistics Note – be sure to check your team's arrival time – from NBAA's Facebook Page – NBAA has learned that a "VIP" movement is anticipated to take place in Orlando on Monday, Oct. 29. The event is expected to result in a Temporary Flight Restriction, which will impact some number of aircraft arrivals and departures in Orlando for NBAA's Convention, which starts Tuesday, Oct. 30. Although the exact timing for the TFR is not yet certain, NBAA believes its duration is anticipated to be relatively brief.
Be sure everyone on your staff knows your "elevator speech," product information, and answers to frequently asked questions.   Do some role-playing to make sure everyone is comfortable.  This needs to be easy and natural by the time you're nose-to-nose with potential customers.
Get the app installed on your phone or iPad and learn how to use it.  Note from Ryan Keough – Search the app store for "NBAA 65th Annual Meeting" and it should come right up… searching for NBAA 2012 just shows a bunch of basketball things…
Search Twitter for the hashtag #NBAA12 and connect with others who are tweeting about the show.  Participate in conversations!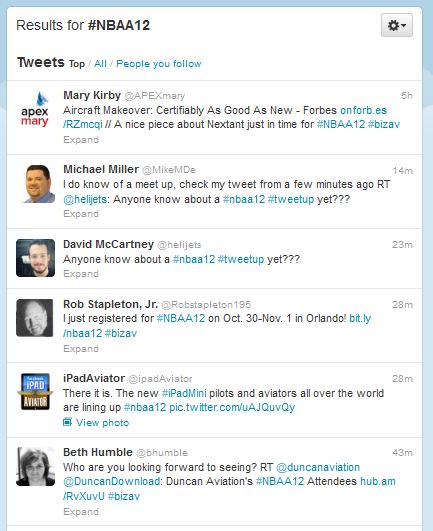 Make note of your top 10 most desired client companies who will be attending.  Contact them prior to the show and make an appointment to see the decision maker, if possible.  Be as prepared for this meeting as you would be for any sales presentation.
Make note of your top 10 most feared competitors who will be attending.  Research their product offerings and be sure you have memorized the key differences between their product and yours.  You need to sound educated and sure of yourself and not be surprised by any new product announcement by a competitor or advantage their product has over yours.
Make note of 10 noncompeting companies that have similar prospect demographics. Contact them prior to the show and introduce yourself.  Suggest exchanging product information so that you can make referrals when appropriate. Ask them how you would spot an ideal prospect for their product, and give them the same information about your products.  Be sure to drop by their booth and meet them at the show.   These relationships often lead to great referral programs or joint marketing agreements.
Block time on your calendar the week after the show for follow up calls and to prepare and send personal emails, information packages and notes.  We prefer sending information after the show, rather than handing people a pile of brochures and product information that may or may not make it home (and may or may not get opened once they get there!) Also, prequalify, sort and enter your prospects into your follow up process.
While at the show – if you happen to be conversing with someone and they mention they don't have time for all of this marketing preparation and follow up, suggest they contact ABCI!  (Have them call Paula at 702-987-1679)
We'll provide them a free consultation, and if you're a client, we'll credit your account for free press releases or advertising in exchange for every successful referral.  If you're not an ABCI client yet, we still provide nice gifts.
For more detailed information, (and checklists for 30 and 90 days after the show!)  download our Trade Show Checklist
Have a great time!  And make it profitable!.