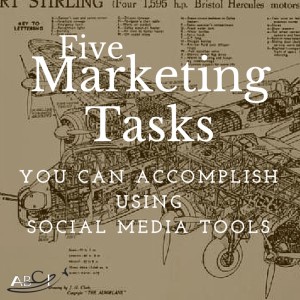 In a recent article we  mentioned that social media is simply a tool to be used to accomplish certain tasks, and that disliking Twitter makes about as much sense as disliking a socket wrench.
If you have a task to accomplish, and a social media tool is the easiest, cheapest and most effective way to get that task accomplished . . . what's the problem?
Well, we received a lot of questions since then. They mostly boil down to this:
"What kind of tasks could I accomplish using social media tools?"
Here are a few of our favorites:
1. Research your Top Ten most wanted customers.
You should have at least ten "future customers" that you are pursuing at all times- and you can ethically "stalk" them by observing what they publish in social media. Follow their accounts, read what they write, and comment when appropriate.
This is also a great resource to learn about a prospect before a meeting or sales call. (There is no excuse, in this day and age, for a "cold" call – you have plenty of research tools at your fingertips and can customize your reason for calling!)
Best tools for this task: LinkedIn, Facebook Company Pages
2. Plan your Trade Show Appearance.
It's expensive to travel to trade shows, but it's also a "target rich environment," to quote Top Gun.  There is no excuse for wasting a spare moment. Use the show's official hashtag (#OSH15, #NBAA15) to discover competitors, customers and prospects that will be attending, and to connect and arrange times to meet for coffee or dinner or just to drop by their booth. .
Best tools for this task: Twitter, Instagram
3. Find out more about your customers.
Enter a list of email addresses and you can get detailed reports on the demographics of the people that "like" your page on Facebook, or that visit your website, or serveral other variables.Best tool for this task: Google Ads Manager (Note – you can use a free account and don't have to purchase any ads.)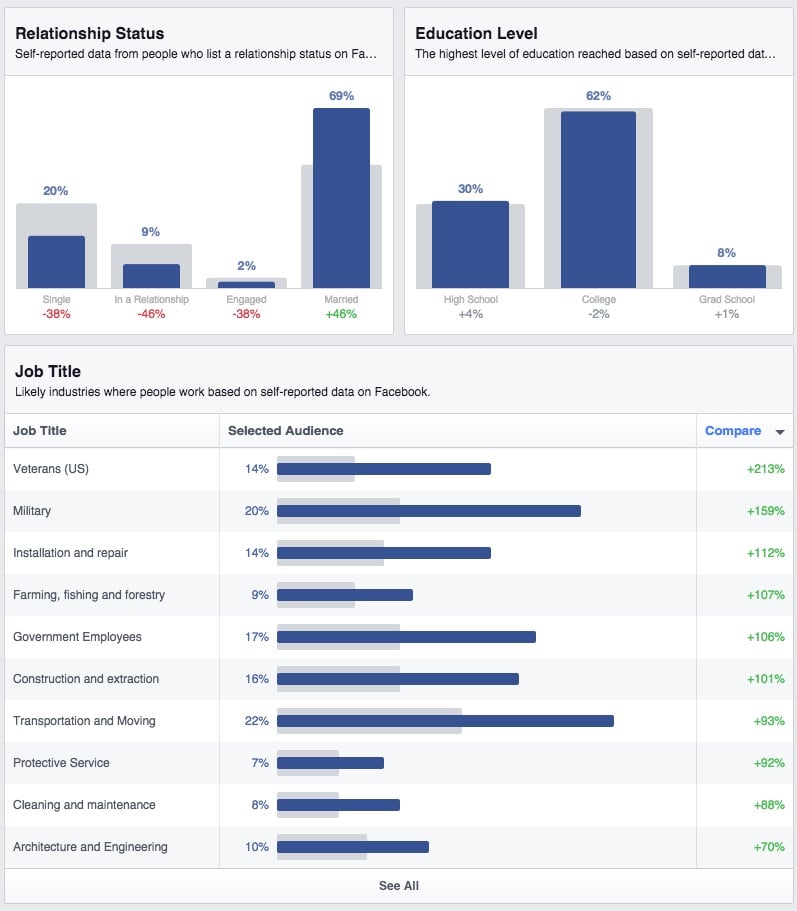 Best tool for this: Facebook Ads Manager, Twitter Ads Dashboard
4. Advertise an Event to specific groups.
Want to advertise an event for to licensed CFIs in certain zip codes in Texas?   No problem!
Best tool for this task: Facebook Events + Ads Manager
Note: We also recommend that you acquire a targeted list from AirPac or JetNet and send postcards about your event if time & budget allows. An additional media compounds the effectiveness of your advertising.
5. Educate prospects and customers.
ABCI and many of our clients sell products and services that aren't as simple as a socket wrench. We need to let people know what it is, why they want it, what the alternatives are, and how to use it properly. At the same time, we simply can't get our casual prospects to spend hours poring over a manual. So, a "tip of the week" or "Did you know . . ." series of information snacks can be very helpful to increase sales, improve customer satisfaction, and reduce returns and chargebacks.
Best tool for this task: Any social media that your customers and/or prospects use!
Any powerful tool has risks associated with it.  It's important to know how to use them properly and take safety precautions.   In the case of social media, it's necessary to take many of these precautions (i.e. monitoring the reputation of your company, your product(s) and your brand) whether or not you personally are an active social media user.  Whatever you and your employees do, you cannot control the actions of your customers and competitors on social media – so it pays to watch what they do.
Of course there are others – list your favorite social media tasks in the comments below!
More on Social Media for aviation marketing:
Aviation Marketing – Social Media Speedbumps
Electronic Logbook Solution Benefits from Social Media Marketing
Book Club Conversation – No BS Social Media Marketing
Direct Response Social Media – An Interview with Kim Walsh-Phillips
NBAA Social Media Panel Discussion Transcript
Social Media Survey Results – More Mythbusting!
Five Marketing Tasks You Can Accomplish Using Social Media Tools