Randy Woodcock of Flight Level Furnishings is an airplane aficionado and a craftsman of fine furniture for high-end home and office environments.
This combination of passions drove his latest project – an eye-catching TV console replicating part of the iconic F-86 Sabre. This FBOs, executive terminals, aviation-themed restaurants and other environments.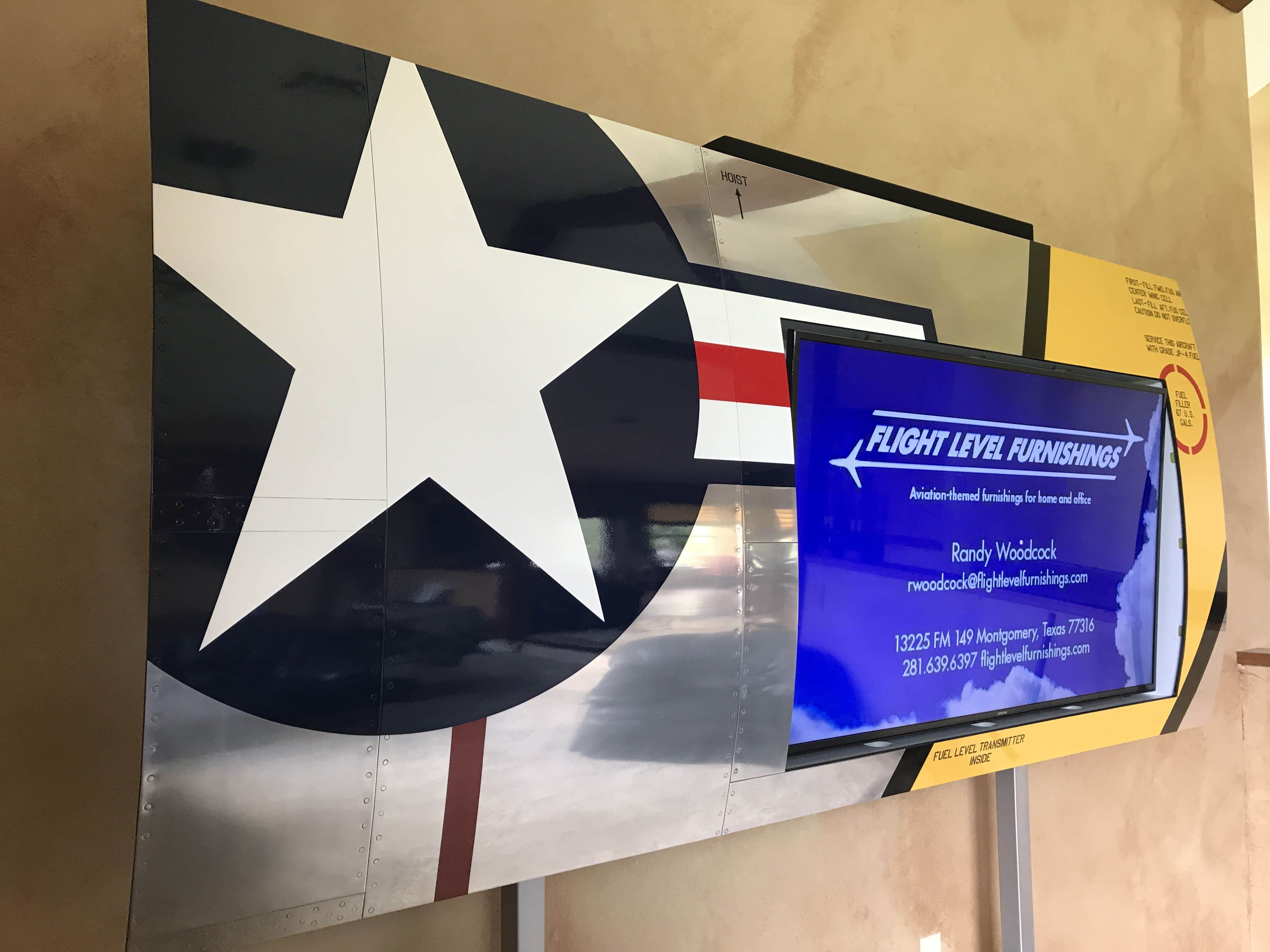 The console is built near a 1:1 scale, handcrafted from 1/16" aluminum, and includes authentic details like the paint, stenciling, seaming, and even rivet marks that stand up to the closest inspection, and draws attention to a flat television screen (or computer monitor) that can display advertising, weather, menus, or other information.
The F-86 Console is one of many unique pieces of vintage aviation furniture available for purchase or lease through Flight Level Furnishings. Woodcock provides custom consultations to architects, interior designers, commercial facilities managers, and homeowners to guide them through the creation of aviation or nostalgia-based atmosphere with high-end furnishings for lease or purchase.
While it would be an excellent addition to the home of an aviation buff, it would be equally ideal in an office, FBO, lobby or restaurant.
"We recommend that all of our clients incorporate video advertising into their brick and mortar establishments," said aviation marketing consultant Paula Williams of ABCI. "FBOs can include advertising with helpful information such as local weather and amenities, while unobtrusively presenting other services that might be useful to guests, such as the availability of ground transportation, concierge services or menu suggestions from a restaurant. The typical solution (having screens everywhere) can make an interior design look too modern, cold and generic. This console provides an aesthetic solution for FBO marketing – it draws attention to your message while bringing a lot of character to the space. It's a great investment as an art piece that is incredibly functional and iconic for the amount of space it uses."
Woodcock explains his selection of the F-86 for his first iteration of this concept. "This plane, in particular, brings a sense of nostalgia and unique American excellence into any environment, while incorporating and, literally enclosing, something as commonplace and potentially sterile as a flat screen television."
The Legend of the F-86
"I have always been attracted to the distinctive look of this aircraft," said Woodcock. "I caught the aviation bug at an early age raised in the air force and have spent a lot of time around military aircraft, airshows, and warbird events. And I can recall seeing the F-86 in old movies like SabreJet, The Hunters, and in a 1981 movie called The Last Chase starring Lee Majors. It's an iconic, legendary fighter that represents an era so well."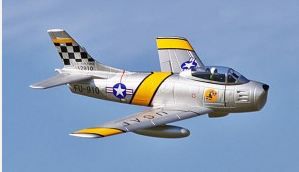 The F-86 was designed and initially built by North American Aviation for the U.S. Navy, with its first flight in 1947. It was the first American aircraft to use a thin swept wing design for greater speed.
The F-86 saw service during the Korean War and Cold War as a response to the Russian MiG-15.
While earlier straight-winged jets such as the F-80 and F-84 initially achieved air victories, when the swept wing Soviet MiG-15 was introduced in November 1950, it outperformed all UN-based aircraft. In response, three squadrons of F-86s were rushed to the Far East in December. Early variants of the F-86 could not outturn, but they could out dive the MiG-15, although the MiG-15 was superior to the early F-86 models in ceiling, acceleration, rate of climb and zoom. With the introduction of the F-86F in 1953, the two aircraft were more closely matched, with many combat-experienced pilots claiming a marginal superiority for the F-86F. The heavier firepower of the MiG (and many other contemporary fighters) was addressed by fielding eight cannon armed Fs in the waning months of the war. Despite being able to fire only two of the four 20 mm cannon at a time, the experiment was considered a success.                                  

Many of the American pilots were experienced World War II veterans, while the North Koreans and the Chinese lacked combat experience, thus accounting for much of the F-86's success. However, United Nations pilots suspected many of the MiG-15s were being flown by experienced Soviet pilots who also had combat experience in World War II. Former Communist sources now acknowledge Soviet pilots initially flew the majority of MiG-15s that fought in Korea, and dispute that more MiG-15s than F-86s were shot down in air combat. Later in the war, North Korean and Chinese pilots increased their participation as combat flyers. The North Koreans and their allies periodically contested air superiority in MiG Alley, an area near the mouth of the Yalu River (the boundary between Korea and China) over which the most intense air-to-air combat took place. Although the F-86A could be safely flown through Mach 1, the F-86E's all-moving tailplane improved maneuverability at high speeds. The MiG-15 could not safely exceed Mach 0.92, an important disadvantage in near-sonic air combat. Far greater emphasis has been given to the training, aggressiveness and experience of the F-86 pilots. American Sabre pilots were trained at Nellis, where the casualty rate of their training was so high they were told, "If you ever see the flag at full staff, take a picture." Despite rules of engagement to the contrary, F-86 units frequently initiated combat over MiG bases in the Manchurian "sanctuary." The hunting of MiGs in Manchuria would lead to many reels of gun camera footage being 'lost' if the reel revealed the pilot had violated Chinese airspace.

The needs of combat operation balanced against the need to maintain an adequate force structure in Western Europe led to the conversion of the 51st Fighter-Interceptor Wing from the F-80 to the F-86 in December 1951. Two fighter-bomber wings, the 8th and 18th, converted to the F-86F in the spring of 1953. No. 2 Squadron, South African Air Force also distinguished itself flying F-86s in Korea as part of the 18 FBW.

By the end of hostilities, F-86 pilots were credited with shooting down 792 MiGs for a loss of only 78 Sabres, a victory ratio of 10:1. More recent research by Dorr, Lake and Thompson has claimed the actual ratio is closer to 2:1.The Soviets claimed to have downed over 600 Sabres,together with the Chinese claims, although these are thought by some to be an overcount as they cannot be reconciled with the 78 Sabres recorded as lost by the US.A recent RAND report

[

made reference to "recent scholarship" of F-86 v MiG-15 combat over Korea and concluded that the actual kill:loss ratio for the F-86 was 1.8:1 overall, and likely closer to 1.3:1 against MiGs flown by Soviet pilots. Based on Soviet archival data, 335 Soviet MiG-15s are known to have been admitted as lost by the Soviets over Korea.Chinese claims of their losses amount to 224 MiG-15s over Korea. North Korean losses are not known, but according to North Korean defectors their air force lost around 100 MiG-15s during the war. Thus a total of 659 MiG-15s are admitted as being lost, all but a handful to F-86 Sabres, while USAF claims of their losses amount to 78 F-86 Sabres,.Of the 41 American pilots who earned the designation of ace during the Korean war, all but one flew the F-86 Sabre, the exception being a Navy Vought F4U Corsair night fighter pilot.

Source – Wikipedia

The Process of Building the Console

To do justice to the iconic plane, Woodcock spent weeks researching the design details before building his first prototype and then spent weeks perfecting the prototype.   What follows is a highly condensed view of the process.

Step One – The Mockup

From several actual F-86 Sabres and photographs, Woodcock designed the overall shape, size, and composition of the finished piece.

Step Two – The Woodwork

Woodcock learned to craft fine wood furniture from his father's woodworking business, and a long successful career creating and restoring millwork and furniture for corporate environments and the hospitality industry with Waldmachers Restoration. The craftsmanship and attention to detail here show the many steps of laminating a perfect curve to emulate the side of the aircraft. Clamps, straps, and blocks hold the piece during the critical drying process without damaging the finish.

Step Three – The Metalwork

Woodcock selected a 1000 annealed aluminum for the aircraft skin. While authentic aircraft skin would have been an alloy of aluminum, copper, and magnesium, the pure aluminum is consistently shiny with little maintenance required.

Seams and rivet detail were added, and then the surface was perfected and polished with nine different grades of abrasive paper and compounds.

Step Four – Paint and Stenciling

An authentic, traditional insignia for the SabreJet is applied next, including the iconic yellow striping. "Finding the right font to match the photographs I had of this aircraft took time," said Woodcock. "The stenciling was done on this piece in the same way it would have been done on the aircraft."

Step Five – Final Details

The gray interior of the mounting area for the TV was copied from a shade he'd seen on the inside of speed-brakes on a restored aircraft. While green may have been a more traditional choice, Woodcock felt that green would be distracting from the TV. The articulating mounting bracket for the TV allows the screen to be adjusted, tilted however best suits the environment.

The piece is designed to be mounted to the wall using a Johnson cleat or French cleat. Power and data outlets and cords can be hidden by the console.

The TV is cleverly mounted, to allow the owner easy access to USB ports and other connections; the video files can be loaded manually, or use a network connection to provide television or network data to the screen.

Acquiring Flight Level Furnishings

Custom, handmade furnishings are available for many different needs and budgets.

The first step is to arrange a free consultation with Flight Level Furnishings to discuss the space, your clientele, your needs, and budget. Some pieces are immediately available for lease or purchase, some may require customization, and some are limited releases. Some handmade pieces, such as the Flight Level Signature Desk, are available by position order only.

The F-86 Console is quite versatile and can be adapted to the size and needs of the space. A consultation with the facilities manager may be required to coordinate mounting and wiring options.

Contact Randy for great ideas for your next  coffee table, office desk, wall art or other fine furniture.

About Flight Level Furnishings

Randy Woodcock of Flight Level Furnishings creates fine furniture pieces that combine wood, metal, glass, and colors for home, office or commercial décor. A passion for aviation, craftsmanship, and architectural finishing is included in each design. Aircraft parts and inspiration are used whenever practical.  Flight Level Furnishings is located in Montgomery, Texas, and can be reached at 281-639-6397, online at FlightLevelFurnishings.com, and can be found on Facebook, Twitter or Instagram…