Did you pick up one of our Press Kits at NBAA? If not, write to me at [email protected](dot)com and I'll send you one!
We were taught in journalism school that there is a "firewall" between the Editorial Desk and the Advertising Desk.
At the University of Utah, my media ethics professor was a HUGE Star Wars fan. He used to call journalism "the light side" of the newspaper business; and of course, advertising and marketing were on "the dark side."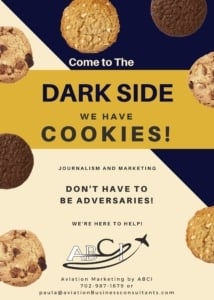 The "dark side" was a part of the necessary evil underbelly of business that was required to run a newspaper, magazine, radio station or any other credible news outlet.
ABCI is a marketing company. We think every company and every person in the aviation industry has great stories to tell. Often, those stories are newsworthy, useful to readers, or just plain interesting. They hire us to help them tell those stories, better.
We know that journalism is a tough profession. And it's getting tougher as competition grows and revenue models change, and everyone is screaming about "fake news!"
It's more important than ever for aviation journalists and magazines to publish interesting and truthful stories, and to divulge any compensatory relationships.
So, how can marketing consultants and journalists work together, ethically?
Here's what ABCI can do to help you:
We write good stories about the aviation companies we work with.
We ensure that everything we send you is fact-checked to the best of our ability.
We respond quickly to requests for additional information, photos, charts, graphs, and interviews so you can improve the stories YOU are working on.
We provide a steady supply of press releases you can use or not as you see fit, in the way that is most convenient for you.
We want to foster an honest, respectful and sometimes even fun relationship between the dark and light sides of the firewall.
We'd welcome a conversation about what YOU need or what YOU are concerned about, what your position is on the tough situation aviation journalism is in these days, and what we can do to help you.
Our press kits include example press releases, as well as more information about ABCI and the content marketing services we offer to aviation companies.
We'd also like to know your favorite kind of cookie.
Warm regards from the Dark Side!
Paula & John Williams
aviation marketing by ABCI
..