Many college football fans are serious about bringing the "home court advantage" to away games.
The most die-hard football fans feel duty-bound to ensure there is a respectable showing of color in the stadium at away games, no matter how far they need to travel.
The traditional options for getting to away games in the Southwest U.S. or for those living elsewhere to get "home" have traditionally included the inconvenience of a LONG road trip or the indignities of modern airline travel, including restrictions, delays, and "less than optimal" customer service experiences.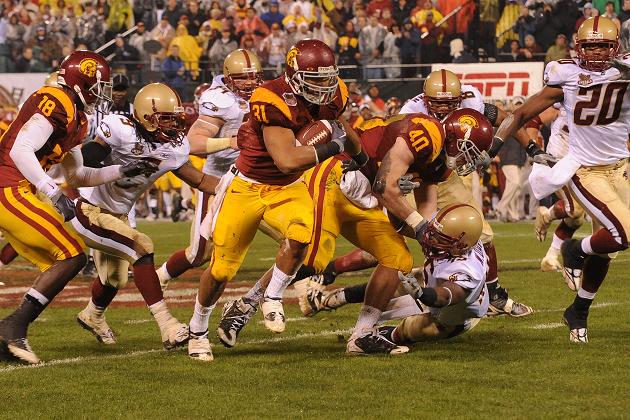 Road trips can be fun, but may not be optimal for some groups or families, or for people with demanding work schedules.
Some fans are discovering a third option – chartering a plane for a tailgating trip.
Some of the nation's largest schools such as Penn State and the University of Texas own private planes. But why should the schools, coaches and teams have all the fun?
The Geography of the 2017 College Football Season
Imagine seeing a great game, live and in person, every single weekend this fall. As much fun as that sounds, there is a LOT of territory to cover, which leaves you two unappealing options –
Spend a LOT of time in the car
Spend a lot of time in airport security lines and making connections in airports.
Or a third option – get a group of friends together and charter a trip on a luxurious King Air. We meet you at the terminal, grab your bags, coolers and blankets, and take off when you're ready. We arrange ground transportation and wait for you while you enjoy your game. If it finishes early or late, we're ready to go when you are.   Then we bring you directly home without security checkpoints, connections or delays.
Advantages of Tailgating by Charter
We pick you up at the nearest convenient airport and take you directly to the closest airport to your game.
We will arrange for ground transportation, your car or van will pick you up for the short drive from the airport to the stadium.
Up to nine passengers can fly at the same price as one.
Carry your favorite beverages and snacks to toast the game.
(Carryon restrictions don't apply to private flights!)
Bring your youngest kids and oldest relatives. We cater to the needs of all of our passengers – no need to leave anyone out!
Flights take as little as an hour or two.
No security lines.
Never leave the game early, or wait in the airport. The pilot waits for you.
But Aren't Charter Flights Expensive?
Many fans believe that tailgating by charter flight to away games would be prohibitively expensive. But tailgating with a group changes the economics of the trip.
Airline tickets can vary widely, but with checked baggage and other fees can run in the neighborhood of $800 per person, making the total cost for a group of eight to $6400.
Driving time for the same trip would be less expensive, but travel to some of these games would be a driving marathon.
By contrast, chartered trips may not be as pricey as one would expect. Private flights usually cost more, but when divided among multiple fans, the cost can be competitive. Chartered flights can accommodate the scheduling desires of the group. Many of the restrictions that apply to airlines, like those 3-ounce shampoo bottles, don't apply to private aviation, so fans may be able to bring that bottle of champagne to celebrate a victory (or to console fans in the event of a defeat, should such a travesty occur.)
Francis Aviation provides luxury King Air charter services in the Southwest and specializes in getting people from one place to another with maximum convenience and value. Arrangements for children, elderly passengers, ground transportation, luggage preferences, and even snack preferences can be accommodated.
Schedules for Some of the Games We Want to See This Year!
Or, download a printable PDF of this schedule from Francis Aviation here.
Date
 Team
 Team
Location
Oct 14, 2017
TCU Horned Frogs
Kansas State Wildcats
Manhattan, KS
Oct 14, 2017
 
Texas Tech Red Raiders
West Virginia Mountaineers
Morgantown, WV
Oct 14, 2017
Texas A &M Aggies
Florida Gators
Gainesville FL
Oct 14, 2017
Oklahoma Sooners
Texas Longhorns
Dallas TX
Oct 14, 2017
LSU Tigers
Auburn Tigers
Baton Rouge LA
Oct 15, 2017
Tulsa Golden Hurricane
Houston Cougars
Houston TX
Oct 21, 2017
TCU Horned Frogs
Kansas Jayhawks
Fort Worth, TX
Oct 21, 2017
Texas Tech Red Raiders
Iowa State Cyclones
Lubbock, TX
Oct 21, 2017
Oklahoma Sooners
Kansas State Wildcats
Manhattan KS
Oct 21, 2017
LSU Tigers
Ole Miss Rebels
Oxford MS
Oct 22, 2017
Tulsa Golden Hurricane
Tulane Green Wave
Tulsa OK
Oct 28, 2017
TCU Horned Frogs
Iowa State Cyclones
Aimes, IA
Oct 28, 2017
Texas A &M Aggies
Mississippi State Bulldogs
College Station TX
Oct 28, 2017
Oklahoma Sooners
Texas Tech Red Raiders
Norman, OK
Oct 29, 2017
Tulsa Golden Hurricane
Memphis Tigers
Memphis, TN
Nov 4, 2017
TCU Horned Frogs
Texas Longhorns
Fort Worth, TX
Nov 4, 2017
Texas Tech Red Raiders
Kansas State Wildcats
Lubbock TX
Nov 4, 2017
 
Texas A &M Aggies
Auburn Tigers
College Station TX
Nov 4, 2017
Oklahoma Sooners
Oklahoma State Cowboys
Stillwater OK
Nov 4, 2017
LSU Tigers
Alabama Crimson Tide
Tuscaloosa AL
Nov 5, 2017
Tulsa Golden Hurricane
East Carolina Pirates
Tulsa OK
Nov 11, 2017
TCU Horned Frogs
Oklahoma Sooners
Norman, OK
Nov 11, 2017
Texas Tech Red Raiders
Baylor Bears
Arlington TX
Nov 11, 2017
Texas A &M Aggies
New Mexico Lobos
College Station TX
Nov 11, 2017
Oklahoma Sooners
TCU Horned Frogs
Norman OK
Nov 11, 2017
LSU Tigers
Arkansas Razorback
Baton Rouge LA
Nov 12, 2017
Tulsa Golden Hurricane
Navy Midshipmen
Anapolis, MD
Nov 18, 2017
 
TCU Horned Frogs
 
Texas Tech Red Raiders
Lubbock, TX
Nov 18, 2017
 
Texas A &M Aggies
Ole Miss Rebels
Oxford, MS
Nov 18, 2017
Oklahoma Sooners
Kansas Jayhawks
Lawrence, KS
Nov 18, 2017
LSU Tigers
Tennessee Volunteers
Baton Rouge, LA
Nov 19, 2017
Tulsa Golden Hurricane
UCF Knights
Orlando, FL
Nov 24, 2017
TCU Horned Frogs
Baylor Bears
Fort Worth, TX
Nov 24, 2017
Texas Tech Red Raiders
Texas Longhorns
Austin, TX
Nov 25, 2017
Texas A &M Aggies
LSU Tigers
Baton Rouge, LA
Nov 25, 2017
Tulsa Golden Hurricane
Cincinnati Bearcats
Tulsa, OK
Nov 25, 2017
Oklahoma Sooners
West Virginia Mountaineers
Norman, OK
Nov 25, 2017
LSU Tigers
Texas A & M Aggies
Baton Rouge, LA
Dec 1, 2017
Big 12 Championship
Arlington, TX
Dec 2, 2017
SEC Championship Game
Atlanta, GA
Dec 19, 2017
Tulsa Golden Hurricane
Central Michigan Chippewas
Miami FL
About Francis Aviation
Francis Aviation provides luxury charter flights and FBO services. Francis Aviation can be reached at 844-589-4586 or online at FrancisAviation.com
Interviews and high-resolution photos are available on request…