Which improvements for aircraft interiors improvements have the biggest impact on aircraft resale value? Three brokers weigh in.
Historically low aircraft resale prices, together with a large volume of used aircraft on the market, have aircraft owners and fleet managers thinking about how to maximize the value of their current aircraft. In order to stand out in a crowded marketplace and secure a higher resale value, or to maximize usability so that they can happily keep the aircraft for a year or two longer rather than upgrading now.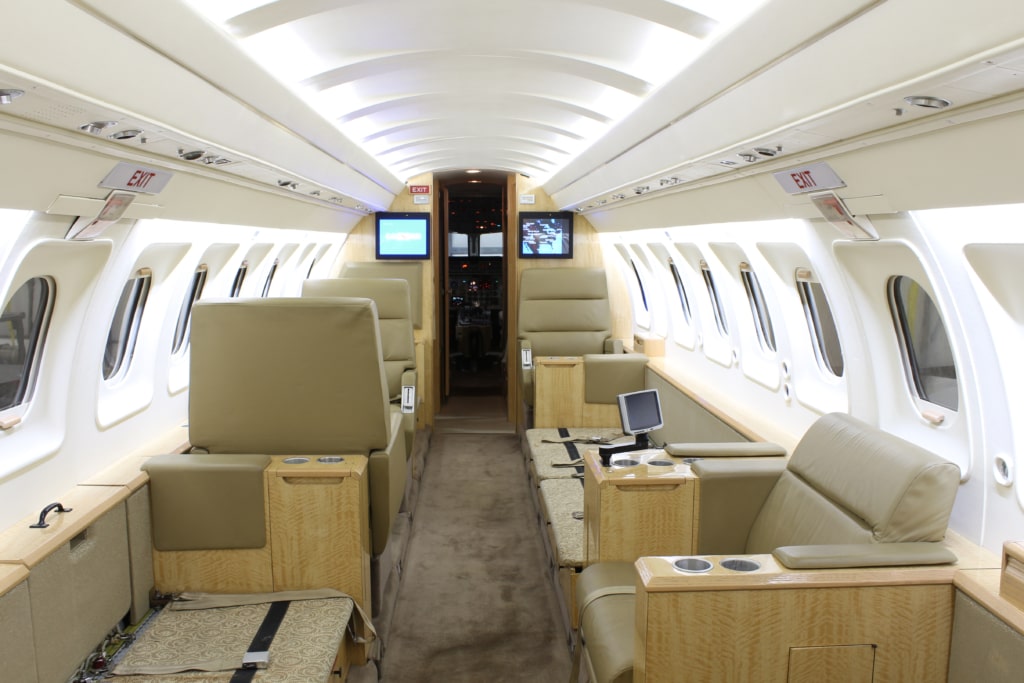 The Private Jet Interior is Central to Passenger Satisfaction and Resale Price
Larry Dean, President of C&L Jet, put it this way:
"Business jets typically fly less than 500 hours per year and are generally kept for less than 5 years so they get little use. When the owner approves the decision for a major refurbishment they most likely plan to keep the aircraft for another 4 to 5 years."
Cabin upgrades may include any of the following
Softgoods – seat leather, fabric and carpet
Galley – food service equipment
Cabin Management – Satcom for internet and communications, entertainment music and video
Major refurbishment – includes the above plus wood, headliners, and sidewalls
Keeping stakeholders satisfied with the airplane, and keeping charter revenue higher for longer can be a major cost savings. Passenger satisfaction often has more to do with the condition of the interior than with the year the aircraft rolled off the assembly line.
When selling an aircraft, the condition of the interior is also a key factor.
"One of the first questions brokers will ask a buyer is this – 'Do you want to redo the cabin interior yourself, or do you want to buy something relatively new?' Nine times out of ten, the buyer wants a new interior. They're looking for a turn-key aircraft they can use right away." Said Brad Harris, founder of Dallas Jet International and Chairman Emeritus of the National Aircraft Resale Association (NARA).
"And when it comes to decision time, if there are two similar aircraft, they'll chose the one with the cabin interior that looks the best, he added.
Gene Clow of Great Circle Aircraft agrees, from his experience selling high-end aircraft for 20+ years. "It's all about street appeal. The better it looks, the fewer days it will spend on the market."
The buyers' impression of the interior will color his or her opinion of factors that are not as visually obvious, like how well the aircraft was maintained.
Some specific elements of an aircraft interior that are of particular importance to a buyer are:
Carpet
Seats and upholstery
Wi-Fi and electronics
Aircraft Cabin Upgrade #1 – Carpet
The carpet is usually the first thing that will need to be replaced in an airplane. The spot that wears the most is the "turn spot," where the person entering the airplane places his foot and then turns left to the cockpit or right to the cabin. An experienced flight crew will place a "throw carpet" in this location to stave off the earliest (and worst) signs of wear," said Clow.
Carpet is a private jet interior upgrade that provides a big improvement in "buyer appeal" for a relatively low cost.
Aircraft Cabin Upgrade #2 – Cabin Seats & Upholstery
The "Chairman's Seat" or most used seat in the passenger cabin is the first to show wrinkles in the seat pan (affectionately known as "butt dimples.")
"Don't ever recover just one chair in the cabin," advises Clow. "If the Chairman's Seat needs to be recovered, you should do all of the seats in that group, if not in the entire cabin." Although if the cabin includes a mixture of chairs and divans, an artful mix of newly covered seats in coordinating materials with divans that were in good shape to begin with can produce a very nicely maintained cabin without a complete overhaul.
Aircraft Cabin Upgrade #3 – Wi-Fi and Electronics
Business jets have always required electronics and instruments in the cockpit for communication, weather information and air traffic control. But electronics in the cabin have become equally important in recent years.
"For North American buyers today, it's all about Wi-Fi. Not that many years ago it was all about Sat Phones," said Clow, emphasizing the importance of keeping the cabin in line with current passenger expectations. "Air-to-Ground (ATG) systems are fast enough to ensure usability, while Satellite systems continue to have latency issues and delays."
If a cabin refurbishment is underway for other reasons, it's a good time to replace or update a Cabin Management System. Otherwise, a workaround is to provide an iPad or Tablet for most seats in the cabin.
Other Items to Consider

Headliners usually escape wear and tear, unless someone smokes on the aircraft, in which case replacement becomes necessary.
Sidewalls may show wear and tear where passengers slide their shoes on the sidewalls.
Galleys and lavatory upgrades are not as essential as fresh, new carpet and upholstery or upgraded Wi-FI, and may not be worth the cost of recertification that is required for major improvements. Loose items like microwave ovens and coffee makers can be replaced as needed with updated models.
Trip Length Dictates Needs Versus Luxuries
For an ultra long-range aircraft, trips can be up to 15 hours. "Passengers will expect five movies, three meals and a very long nap, said Clow. Of course galley and lavatory facilities will need to be more elaborate.
Short range aircraft that make trips of 5 hours or less should still have a cabin that speaks of quality and care, but facilities need not be as comfortable or extensive. And there's far less room for amenities on these smaller planes.
The Bottom Line
Harris and Clow agree that cabin interiors are vitally important to the resale value of an aircraft. It's rare that 100% of the cost of an interior remodel would be recouped at resale time unless you factor in fewer days on the market, which can be a significant factor to some sellers.
"Interiors do not fully translate into a higher resale value but it does make the aircraft standout from the crowd. It puts them at the top of the market for the specific model," said Dean.
About C&L Aviation
C&L is a global aviation services and aftermarket-support provider for corporate and regional aircraft specializing in interior and exterior refurbishment, avionics upgrades, heavy maintenance, aircraft teardown services, parts support, and aircraft and engine sales and leasing. An FAA/EASA Part 145 Certified Repair Station, C&L makes aircraft ownership more economical by providing all services in one location: our state-of-the-art 140,000 square-foot facility at Bangor International Airport in Maine, and maintains sales offices and warehouses worldwide.