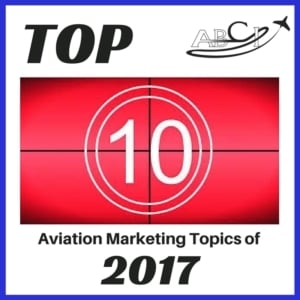 Ten Most Popular Aviation Marketing Topics of 2017
Happy Holidays from ABCI! Here are top ten most popular aviation marketing topics, chosen by our readers, listeners and viewers.
There are top ten lists of everything at the end of each year, including top ten lists of top ten lists!
So, we thought we'd share with you the results of our analysis – which topics did our readers, listeners and video watchers like best?
The interesting thing for those of us who look for patterns in everything (and who doesn't? Humans are pattern-seeking individuals, right?) is that the more specific the topic, the more attention it got.
Based on this info, we'll be providing even MORE specific aviation sales and marketing advice in 2018!
(Results were tallied from a total number of page visits on our website, episode listens on our podcast, and minutes watched on our YouTube Channel.)
#10 – Troubleshooting Your Sales Funnel or "Why am I working so hard & still not closing sales?"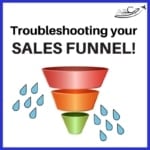 Big ideas from this week's episode designed around closing sales:
All of your marketing activities should fit into one of these three phases in a "marketing funnel."
Count the number of prospects that are in each phase, and determine where you're losing the most people.
Invest the time and money to improve the "leaky section" of your funnel.
This may sound REALLY basic, but we've found that many marketers don't actually do Step #2, and just "wing it" by doing more of the marketing activities that they enjoy, are comfortable with, or feel they can afford.
The problem with this is that you end up wasting money or spinning your wheels.
Troubleshooting Your Sales Funnel
#9 – B2B Marketing Strategies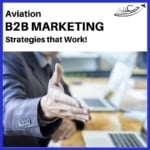 Aviation B2B marketing strategies are different from the retail marketing most people learn in business school.
This is true for TWO reasons! John and I talk about the differences, and how to be successful at this very specialized niche.
Some of the terms that come up when we start talking with  a new client about B2B marketing strategies and how they vary from other types aviation marketing, they say, "less personalized" or "more formal."  Neither of those are true, in our experience.
There are differences, but not the ones you think!
#8 Aviation Adwords – Pay Per Click for Lead Gen & Data Collection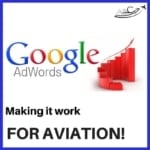 "Guaranteed first page placement on the search engines" is what the salespeople say about Google Adwords and Pay Per Click advertising.  And they're right, you do get that. However . . .
John and I talk about the "gambling addict" attraction, the "sugar high" traps, and the pros and cons of Adwords, including two ways to use it correctly.
Aviation Adwords – Pay Per Click for Lead Gen & Data Collection
#7 MRO Marketing – Aircraft Service & Repair Marketing
How is MRO Marketing Different?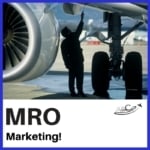 MROs and aircraft maintenance organizations have a specific set of marketing objectives – connecting with airlines and charter organizations, fleet managers and pilots of  aircraft, especially just when they need service!
There are people who say that the money in aviation is actually made on the ground. And providing service and aircraft repair can be very lucrative. But it takes a great location, great service technicians, and a great MRO marketing plan.   We can help you with that last bit.
In this episode, John and I talk about some of the factors that aircraft owners and fleet managers think about when choosing an MRO facility, and how marketing can help get YOUR part 145 repair station to be noticed.
#6 Aviation Service Marketing – Consulting, Insurance, Technical Services, etc.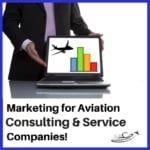 Selling a service like consulting, insurance, reporting, medical services, training, or catering to aviation customers?
As diverse as these fields may be, they have several things in common:
A limited prospect pool. There are only so many business jets flying around!
A high trust barrier. Our customers have a high threshhold for trust, since they're responsible for the safety and regulatory compliance of their plane or their fleet!
A long sales cycle. Mostly for the reasons listed above, but also because of the demographics of this group tends to be older, conservative, and they consult many people before making a decision.
So considering all that, how to you make more sales and become more profitable?   John and I discuss this, among other things, in this episode.
Aviation Service Marketing – Consulting, Insurance, Technical Services, etc.
#5 FBO Marketing – More Planes & More People!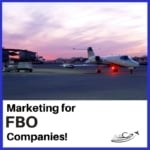 When you're in charge of marketing and sales for an FBO, your job is to get more people in the building and more planes  in your parking spaces, preferably queued up for gas, ground transportation and other services.
How do you do that?
Well,  there are always some things you can control and some things you can't.
#4 Five Reasons You Should Consider Google Plus for Aviation Marketing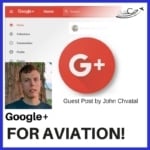 This is a guest post by the brilliant John Chvatal.  We were delighted to have him write this because, although I have a page on this platform and create them for our clients on request, it is not currently at the center of our social media strategies.
Enjoy the article, and we'll ask John to respond to any questions you have.
#3 Aviation Facebook Pages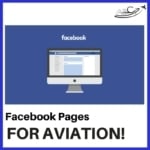 When we talk to aviation professionals at trade shows, most of them express a certain, shall we say, reluctance to admit to using Facebook.  But the statistics and numbers belie the attitude.
Facebook represents a huge potential market to reach very specific niches of consumers.
Facebook's U.S. advertising  revenue is currently larger than the largest traditional media companies, second only to Google!
#2 Are Press Releases Worth It?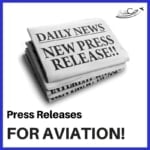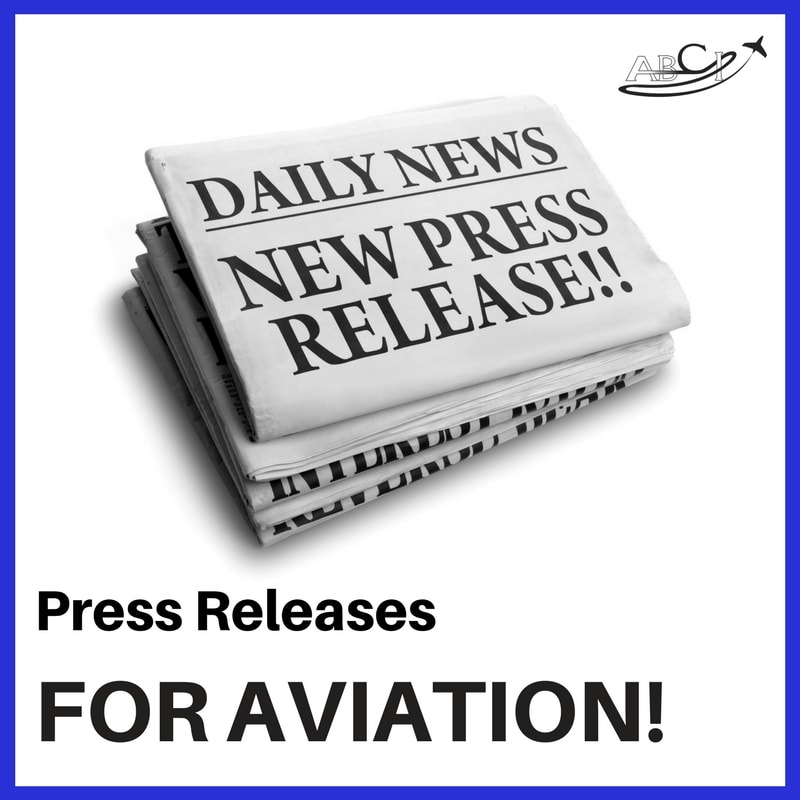 John and I talk about Press Releases for Aviation.
In the prehistoric days before the internet, press releases were the meat and potatoes of aviation pr.
But did you know the history of where press release came from?
And how the black-hat SEO charlatans ruined it for the rest of it?
And why most editors hated them after about 2000?
And why you should do them anyway (but do them better than everyone else?)
#1 Aviation Charter Marketing – Getting More Passengers and Planes!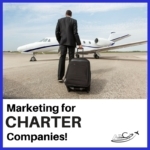 Now is a great time for aviation charter marketing because
Fuel costs are lower.
Many people are holding on to their older planes and looking to charter companies to help them create revenue to help defray cost of ownership.
Airline inconveniences are pushing consumers away from the airline experience.
In this podcast episode, John and I  go through the whole aviation charter marketing process.
Phase one, advertising and prospecting,
Phase two, building credibility and closing sales; and
Phase three, resells, recaptures and referrals.
Click for Aviation Charter Marketing
So, what was YOUR favorite article or topic of 2017?  What would you like to see more of in 2018?