Flight Schools Need to Adapt to Culture of Younger Generations, say Speakers at Flight School Conference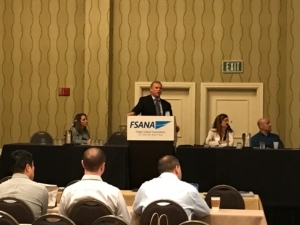 February 20, 2018
San Diego, CA
Presenters at this week's Flight School Association of North America (FSANA) ninth annual Operators Conference addressed a paradox in the industry.
Two staggering, and conflicting, statistics are well known to flight school operators. The number of pilots needed by the aviation industry in the next few years is incredibly high, and yet the number of students that actually complete flight training is incredibly low.
"Over the next two decades, 87 new pilots will need to be trained and ready to fly a commercial airliner every day in order to meet our insatiable demand to travel by air," said Jon Ostrower in CNN Money.
At the same time, AOPA and General Aviation News report that 80% of students who begin flight training never complete it.
Brian Lewis of Wolfhound Interactive, Pamela Olson of King Schools, and Mark Leeper of Flight Schedule Pro addressed the issue in a General Session at the Flight School Association of North America (FSANA) Operator's Conference.
"Young people will overcome a lot of obstacles to complete their flight training," said Leeper.  "They find ways to finance their education, they don't have a problem with the rigorous course materials and regulatory requirements and check rides, they often willingly overcome many challenges because aviation is something that people get very passionate about." He said.
It's no surprise that their biggest concern is often money.  They knew the cost of the program before they started, but what they are uneasy about is whether they will complete the program on time with the amount of money they have budgeted, or have financed.
The amount of time and training required for a flight student to master a skill can vary based on his ability to perform certain tasks to the satisfaction of an instructor or examiner. At $200-270 an hour, (which pays for the plane, instructor and fuel) a delay can really add up.  Adding to uncertainty and complexity is the fact that most flight students have multiple instructors who may interpret the course materials differently.
"Young people have also grown up with everything online. They do their banking, schoolwork, shopping, entertainment, and even their workouts online.  My son prides himself on earning most of a bachelor's degree without ever buying a paper book. So when a flight school doesn't give them transparency into their training program, they get really frustrated." He said.
Many business owners fail to grasp how large this cultural shift is, and what it means to them. Consider that colleges are having trouble getting students to football games if the bandwidth in the stadium isn't good enough. Students would rather stay home where they can use their phones and tablets WHILE they watch the game.
You can work with, or fight against this cultural change, Leeper explained.   Flight schools should want their customers and students to be connected and to have complete and transparent information about what they've completed, what to study next, and how far they've come- it's an advantage to provide this information online and have students looking to the flight school for information online.
Flight schools can leverage this cultural shift by using standard course materials delivered online, with online scheduling and visual progress indicators.   Schools can use programs like Flight Schedule Pro that manage these tasks online so that students, instructors, flight school managers and other stakeholders like parents  (who may be paying the bills) and advisors can access records securely while maintaining student privacy.
Other speakers at General Sessions included Bruce McCall of Triad Aviation Academy, Chris Erlanson of Nashville Flight Training and Lisa Campbell of Air-Mods Flight Training Center; all of whom have developed programs for young people (ages 12 and up) following FSANA's service-marked AeroCamp model, designed to provide much-needed visibility to young people, who have few opportunities to engage with aviation.   Presented as a STEM-focused educational opportunity, students and parents are embracing aviation.
"I proposed the idea after being inspired by a presentation Bruce gave at a FSANA conference. All of our instructors were against it at first," said Erlanson, "So I almost discarded the idea." But after a few phone calls and some strong support from the airport community, he decided to give it a shot, and held a successful AeroCamp, which had great results and garnered national publicity when a local news story was seen and retweeted by celebrity Kelly Clarkson.
Every one of those skeptical flight instructors were excited to host the next AeroCamp, he said.
"Building a long-term pipeline for prospects is a brilliant marketing strategy," said aviation marketing consultant Paula Williams of ABCI. "And it's great for the industry because it's really inspiring to get kids involved in such an exciting program."
Robert Rockmaker, FSANA CEO and President, concluded – "It is an exciting time to be in the aviation and aerospace industry. There are many energetic young people looking to find a pathway toward their dreams and goals. FSANA is helping to make their futures bright as we create programs for our flight school members and our nation's youth."