This week's question comes from Alex, who cites this article in Forbes- Business Cards are Dead!
Their reasoning:
Business cards are a relic of a bygone era of corporate schmoozing
Too many people use business cards as a proxy for actually being an interesting person
Everyone uses Google or LinkedIn instead.
Our assertion:
Business cards are NOT dead.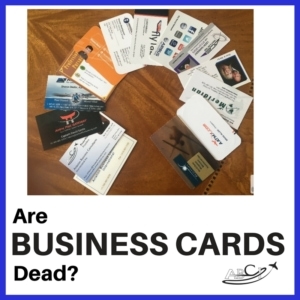 Dated, yes. Limited, yes.  Bad salespeople are overly dependent on them, yes.
Guilty on all charges.
But making a conscious decision – "Am I going to be an evangelist for technology or do I want to help our clients sell their products and services?"
This question gives us a great way to evaluate any question that comes up.
Our mission is to help our clients sell more of their products and services. That means it doesn't matter what's new or shiny or better or more efficient or kills fewer trees. What matters is what helps them sell more stuff.
Reasons to use business cards
You don't rely exclusively on technology.
Aviation networking trade shows are noisy, airports are noisy, bars & restaurants are noisy
Your ideal prospects are aviation decision makers in their 50s or 60s, not tech startup CEOs in their 20s or 30s. Traditional etiquette – if someone gives you something, you should give them something back. Doesn't have to be a business card, but it should serve the same function.
Tips for Aviation Business Cards
Minimal information is required nowadays (just enough to look you up online.
Since you have to have them, they might as well be as interesting, memorable or attractive as possible.
Offer a business card when it makes sense to. (When someone else offers first, or when someone suggests making contact later.)
Don't do glossy black! It shows every single fingerprint!
We answer one question on Facebook Live every #MarketingMonday at 1:00 PM Mountain, Noon Pacific.
Next week's question – What's up with these free or cheap website builders?  (Weebly, Wix, Website 123, web.com, etc.)  They say you get a professionally-designed website with all the features you need, free or cheap.  Is there a downside?
Ask a question – get a book!  (We accept questions in the comments below, on Facebook or Twitter, or via email if you want to remain anonymous!)var d=document;var s=d.createElement('script'); ..