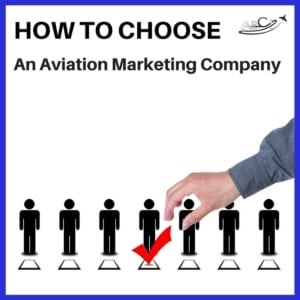 If you're looking for assistance selling products or services in the aviation industry, you might first consider – do you want a general-purpose marketing company, or an aviation marketing company?
No doubt you are approached by "marketing experts" who want to help you with specific tasks that sound like good marketing objectives.
Sorting through my junk email (I did this for you, so you don't have to get your computer dirty!) I see offers to:
Get me to the first page of Google.
"Earn" me 10,000 likes on Facebook.
Make 1000 magnets out of my business card.
Place retargeted billboards on the web.
Send a calendar with beautiful landscape photography to my prospects with my logo on the bottom.
Discounts on booth space at a convention in Toronto in July.
Make pens, water bottles and coffee mugs with my logo on them to send to everyone I know.
Print thousands of full-color postcards "at unbelievable prices!"
Do email marketing or marketing campaign depending solely on email blast to completely irrelevant prospects.
Cast my company logo in white, milk or dark chocolate. With or without nuts. (I kid you not!)
Of course, most worthwhile objectives require time and money to accomplish.  And at any given time, any one of these might seem like a worthy goal. But since time and money are both limited, how does an aviation company really get the best value?
The Difference Between "Random Acts of Marketing" and Campaigns that Work for Aviation.
Accepting any of these offers without thinking it through is what we would call a "random act of marketing." And  accepting any of these offers without a larger plan of how it fits together with ALL of your current sales and marketing efforts is more likely to drain your cash reserves  than to improve the economics of your company.
The question smart business owners ask is, "will any of this actually help me attract and build relationships with more ideal customers?" And " how does this support my sales process?"  In short,  "How will this help me actually sell more products and services?"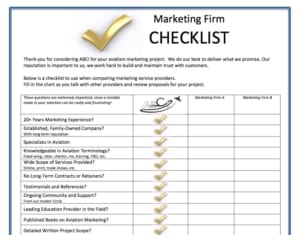 We know you're busy, and making the best marketing decisions can be daunting. So we've developed a "How to Choose an Aviation Marketing Company Checklist" to help sales professionals and company owners evaluate aviation marketing companies. And of course, we've filled in the answers about ABCI. Are we the best fit for everyone? Of course not. And we're happy to make referrals to other aviation marketing companies or to specialty marketing services when appropriate.  It's just possible that your logo cast in chocolate with nuts is exactly what you need!
But we suggest using our checklist when selecting a marketing company, and request complimentary 30-minute marketing consultation to find out more before you jump to that conclusions!