John and I discuss one of the classics in aviation marketing and culture. Nuts! by Kevin & Jackie Freiberg details some of the key decisions, moments and stories that define the industry.
[smart_track_player url="http://traffic.libsyn.com/aviationmarketing/AMHF_144_for_Podcast.mp3″ background="default" social_linkedin="true" ]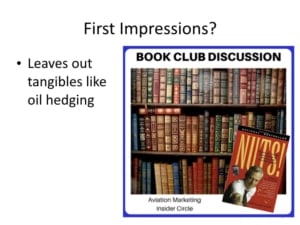 We discuss one book each month on aviation marketing, sales, or some related topic.
And one of the "classics" in aviation marketing is NUTS!  Southwest Airline's Crazy Recipe for Business and Personal Success by Kevin & Jackie Friberg.  People might argue that it's outdated, since it was written in the late 90s and SO much has changed since then, but if you work in this industry, it's helpful to know WHY things are the way they are.
And Southwest Airlines' stories are so well known and STILL retold among aviation sales and marketing professionals, so this almost makes it part of the "cultural literacy" if you work in aviation.
So, first impressions:
We agreed with several of the existing Five Star reviews, and One Star reviews, on Amazon.
Five Star Reviews included quotes like these:
"Complete insight into culture and history up to 1996."
"Told by a husband and wife pair of great storytellers."
"Must read for anyone who wants to strengthen personal or business relationships"
"Can be applied to any company"
"A management manual"
"Herb is a badass."
The One Star Reviews were equally enlightening
"Leaves out tangibles like oil hedging"  (John and I thought this was the book's biggest shortcoming"
"Great company, not great book."
"Reads as if it were authored on the corporate stationery"
"'Kelleher is great, Kelleher is good, let us thank Keller for our flight' style."
"What are the mistakes? What could Southwest have done differently? When the book is nothing but accolades, you begin to wonder if it's all true or not."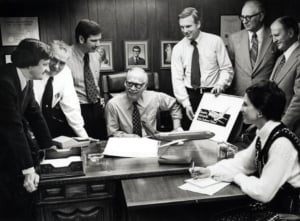 One of the key factors in Southwest Airlines' success was mentioned in the book, but I don't think it was given the credit it is due for MANY of the very important decisions that set the airline up for success from the very beginning.
The first CEO of Southwest was Lamar Muse, Herb Kelleher's predecessor.  He assembled a group of experts from other airlines and industries.
Dick Elliott, the marketing guru, set up many of the iconic advertising principles that set Southwest apart.
Jack Vidal, the Director of Maintenance, was poached from Braniff Airlines.  He was instrumental in several decisions like standardization of the fleet and maintenance processes that keep Southwest competitive to this day.
David G. Ogden was hired for  deep and wide FAA relationships, and he and Bill Franklin are responsible for the famous Southwest "turn process" that helps them retain a great on-time record and it's current 1st place rating in customer satisfaction.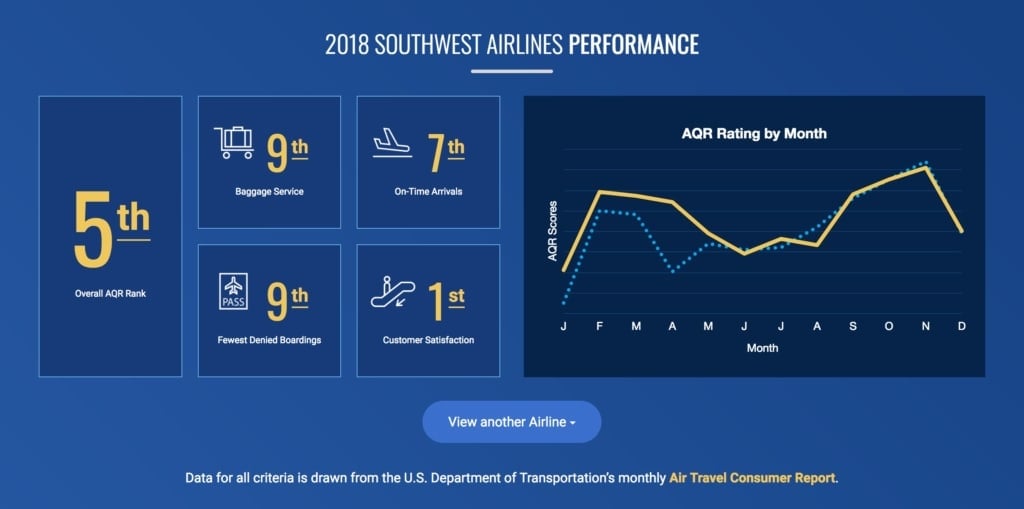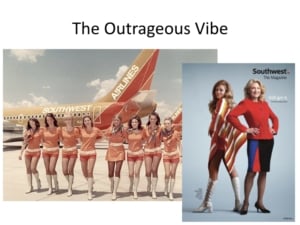 All of these infrastructure and business decisions are incredibly important, but since we are aviation marketing people,  we're going to spend the most time on the marketing aspects of this iconic aviation brand.
Of which there are many.
The most obvious is the outrageous vibe of the Southwest livery and uniforms.
In the 70s, the uniforms created a sensation. They were sexy, "modern" for the time, and attracted a specific type of person to the job – someone young, fun, and with a sense of humor.
In the 90s, Southwest went with a more "techy" image, with khaki pants and collared shirts, but in 2016, a Project Runway shoot unveiled the latest uniforms, which include more of an homage to their bold, cool, hip roots and the tagline "She's Still Got It!'"
Of course she does!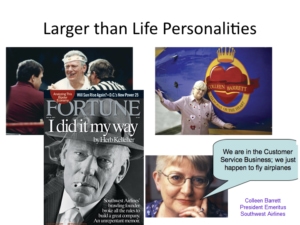 Southwest is also famous for larger-than-life personalities, which are retold in the book. These stories are well-known by people in the industry, but a refresher can be helpful.
See the  Five Essential Stories Every Aviation Brand Must Tell for more about how you can use this for YOUR brand!
The idea for Southwest's hub and spoke business model was famously sketched on a cocktail napkin.
A dispute over the rights to the name "Southwest Airlines" was famously settled in a high-stakes armwrestling match  dubbed "Malice in Dallas" (rather than a courtroom drama.) The match resulted in massive publicity, and money that would have gone to lawyers instead went to charity –  $10,000 to the Muscular Dystrophy Association and $5000 to the Cleveland Ronald McDonald House.
Longtime CEO Herb Kelleher is known for dozens of similar incidents, plus his nontraditional thinking and penchant for cigarettes and Wild Turkey Bourbon.
Collen Barrett, on the other hand, was the "spiritual leader" of the company.  She understood that "we are in the customer service business, we just happen to fly airplanes.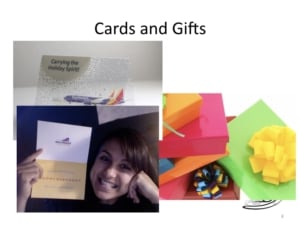 The best customer service starts by serving your employees, so Southwest became famous for taking excellent care of its people, and providing cards, gifts and awards that recognized the unique contributions of team members.
Southwest sent 75,000 greeting cards a year in the 90s, certainly that number has grown since then.
And Colleen is famous for sending uniquely personalized gifts to employees who were sick, injured or having a special event or milestone.
Employees were encouraged to email Colleen with details of anyone that deserved recognition or needed a lift.
Of course, such a culture wouldn't work without carefully selecting the right people, as well as providing a motivation system that makes them "owners" of the airline.
The interview process includes several techniques designed to help interviewers discover future employees that exhibit attentiveness, caring and humor.  It obviously works – YouTube is full of funny safety briefings, the earliest and best often come from Southwest Airlines employees. And baggage handlers,  ticket agents, pilots and execs can all quote you today's stock price and the factors affecting it – in part because of the effort put into internal employee communications AND the fact that their retirement plans include a hefty percentage Southwest Airlines' stock.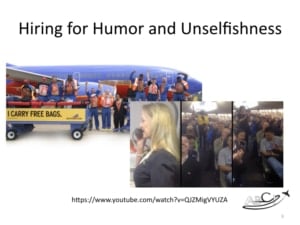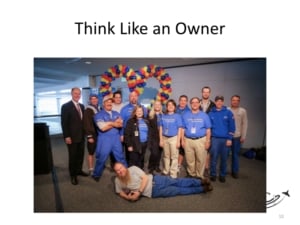 Next month, join us for a discussion of Marketing – A Love Story by Bernadette Jiwa.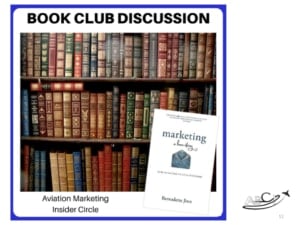 Podcast: Play in new window | Download
Subscribe: Google Podcasts | Spotify | Amazon Music | RSS