For 34 years, In Flight USA haw been delivered news; first, through their monthly publication, and now via our virtual publication at www.inflightusa.com. Committed to delivering 21st century communication with a digital presence that is second to none, the company has added AeroSearcher, aviation's powerful search engine, to their website supports that objective.
AeroSearcher is the aviation industry's search engine for everything general and business aviation. Visitors can shop products and parts, browse aircraft for sale, or see what aviation jobs are available. They also can search millions – MILLIONS – of aviation photos, all without leaving the In Flight USA site.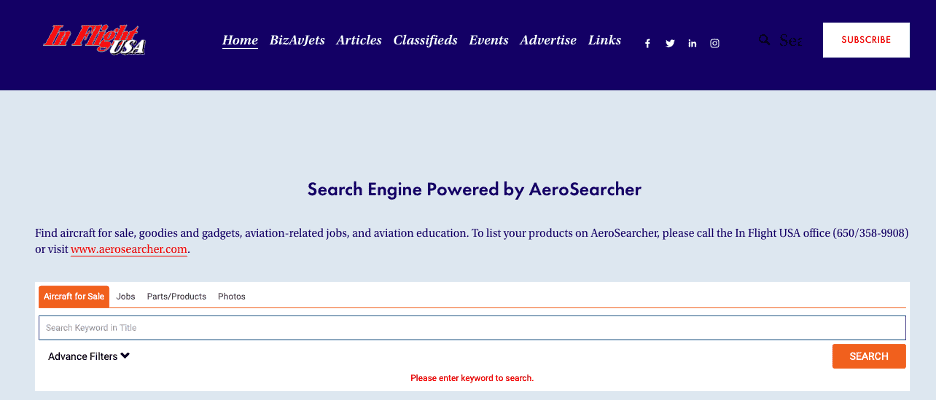 The AeroSearcher widget is located at the bottom of the homepage on the In Flight website.
Nearly 80 percent of our print readers utilize tablet or smartphone technology, and they now have the advantage of enjoying our wide variety of articles, hard hitting editorials, and product news while on the run. With AeroSearcher's help, we are putting the power of the internet into the pocket of our readers.
AeroSearcher is a game changer.
AeroSearcher gathers data either by direct feed from partners or via aggregation; it scans the internet to provide data to AeroSearcher's four streams: planes, products, positions, and pictures. As part of their push to modernize aviation search, the company has focused on making their UI simple and intuitive and their filtering of search results simple yet robust.
"We're delighted to have In Flight USA as part of the AeroSearcher network," said Co-Owner Jeff Miller. "As a widget partner, In Flight USA now provides visitors with AeroSearcher's four streams of aviation search technology: planes, products, positions, and pictures."
AeroSearcher makes finding any particular aviation listing far easier than ever before. Instead of browsing multiple sites and manually having to compare items, AeroSearcher consolidates results in one place. The advanced search features help the aviation community narrow their choices by allowing them to compare and filter data, which saves them time and keeps them coming back. Users can create free accounts and receive notifications as well.