.  A Word About Marketing Pricing Strategy for Aviation Products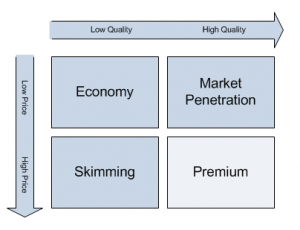 ABCI  usually gets involved in a marketing campaign AFTER a product has been developed and the marketing  pricing strategy has been set.  We often simply work with the variables we have.   But it's great when we get to help develop the pricing strategy for aviation products as part of your marketing strategy!
For the sake of this discussion, the product could be anything you're selling, even a service.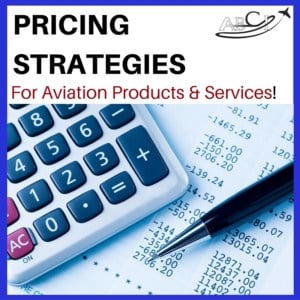 When you're pricing aviation products, there are several factors to be considered.  What other products are on the market competing with this one? Where does this product fall in terms of quality and features?
You've probably seen some version of this diagram in marketing textbooks.
Pricing Aviation Products
To quickly explain the pricing models – we have at the upper left the economy model – low quality, no frills, lowest price.
Then we have the market penetration pricing strategy.  This is where a company sets a low price to attract customers on a high-quality product with the strategy of raising sales volume and driving out competition. The company raises the price later to make up for losses, after competitors have been driven out.  This depends on a long life cycle for the product. It happens in some cable TV or cell phone markets. An alternative in the same category is a "cost plus pricing" strategy.  In the cost plus strategy, a service provider prices a project transparently, for parts or supplies.  He adds a margin based pricing that usually covers labor, overhead and profit.  Profits in these strategies are usually kept very low, with the intention of making up the difference in volume when they have a consumer surplus.
Small businesses often err on the side of pricing too low when they enters the market, shooting for a promotion price to gain market share and maximize profits.   There are always a certain percentage of consumers for whom pricing discrimination is the primary buying motivator, but most sales people overestimate how unimportant price can be on the balance with other considerations.  The psychology pricing is far more complex than simply "the lowest price wins!" There are reasons for many price points and strategies.
Pricing Strategies
The skimming pricing strategy is where a higher price is charged for a low quality product. The best example of this is the typical "infomercial product" (pet nail trimmers come to mind) where the product itself is not all that high-quality but a huge, short-term  marketing push is made to sell lots of them to early adopters before competitors reach the market.
The premium pricing is my favorite as a consumer and as a marketing professional, because high quality products are the best value for the consumer in the long run.  Companies with very high quality products or very good service can charge a premium for that product or service.   Charging a high price may seem counter intuitive, but it's my job as a marketing rep to prove to the customer that the price is justified.
You can also use different pricing models for different product lines.
How Pricing Too Low Can Hurt You
Many aviation companies are tempted to make a bare-bones, no frills product and charge as little as they can for it.   This is a shortsighted pricing strategy in marketing for three reasons –
Reason #3 – "Perceived value." One Harvard Business Review case study showed that  press-on nails sold much better when the price was raised from $1.69 to $6.99. (The product, packaging, and everything else remained the same.) Women who were interviewed later said that they didn't feel comfortable buying and wearing the cheapest product on the shelf.
Reason #2 –  There are always unforeseen costs. Developing, testing, producing and providing customer service for a product takes a lot of time and costs a lot of money.  The revenues from sales of the product have to sustain your company, your employees, customer service, research on new products, and, of course, the marketing you need to do to attract customers.  Your profit margin is worth protecting! Don't short-change your company by underpricing your product or service.
Reason #1 – (Most important)  Quality is worth working for and worth paying for. Building a better product costs more.  It involves more research, more testing, and better materials.  People understand that, and especially in aviation, consumers are willing pay more for a quality product.   And they're willing to recommend a high-quality product to others, and buy from you again when the need arises.  Smart buyers (the ones you want) know that initial price is only one factor in overall value.
An Example
One small aviation company I know could get a really great deal on a used turboprop twin or a new twin recip, but has determined to wait until they can buy their ideal aircraft – a new KingAir 350 IER configured just they way they want it.  A customer segment that specific can dictate a lot more of the terms of the transaction.
Aviation people are very resourceful about making do until they get what they want; but they are also very particular and determined to ultimately get the very best.
Unless there is some compelling reason to use some other strategy, my advice is to always build, price, service and market a premium product.
Why Premium Pricing?
It's the most ethical, sustainable, and fulfilling way to do business.  Everybody wants to buy (or work for) the best in any particular business.  Do you agree? Leave a comment. Disagree?  Don't leave a comment. 🙂  Actually I'd love to hear from you, either way.
Most of the services we provide are involved with marketing a completed product or service, but we also do consulting in the product development stages.  If you have questions, shoot me an email.
Lots of feedback on this article – yes, there are many other product pricing strategies, including:
Economy pricing or volume pricing to encourage people to buy more than one product at a time (increasing the transaction size. )
Bundle pricing, which offers more value by encouraging people to buy all of the accessories and other services they might need to be satisfied with the product.   This is a  is a variation that also increases the transaction size and makes it harder for consumers to compare prices.
Whatever aviation marketing pricing strategy you choose, the important thing is that you choose it for intelligent reasons that are right for your customer segment, marketing mix and the price sensitivity of your customers, rather than simply defaulting to what you "have always done,"  or what your competitors are doing.
Please note – for more information on pricing in marketing, we have a related article on Pricing Aviation Products here. Or, if you'd like specific advice about the situation you're looking at, find 30 minutes on our calendar and let's sit down and talk!.
More Aviation Pricing Articles